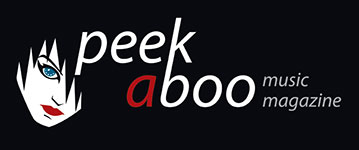 like this movie review
---
RICHARD RAAPHORST
Frankenstein's Army
Movie
Horror
[40/100]

Splendid Films
10/01/2014, Didier BECU
---
Never give up on dream. That's probably what Richard Raaphorst had in mind. This filmmaker has already more than ten years plans to make his own movie, but it's only until today that this wish comes true. In all those years Worst Case Scenario (that has been the original title) was just a trailer from a non-existing film. This commercial film eventually won the prize of the Best Trailer – No Movie-award, but we think Raaphorst's expectations were much higher than this.
But look, who dares wins as a decade later he has made his own picture, even if he got the help from screenwriters Chris W. Mitchell and Migual Tejada-Flores. It's very important to know that it took so long for Raaphorst. If you're not aware of this, you could accuse him of jumping on someone else's train as this is just another bizarre nazi-story. Last years we already have seen nazi's turn into zombies (Dead Snow) or we saw them building their new empire on the dark side of the moon (Iron Sky).
No one will be surprised if we say that the story has no importance at all. This is just about coming up with some bloody scenes and creating weird monsters! A band of Russian soldiers discover a strange bunker. Once entering the dangerous place they are confronted with the totally insane Dr. Victor Frankenstein. This weirdo has developed a genius plan to help the nazi's getting their victory. Out of the bodies of deceased soldiers, the doctor builds mechanical puppets that are armed with saws and drills. No need to tell that every Russian soldier will face a terrible death…
The makers of this film have used all their (probably sick) imagination to come up with the most hallucinating ideas you can think of. In their enthusiasm they have forget a bit the fact that they also have to make a movie. The directing is quite amateurish and lots of viewers will definitely be seasick afterwards because of the shaking images. Everything is (so to speak) filmed by a Russian soldier with a handcamera. Nah good, fans from these type of movies will definitely have fun while watching this. Fun is indeed probably the keyword as this has nothing to do with the art of movies.
Frankenstein's Army is in the Benelux and Germany out on both DVD and Blu-ray on Splendid Films.
Didier BECU
10/01/2014
---
Geef nooit je droom op. Dat moet waarschijnlijk ook de Tsjechische cineast Richard Raaphorst hebben gedacht. Deze filmmaker liep immers tien jaar met een plan rond om ooit eens zijn eigen film te kunnen maken. Worst Case Scenario (want dat was de oorspronkelijke titel) werd uiteindelijk niet meer dan een trailer voor een niet bestaande film. Het reclamefilmpje werd wel verzilverd met Best Trailer – No Movie-Award, toch zullen Raaphorsts verwachtingen heel wat hoger gelegen hebben dan dat.

Maar kijk, wie volhoudt wint. Een decennia later kon de man dankzij de hulp van scenaristen Chris W. Mitchell en Migual Tejada-Flores alsnog zijn ei kwijt. Moest je niet weten dat Raaphorst al zo lang aan zijn project werkte, zou je er hem van kunnen beschuldigen dat hij gewoon op de huidige trend van de horrorfilms springt. Want ja, de laatste jaren wisten de horrormakers met hun fantasie geen blijf als het op nazi's aankomt. Of ze worden bloeddorstige zombies (Dead Snow) of ze zijn gewoon naar de donkere kant van de maan gevlucht(Iron Sky). Maar neen, ook al creëert deze filmmaker eveneens een zeer bizar naziverhaal, kun je hem geenszins van plagiaat beschuldigen.

Het zal geen mens verbazen dat het lullig verhaaltje geen enkele betekenis heeft in deze bibberprent. Het enige waar het hem om draait is het draaien van allerlei bloederige scènes en vooral het bedenken van opmerkelijke monsters. Een groep Russische soldaten (inclusief met een amateurfilmer, vandaar dat we "getuigende" beelden hebben) komen in een vreemde bunker terecht. In deze donkere ruimte heeft ene Dr. Victor Frankenstein het snode plan ontwikkeld om de nazi's alsnog aan een overwinning te helpen. Uit lijken van overleden soldaten maakt hij een soort van mechanische poppen die voorzien zijn van een hele stel drilboren. Het vervolg laat zich dan ook raden, iedere Rus komt één per één op een verschrikkelijke manier om het leven.

De makers hebben werkelijk alles uit de kast gehaald om de kijker met de meest waanzinnige figuren te overdonderen. In hun enthousiasme hebben ze weliswaar uit het oog verloren dat zij ook nog een film moesten maken. De regie is om (het zacht uit te drukken) nogal amateuristisch en menig kijker zal beslist zeeziek worden door de hypernerveuze regiestijl, alles is nu eenmaal zogezegd met een handcamera vastgelegd! Nu goed, liefhebbers van dit genre zullen zonder meer een vette kluif aan dit soort onzin hebben. Leuk is het wel allemaal, met filmkunst heeft het echter niets te maken.
Frankenstein's Army is in de Benelux en Duitsland door Splendid Films uitgebracht.
Didier BECU
10/01/2014
---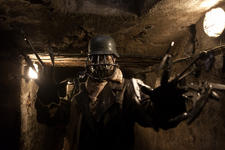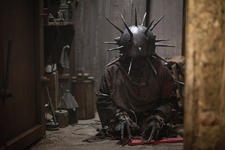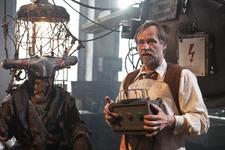 ---