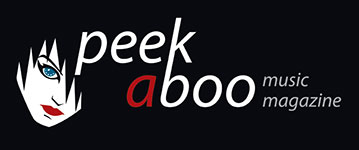 like this cinema review
---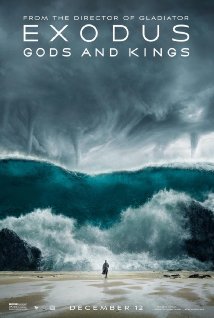 RIDLEY SCOTT
Exodus: Gods And Kings
Movie
•
Cinema
Adventure
20th Century Fox
21/12/2014, Didier BECU
---
The BiblefFilm is back in vogue. At least that is what Hollywood wants, because after Noah by Darren Aronosfky did not become the expected hit, Exodus: Gods And Kings also seems to be a film that will soon be forgotten. Strange, because director Ridley Scott once made a similar story with a genius result (Gladiator), but in Exodus everything is wrong.
Let's start with the good part! It adorns Scott that the movie isn't drowning in CG effects, because Exodus has a classic Bible movie pattern and is not a variant of The Lord Of The Rings like Noah is. This approach didn't provoke fanatic catholics. Some thought it was a bad idea that God was a boy in this movie or that Moses in Hollywood is a white muscular guy, for the rest it was fairly quiet in Vatican City. Or should we assume that Christians are just fond of nasty movies, because that is the exact description for Exodus: Gods And Kings certainly.
The story of Moses is well known, and if that is not the case you should just pick up the Old Testament. Apparently that is also what Scott thinks you should do as he gives very little explanation about the story. There are the plagues (of course visually stunning), Moses gets his ten commandments and of course the Red Sea splits in two (although the version of 1956 - The Ten Commandments - was a lot more spectacular). They are almost moments of relief in a film that is technically superior, but also very boring. The dialogues are meaningless, the fights are soporific. Christian Bale is a good actor, but as Moses he is a boring guy. Joel Edgerton does his best to be the baddie as Ramses, but the overacting makes it a grotesque appearance. And we thought that Exodus would be the Batman among Bible movies!
Didier BECU
21/12/2014
---
De Bijbelfilm is weer helemaal in. Ten minste dat zou men in Hollywood toch willen, want nadat Noah van Darren Aronosfky niet de verwachte natte droom is geworden, dreigt ook Exodus: Gods And Kings een film te worden om gauw te vergeten. Vreemd, want regisseur Ridley Scott maakte ooit met een gelijksoortig verhaal een dijk van een film (Gladiator), maar in Exodus loopt het behoorlijk fout.
Laten we beginnen met het goede deel. Het siert Scott dat hij niet verzoop in de CG-effecten, want Exodus heeft een klassiek bijbelpatroon en is geen variant op de The Lord Of The Rings geworden zoals dat met Noah wel het geval is. Deze aanpak zorgt er ten minste voor dat pilaarbijters geen moord en brand schreeuwden. Sommige fanatici vonden het wel niet kunnen dat God in deze film een jongetje was of dat Mozes voor Hollywood een blanke gespierde kerel is, voor de rest bleef het tamelijk rustig in Vaticaanstad. Of moeten we ervan uitgaan dat christenen gewoon verzot zijn op vervelende films, want dat is Exodus: Gods And Kings zeker en vast.
Het verhaal over Mozes is ondertussen overbekend en als dat niet het geval is moet je maar het Oude Testament uit de kast halen. Dat vindt blijkbaar ook Scott die bijzonder weinig uitleg bij deze film geeft. Er zijn de plagen (natuurlijk visueel verbluffend), Mozes krijgt zijn tien geboden en natuurlijk gaat ook de Rode Zee open (ofschoon dat in 1956 met The Ten Commandments heel wat spectaculairder leek). Het zijn bijna momenten van opluchting in een film die technisch superieur is, maar tegelijkertijd ook bijzonder saai. De dialogen zijn nietszeggend, de gevechten zijn slaapverwekkend spectaculair (jawel, slaapverwekkend spectaculair) en Christian Bale is wel een goede acteur, maar als Mozes gewoon een vervelende vent. Joel Edgerton doet wel zijn best om als Ramses de baddie van dienst te zijn, de overacting maakt van hem helaas een potsierlijke verschijning. En wij die dachten dat Exodus de Batman van de bijbelfilms zou worden. Mooi mis dus!
Didier BECU
21/12/2014
---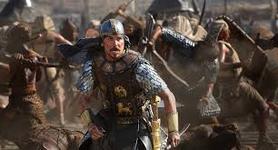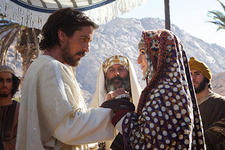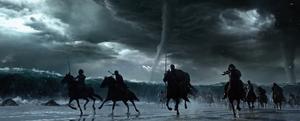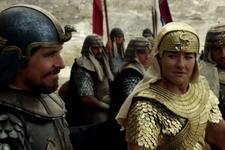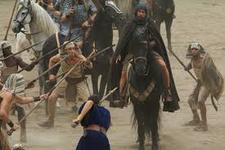 ---