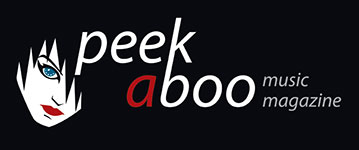 like this cult movies review
---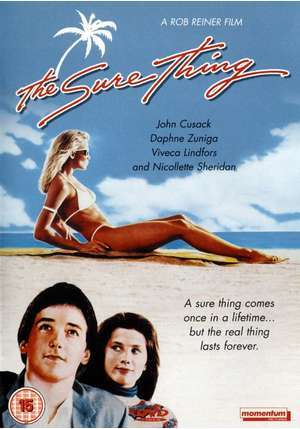 ROB REINER
The Sure Thing
Movie
•
Cult movies
Comedy
[76/100]

Studio Canal
01/08/2014, Didier BECU
---
Recently the prestigious BFI asked a very interesting question on their Facebook: name your fave teen comedy from the 80's. It was kind of obvious that names like The Breakfast Club or Risky Business were the big winners, but there was reason enough to reflash our memory and think about some forgotten gems. The Sure Thing from 1985 is such a brilliant example. Today you can't find the film in shops, even if it's very easy to grab him secoondhand on the British Amazon. Yes, we do write British as in the Benelux this title was even never released!
Strange as after all, the director is Rob Reiner who made some real winners such as the fake rockdocumentary This Is Spinal Tap or the King-adaption Misery. The cast was great though, even back then almost no one knew who the young John Cusack was. They haven't heard from Tim Robbins either who plays here a hilarious supporting role!
As it happens so many times in teen comedies the subject is the unreachable dream woman. This time it's a blonde nympho (Nicolette Sheridan and indeed the sure thing!) who lives far away in sunny California. The best friend from Walter Gibson (John Cusack) has managed a date for him, but he is forced to move to the other side of America. Such women are worth every try and so Walter hijacks to California. On his trip he is forced to join his classmate Alison Bradbury (Daphne Zuniga whom you might know from One Three Hill). Alison can't stand Walter's childish behavior, but you can guess three (or no, two!) times what happens in the end!
No, you can't say it's all that original, but believe us: you'll watch this 80's movie without stopping as it's an addictive ride! And don't forget the gorgeous popsoundtrack that comes with this roadmovie in John Hughes-style! (Re)discover!
Didier BECU
01/08/2014
---
Onlangs werd op het Facebookforum van de invloedrijke BFI de vraag gesteld welke film de eer krijgt om als beste tienerkomedie van de 80's te worden bestempeld. Vanzelfsprekend scoorden titels als The Breakfast Club of Risky Business hoog. En toch zijn er talrijke andere films uit dit genre die even goed zijn (of misschien zelfs beter), maar die om de een of andere reden toch in de vergeethoek zijn beland.


The Sure Thing uit 1985 is daar een prachtvoorbeeld van. Het is zelfs zo erg gesteld dat de film momenteel niet meer in de handel is te vinden, ook al tref je hem gemakkelijk tweedehands aan bij bijv. het Britse Amazon. We schrijven doelbewust Brits, want in de Benelux is de film zelfs nooit verschenen!


Vreemd want de regisseur van dienst was nochtans niet de eerste de beste: nl. Rob Reiner die o.a. de neprockdocumentaire This Is Spinal Tap of de King-verfilming Misery op zijn actief heeft staan. En ook de cast was niet mis, ofschoon in die tijd niemand had gehoord van John Cusack. En ook niet van Tim Robbins die hier in een hilarische bijrol is te zien.


Zoals het zo vaak gaat in tienerkomedies is een onbereikbare vrouw wederom het onderwerp. De blonde stoot van dienst (Nicolette Sheridan en dus the sure thing!) woont in het verre Californië. De beste vriend van Walter Gibson (John Cusack) heeft er voor gezorgd dat hij een date met het wulpse vrouwtje kan krijgen en dus moet hij naar de andere kant van Amerika trekken. Dat doet hij al liftend. Per toeval zit hij in de wagen met zijn klasgenote Alison Bradbury (Daphne Zuniga die je misschien wel kent uit One Three Hill). De twee zijn elkaars tegenpolen, maar je mag tweemaal raden wat er gaat gebeuren!


Neen, origineel is het allemaal niet, maar het is wel zo'n 80's film die je met plezier in één ruk uitkijkt. De schitterende popsoundtrack krijg je er gratis bij deze roadmovie à la John Hughes bovenop! (Her)ontdekken!
Didier BECU
01/08/2014
---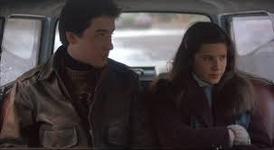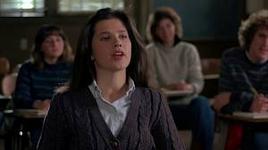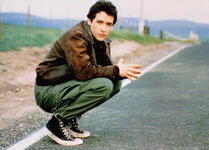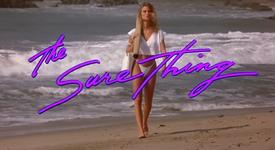 ---