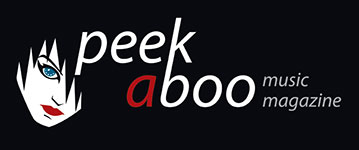 like this cult movies review
---
ROB VAN EYCK
The Afterman
Movie
•
Cult movies
Cult
•
Sexploitation
[55/100]

Zeno Pictures
28/10/2014, Didier BECU
---
Can someone tell me what's going on with these film critics? I mean, saying that Erik Van Looy who paved all ways for the contemporary Flemish cinema is really too much to take. Have these gentleman never heard the name from Rob Van Eyck: the rebel from Zichem? I guess not and if they do, they're probably too narrow minded to give him any credits. Nah good, this director always has been excluded from the hall of fame that is created by film critics. Not that he cares. He can claim that he was the first film maker who was able to sell a Belgian movie to more than 30 countries. In Japan alone, there was a pressing from 600.000 videotapes from this cult gem.
You don't need to order a ticket to go the country of the rising sun as the Belgian company Zeno Pictures has released this cult classic. You don't understand one word of Flemish, you say? No problem either as there isn't one world of dialogue included in here.
The story is set somewhere in this world (probably his hometown) after the atom bomb has fallen. A disturbed mature guy (Jacques Verbiest) has lived isolated in a bunker. After having sex with hisdead mother in the morgue (according to Van Eyck, this is a reference to Oedipus) he enters the wide world and meets a very pretty lady (Franka Ravet) who is tortured and violated by her boss as a slave. The two run away together.
It's funny, but nothing happens in this movie, apart from some torture and of course lots of seks. And yet, how limited the story line is, you can say that Van Eyck created a real cult classic that can be compared to Mad Max (but without an annoying Mel Gibson and definitely more X-rated scenes!).
Didier BECU
28/10/2014
---
Wat is er toch aan de hand met die filmjournalisten? Ik bedoel, beweren dat Erik Van Looy het pad heeft geëffend voor andere Vlaamse cinema? Hebben deze heren nog nooit gehoord van Rob Van Eyck: de rebel uit Zichem? Nu goed, waarschijnlijk hebben ze dat niet en als ze de naam kennen dan vertikken ze het gewoon om er iets over neer te pennen. Rob Van Eyck is immers nooit een graag geziene gast geweest binnenin de filmkritiek. Zelf mag hij er in ieder geval trots op zijn dat in tijden dat Vlaamse regisseurs zich alleen maar om Stijn Streuvels bekommerden, hij de eerste was die een Belgische film in Cannes aan meer dan 30 landen konden verkopen. In Japan alleen werden er 600.000 videotapes van deze cultklassieker gemaakt.
Je moet echter geen ticket naar het land van de rijzende zon bestellen om de klassieker in huis te halen, want hij is tevens te vinden op het Belgische Zeno Pictures op dvd. Het verhaal speelt zich af ergens op de wereld (wellicht een veld in Scherpenheuvel) nadat de atoombom is gevallen. Een gestoorde volwassen kerel (Jacques Verbiest) leefde jarenlang afgezonderd in een bunker. Na eerst seks te hebben gehad met zijn overleden moeder in het lijkenhuisje (volgens van Eyck een verwijzing naar Oedipus) betreedt de eenzaat de wijde wereld. Hij ontmoet gauw een zeer mooi meisje (Franka Ravet) die als slavin door een bruut wordt verkracht en vernederd. De twee vluchten samen weg.

Eigenlijk gebeurt er niets in deze film, behalve een heleboel neukpartijen. En toch is Van Eyck erin geslaagd om een geslaagde apocalyptische film neer te zetten. De film bevat geen dialogen, het enige wat je hoort is een bizarre (maar geslaagde) soundtrack die wellicht op een speelgoedsynthesizer is gecomponeerd. Cult van de bovenste plank!
Didier BECU
28/10/2014
---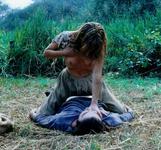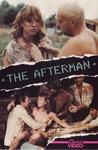 ---