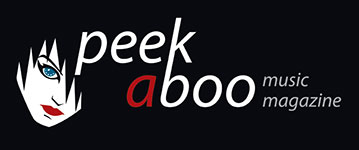 like this cult movies review
---
RON HOWARD
Splash
Movie
•
Cult movies
Comedy
[74/100]

Walt Disney
27/11/2014, Didier BECU
---
Perhaps Splash is a little too familiar to be considered as cult, but because it is the only Disney movie which showed any nudity, this third film (at least if you do not count his television movies) by Ron Howard remains a very bizarre production.
Producer Brian Gazer had a lot of trouble selling the mermaidstory from Lowell Ganz and Babaloo Mandel. Eventually a deal was made with Touchstone (the filmhouse of Disney), a decision which they probably never regretted with a box office of 70 million dollar. The script was to everyone's surprise nominated for an Oscar (even though Places In The Heart won, a drama with Sally Field that no one remembers). More important was that Splash was the breakthrough for Tom Hanks, who met Howard earlier on the set of Happy Days (if you do not know, Howard played Richie in this series). The mermaid was played by Daryl Hannah, but she was already famous for her role in Blade Runner. Whether she made a wise choice or not is another thing, because afterwards Hannah only played in Cyrano De Bergereac's Roxanne and with Robert Redford in Legal Eagles. Of course we won't forget her resurrection as Elle Driver in Kill Bill (the sexy nurse with the patch).
Viewing Splash in 2014 remains a strange experience. The story is silly (a mermaid arrives in New York and falls in love with a distraught single man), yet it is irresistibly funny. The supporting cast of John Candy and Eugene Levy is perhaps a bit contrived, but it remains fantastic American humor. Splash had a tiny budget, and the special effects (and we are clearly talking about those fins!) are quite grotesque. But yeah, it all had to go fast because rival Warner was working on a similar story with Warren Beatty in the lead. Howard promised Disney that his version would come much faster. To save costs, the idea to give the male lead to Jeff Bridges, Chevy Chase, Richard Gere, Kevin Kline, Bill Murray or John Travolta was brushed aside and the producers finally opted for the much cheaper (and then completely unknown) Tom Hanks. Talk about contradictions! Four years later, Greg Antonacci had the stupid idea to direct Splash Too, one of the worst sequels ever.
Thirty years later, Splash is still a nice film journey. Cult? A little, yes!
Didier BECU
27/11/2014
---
Misschien is Splash net iets te bekend om als cultfilm te worden beschouwd, maar omdat het de enige Disney-film is waarin bloot ie zien is, blijft deze derde film (ten minste als je zijn televisiefilms niet meerekent) van Ron Howard een zeer bizarre productie.
Producer Brian Gazer had heel wat moeite om het zeemeerminscenario van Lowell Ganz en Babaloo Mandel aan de man te brengen. Uiteindelijk hapte Touchstone (het filmhuis van Disney) toe, wellicht een beslissing waarover nooit is getreurd omdat de komedie 70 miljoen dollar opbracht. Het script werd tot ieders verbazing genomineerd voor een Oscar (ook al won uiteindelijk toch Places In The Heart, een drama met Sally Field dat geen mens zich nog herinnert). Belangrijker was dat dit filmdebuut wel meteen de doorbraak betekende voor Tom Hanks, die Ron Howard trouwens had leren kennen op de set van Happy Days (mocht je het niet weten, Howard speelde Richie in deze fiftiesserie). De meermin werd door Daryl Hannah vertolkt, maar zij was door haar rol in Blade Runner al een halve vedette. Of het een verstandige keuze van de blondine is laten we in het midden, want Hannah scoorde achteraf alleen nog maar in de Cyrano De Bergereac-versie Roxanne en naast Robert Redford in Legal Eagles. Natuurlijk vergeten we haar verrijzenis in Kill Bill als Elle Driver niet (de sexy verpleegster met het ooglapje).
Splash in 2014 bekijken blijft een vreemde ervaring. Het verhaal is sowieso ronduit onnozel (een zeemeermin spoelt in New York aan en wordt verliefd op een radeloze vrijgezel), toch is het allemaal onweerstaanbaar grappig. De bijrollen van John Candy en Eugene Levy zijn misschien wel wat gekunsteld, het is wel fantastische Amerikaanse humor. Splash was een redelijke goedkope film, vooral de special effects (en dan hebben we het natuurlijk over die vinnen!) zijn nogal potsierlijk. Maar ja, het moest allemaal snel gaan omdat concurrent Warner bezig was met een gelijksoortig verhaal met Warren Beatty in de hoofdrol. Howard beloofde Disney dat zijn versie er veel vlugger klaar zou zijn. Om kosten te besparen werd het idee om de mannelijke hoofdrol aan Jeff Bridges, Chevy Chase, Richard Gere, Kevin Kline, Bill Murray of John Travolta te geven van tafel geveegd en opteerde men voor de veel goedkopere (en toen volledig onbekende) Tom Hanks. Over contradicties gesproken! Vier jaar later had regisseur Greg Antonacci het stomme idee om Splash Too te maken, één van de aller slechtste sequels ooit.
Splash is dertig jaar later nog steeds een leuke filmrit die voor herhaling vatbaar is, al was het maar voor de blote kont van Daryl Hannah. Cult? Een beetje ja!
Didier BECU
27/11/2014
---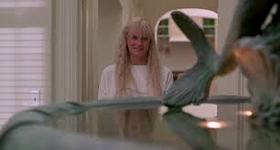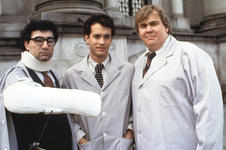 ---