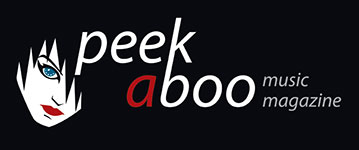 like this movie review
---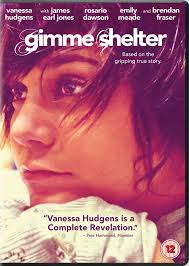 RON KRAUSS
Gimme Shelter
Movie
Coming Of Age
[63/100]

SONY SPHE
21/08/2014, Didier BECU
---
This time we're not talking about the legendary rock documentary about The Rolling Stones, but the touching drama by Ron Krauss. A movie that has been neglected over here and now gets a second change on DVD.
Gimme Shelter is the portrait of pregnant teen Agnes "Apple" Bailey (Vanessa Hudgens) who was an unwanted child herself. From the day she was born, Apple was dropped from one foster family to the other. She can't find shelter (hence the tile!) by her schizophrenic mother (Rosario Dawson) who only cares about her own drugs. For her father (Brendan Fraser) who is now a successful businessman things don't work either as he doesn't like to be reminded of his dark past. No one wants Apple, and that counts for her baby too as everyone advises her to abort the child. The teen mother refuses and in the end she arrives in a shelter house, a place where everything seem to work this time.
The subject of course is a mellow matter, but the current American situation isn't, as poverty is still part of this unfaithful world. Director Krauss tries to touch our emotions, but it never gets annoying. That is without any doubt due to the excellent performance by Vanessa Hudgens. Since her remarkable role in Spring Breakers from new film wonder Harmony Korine we all know that the former Disney-star said farewell to her High School Musical-days. For once Brendan Fraser is not the irritating twat he usually is, while Rosario Dawson once again proves that she's one of the most underrated actresses ever.
So yes, you better give Gimme Shelter a chance. The movie is now out on DVD on Sony SPHE.
Didier BECU
21/08/2014
---
We hebben het deze keer niet over de legendarische rockdocumentaire over The Rolling Stones, wel het aangrijpende drama van Ron Krauss dat in Europa over het hoofd werd gezien en nu op de dvd-markt een tweede kans krijgt.
Gimme Shelter schetst het relaas van de zwangere tienermoeder Agnes "Apple" Bailey (Vanessa Hudgens) die zelf een ongelukje was. Het meisje werd van kindsbeen af van het ene naar het andere pleeggezin gedropt. Bij haar schizofrene moeder (Rosario Dawson) kan zij niet terecht, want die bekommert zich meer om haar drugs. Bij haar vader (Brendan Fraser) lukt het al evenmin, deze geslaagde zakenman wordt namelijk liever niet aan zijn duister verleden herinnert. Niemand wil Apple, en dat geldt ook voor haar kindje. Iedereen raadt haar een abortus aan, maar dat wil de tienermoeder niet. Uiteindelijk komt ze in een opvangcentrum terecht waar het wel blijkt te lukken.
Het onderwerp blijft natuurlijk verschrikkelijk melig, ook al is de schrijnende sociale situatie in Amerika dat niet. Regisseur Krauss beroept zich wel regelmatig op de gevoelens van de kijker, maar het wordt nooit storend en dat is vooral de verdienste van Vanessa Hudgens die hier een ijzersterke rol neerzet. Sinds haar opmerkelijke rol in Spring Breakers van wonderkind Harmony Korine weet iedereen dat het gewezen Disney-sterretje de dagen van High School Musical al lang achter zich heeft gelaten. Brendan Fraser is voor één keer niet de irriterende kwal die hij meestal is, terwijl Rosario Dawson nog maar eens bewijst dat ze één van 's werelds meest onderschatte actrices is.
Dus jawel, geef Gimme Shelter misschien toch maar eens een kans. Nu uit op Sony SPHE op dvd.
Didier BECU
21/08/2014
---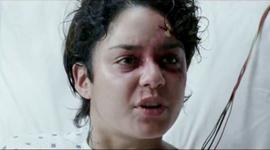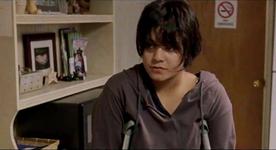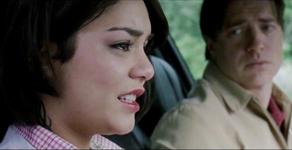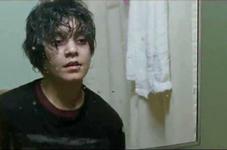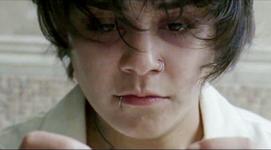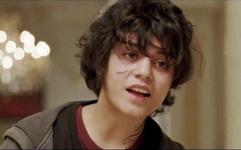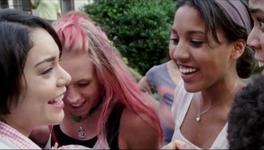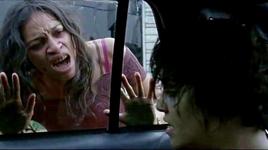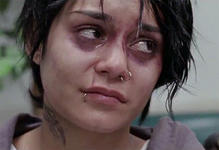 ---