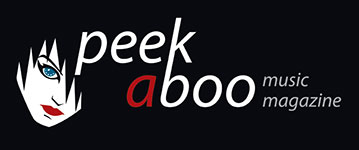 like this concert review
---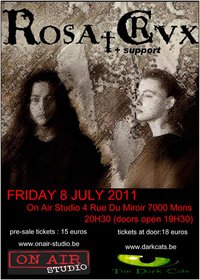 ROSA†CRVX
Support: Keltia

Mons, On Air Studios

08/07/2011
Concert
12/07/2011, Didier BECU
---
Yesterday was a bit of a medieval fest as The Dark Cat invited Rosa Crux to Mons, but first we would greet some new Belgian talent called Keltia.
Keltia from Liège describe their music as the soundtrack from a movie that doesn't exist, and if it did then it would be from some other world.
A description that's been used before but a very fine excuse to give us some blooming medieval treats.
From opening song 'Presage' we saw that this band, who base most of their songs on fairy tales past, had a wide range of instrumentation like violin, didgeridoo and something that looked like an ancient organ.
And the most powerful instrument of all, the voice of her majesty Keltia herself, which reminded me a bit of the godlike voice of a woman by the name of Alison Shaw.
Keltia are a young band and in a way you can see that, but they hide this insecurity with the talent to believe in themselves.
They might indeed living in their own world but as long as they can breed songs like 'Dark Fire', I guess one will want to take them away from there.
If Keltia can be described as drifting away on medieval clouds, then it's something totally different for Rosa Crux. As their fantasy world balances amongst immortal beauty and a perverse curiosity towards violence and pain.
Created in 1984 (incredible!?) in Rouen and famous for singing in Latin, Rosa Crux are a multimedia-spectacle for both the ears and eyes.
Rosa Crux was formed around Olivier Tarabo, a mastermind who made them more than just a band. Not only because of their choreographic art and their visuals but also because of the instruments.
Besides being a band who does everything live on stage, they also use old drums that are operated by punch cards and there's more.
Sometimes described as dark ritual, Rosa Crux suck you into their own world that is primarily ruled by Olivier's impressive voice.
Of course there's also the video art, be it pictures from the Parisian catacombs or videos in which evil creatures are mistreating some poor beings where torture becomes an art form.
Through all this, spectacular things that include waving flags in the crowd, you might even forget the music. Though this spectacle is not made to hide musical ignorance.
Rosa Crux's music gets a grips on you from the very first second to the last. An impressive Tarabo, a genius guitar sound, female backing singers that seems to come straight out of hell and even a carillon is on stage.
Despite some technical problems that disgraced this beautiful gig for a short while, there's nothing bad to say about it.
Just as always the gig was closed with the "Danse de Terre" in where two living sculptures sat in a sandbox and in a flurry of lunacy buried themselves in a cloud of dust while the stunning music didn't stop for a second.
An impressive gig from a band which understood that an audience wants more than just four blokes on a stage. Sometimes music has to go straight through your brain, and Rosa Crux did.
Didier BECU
12/07/2011
---