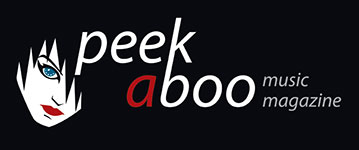 like this movie review
---
ROY ANDERSSON
A Pigeon Sat On A Branch Reflecting On Existence
Movie
Comedy
[81/100]

LumiŤre
11/08/2015, Didier BECU
---
Recently Empire published a tiny article about Roy Andersson. The few sentences were written to show the film lover who the winner of the Golden Lion 2014 is. It is clear, even though this Swedish director is a favourite of the arthouse audience, the average film fan doesn't know him. Strange if you consider the fact that the specialty of this filmmaker is black humour about everyday life that mostly results in a mixture of Monty Python and Jacques Tati. It seems absurd, but the more you think about it, the more you realize that it's just a picture of the daily reality.
After his debut A Swedish Love Story in 1969, the director was honoured worldwide. It took him 25 years to made another movie. During that period he was a maker of commercials (something you still can find in his films, because often they are a collage of sketches). Since 1981, Andersson is filming again. Albeit at a very slow pace, as he takes years to make a film. A Pigeon Sat On A Branch Reflecting On Existence, together with the two predecessors Songs From The Second Floor and You, The Living, forms the trilogy about "life". Sometimes it is said that Andersson takes his inspiration from Fellini, but the humour of Andersson is much darker (the first three short sketches in the movie are about death). His characters never look happy. They are tableaux vivants with a pale gray color. You never see a smile on their faces, they are people who live their lives without being aware that they are alive.
The red line through the absurd sketches are two salesmen of articles to fool people with. They have only three articles in their suitcase (vampire teeth, a funny bag and a mask of Uncle Onetooth), yet they are convinced that they have the mission to make people's lives more enjoyable. Never anyone buys their carnival attributes, but they never give up. Apart from the sublime, absurd humour, A Pigeon Sat On A Branch Reflecting On Existence is also unique because of the genius directing of Andersson. Just like in the films of Wes Anderson or Tati, every scene seems architectural measured and that result in unforgettable film shots. A Pigeon Sat On A Branch Reflecting On Existence is one of the best arthouse films of 2015.
Didier BECU
11/08/2015
---
Onlangs verscheen in het hippe filmblad Empire een piepklein artikeltje over Roy Andersson. De paar regeltjes waren geschreven om de filmliefhebber te vertellen wie de winnaar van de Gouden Leeuw 2014 is. Het is duidelijk, ook al is deze Zweed een lieveling van het arthousepubliek, bij de doorsnee filmliefhebber is hij een allesbehalve klinkende naam. Vreemd als je weet dat de specialiteit van de ondertussen zeventigjarige cineast bestaat uit het gadeslaan van de medemens, wat in een gitzwarte humor resulteert doie ergens tussen Monty Phyton en Jacques Tati ligt. Het lijkt op het eerste gezicht absurd, maar hoe meer je erover nadenkt, hoe meer je beseft dat het gewoon een beeld uit de dagelijkse realiteit is.

Nadat zijn debuut A Swedish Love Story uit 1969 wereldwijd werd gelauwerd, duurde het 25 jaar vooraleer de Zweed opnieuw een film maakte. In deze periode verdiende hij de kost als maker van reclamespotjes (iets wat je trouwens nog steeds in zijn films terugvindt, want vaak zijn z'n werken een collage van sketches). Sinds 1981 is Andersson weer aan de slag als cineast. Weliswaar tegen een zeer traag tempo, want Andersson doet er jaren over om een film uit zijn eigen Studio 24 te laten komen. A Pigeon Sat On A Branch Reflecting On Existence vormt samen met de twee voorgangers Songs From The Second Floor en You, The Living de trilogie over het "leven". Men beweert wel eens dat Andersson zijn mosterd bij Fellini haalt, toch is de humor bij Andersson veel donkerder (de eerste drie korte scketches uit de film gaan gewoon over de dood). Zijn personages zien er ook allesbehalve gelukkig uit. Het zijn tableaux vivants met een vaalgrijze kleur, nooit zie je een glimlach op hun gelaat, het zijn mensen die hun leven leiden zonder dat zij beseffen dat ze leven.

De rode draad doorheen de absurde sketches zijn twee verkopers van fopartikelen. De twee leurders hebben slechts drie artikels in hun koffertje (vampiertanden, een lachzak en een masker van Oom Eentand), toch zijn ze ervan overtuigd dat het hun missie is om het leven van de mens prettiger te maken. Nooit is er iemand die hun carnavalattributen koopt, maar ze geven het nooit op. Naast de absurde humor valt A Pigeon Sat On A Branch ReflectingOn Existence op door de genial regie van Andersson. Net als bij Wes Anderson of Tati lijkt iedere scene architecturaal afgemeten waardoor je onvergetelijke filmshots ziet. Wie nieuwsgierig is naar het hele oeuvre van deze Zweedse kunstenaar kan trouwens bij Lumière terecht voor een dvd-box met daarin al zijn films (behalve deze). A Pigeon Sat On A Branch Reflecting On Existence is ongewoon goed, en zonder twijfel één van de beste arthousefilms van 2015.

Er bestaat een reden waarom je de titel A Pigeon Sat On A Branch Reflecting On Existence uit je hoofd moet leren: het is één van de beste films uit 2015, ook al lach je in feite om je eigen bestaan!
Didier BECU
11/08/2015
---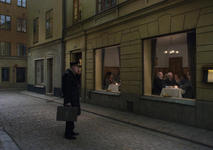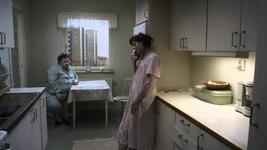 ---