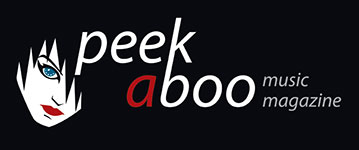 like this cd review
---
SAFFRONKEIRA
Synecdoche
Music
•
CD
Electronics
•
Noise
[80/100]

Denovali Records
08/12/2015, William LIÉNARD
---
On his fourth album, Saffronkeira (a.k.a. Eugenio Caria, Sardinia, It.) takes no risks and appeals to some of his musician friends to bring his project to fruition. His previous album Cause and effect was a collaboration with trumpeter Mario Missa, now he keeps closer to his personal style. The result is a homogeneous and atmospheric album that will please lovers of not too dangerous and melodious electronic music.
On Greguería, Saffronkeira collaborates with Siavash Amini and Idlefon, two projects from the electronics and drone genre that usually sound louder and bolder on their own albums. Their drones are humming softly in the background and gently varied, with click-like percussion to the fore, repetitive and atmospheric: a dreamy soundscape like a prudent meandering river. In Paradigmatic, Subheim creates a dark background of mysterious industrial drones, complemented with atmospheric synths and African-like percussion, reverberating and spatial, with some abrasive noise here and there. Again a rather calm track, contemplative and introspective, whereas in Aforisma (in collaboration with Witxes), an orchestral soundscape is built with buzzing organ-like synths: dreamy, andante and nostalgic.
Ouevre (with Sebastian Plano) sounds even quieter, with horn-like drones and noise, but also with silence and neoclassical touches of what appears to be the sound of a violin and the deep growling of a cello, again minimalist and atmospheric. Chthonian is a track in collaboration with Mia Zabelka, resulting in a soundscape of drones and synths in the background, complemented with the sound of an opera-like female voice that acts as a vocal instrument, no real singing but an improvisation with the sound of the human voice. A somewhat unworldly and dreamy track for an equally unearthly fairy tale. Syntagmatic (with Field Rotation) floats on drones, synths and the beautiful sound of interlacing and swirling violins, percussion and whistling synths that are joined by sporadic noise. The combination of an atmospheric violin and popping percussion delivers an excellent result.
Epifonema is another track in collaboration with Witxes. It sounds louder than Aforisma, with machine-like and repetitive percussion, singing synths, but without a real explosion, despite the heavier guitar inserts halfway, and the soundscape remains quiet with only the drones to the fore. With Metonymy and Memory of Noone, Safrronkeira brings the album to a successful conclusion. The first track floats on industrial drones and reverberating electric percussion, minimalist and monotonous, with bell-like noise and percussion in the end, while the dark drones in Memory of Noone are embellished with violin sounds (which sound like flapping birds), beautiful bell-like guitars and varied noise. Beautiful last track.
More is less, Saffronkeira must have thought, and the result is an excellent album that fans of the genre will certainly appreciate.
Tracklist:
1. Greguería (with Siavash Amini & Idlefon)
2. Paradigmatic (with Subheim)
3. Aforisma (with Witxes)
4. Ouevre (with Sebastian Plano)
5. Chthonian (with Mia Zabelka)
6. Syntagmatic (with Field Rotation)
7. Epifonema (with Witxes)
8. Metonymy
9. Memory of Noone
www.denovali.com/saffronkeira
www.soundcloud.com/denovali/saffronkeira-epifonema-with/
https://youtu.be/fFGUCTwwY2o
www.youtube.com/watch?v=dg7y-_RjnXY
William LIÉNARD
08/12/2015
---
Op z'n vierde album neemt Saffronkeira (a.k.a. Eugenio Caria, Sardinië, It.) geen risico's en doet hij een beroep op een aantal bevriende muzikanten om z'n project tot een goed einde te brengen. Z'n vorige album Cause and effect kwam tot stand in samenwerking met trompettist Mario Missa, nu zoekt hij z'n medewerkers in de ambiente omgeving die dicht aansluit bij z'n eigen stijl, waardoor Synecdoche als een homogeen en atmosferische album klinkt voor liefhebbers van niet al te gevaarlijke en vooral welluidende elektronische muziek.
Voor Greguería doet Saffronkeira een beroep op Siaviash Amini en Idlefon, twee projecten uit het electronics- en dronegenre die op hun rep. albums meestal een flink stuk luider en brutaler klinken dan wat er overblijft in deze track. De drones zoemen zachtjes op de achtergrond en worden voorzichtig gevarieerd, met rustig ploffende en later klikachtige percussie op de voorgrond, repetitief en atmosferisch, een dromerig soundscape als een voorzichtig kabbelend riviertje. In Paradigmatic creëert labelgenoot Subheim een donkere achtergrond van geheimzinnige industriële drones, aangevuld met atmosferische synths en Afrikaans aandoende percussie, galmend en ruimtelijk, met her en der wat schurende noise. Opnieuw een eerder rustige track, bezinnend en introspectief van aard, terwijl in Aforisma (in samenwerking met Witxes) een orkestraal soundscape wordt opgebouwd van door elkaar zoemende orgelachtige synths, dromerig, andante en nostalgisch.
Ouevre (met Sebastian Plano) wordt nauwelijks gevaarlijker en zelfs stiller, met hoornachtige drones, noise en ruimte voor stilte, neoklassieke accenten van wat lijkt op het geluid van een viool en diepe uithalen van een cello, opnieuw minimalistisch en atmosferisch. Chthonian is een track in samenwerking met Mia Zabelka, wat resulteert in een soundscape van drones en synths met op de achtergrond het geluid van een opera-achtige vrouwenstem die fungeert als vocaal instrument, wat betekent dat er niet echt wordt gezongen, maar geïmproviseerd met het geluid van de menselijke stem. Een wat onwereldse en dromerige track voor een al even onaards sprookje. Syntagmatic (met labelgenoot Field Rotation) drijft op drones, synths en het prachtige geluid van dooreen dwarrelende violen, galmende percussie en fluitende synths die het gezelschap krijgen van sporadische noise. Vooral de combinatie van atmosferisch vioolgeluid en ploffende percussie levert een uitstekend resultaat op.
Epifonema is opnieuw een track in samenwerking met Witxes. De compositie kinkt luider dan Aforisma, met machineachtige en repetitieve percussie, fluitende synths, maar tot een echte explosie komt het ook deze keer niet echt, ondanks de heftigere gitaarinserts halfweg, want het soundscape blijft voor de rest rustig en alleen de drones treden voorzichtig op de voorgrond. Metonymy en Memory of Noone zijn tracks die Safrronkeira op z'n eentje tot een goed einde brengt. De eerste drijft op industriële drones en galmende elektropercussie, minimalistisch en monotoon van aard, met belachtige noise en percussie op het einde, terwijl de donkere drones in Memory of Noone opgesmukt worden met wat vioolgeluid (dat klinkt als klapwiekend vogels), prachtig belachtig gitaargeluid en gevarieerde noise. Mooi slot.
Meer is minder, moet Saffronkeira gedacht hebben, en dat levert een uitstekend album op dat liefhebbers van het genre beslist zullen appreciëren.
William LIÉNARD
08/12/2015
---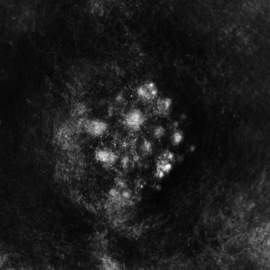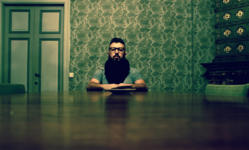 ---