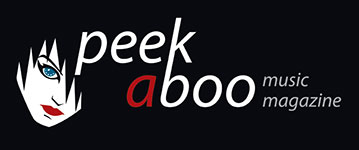 like this cd review
---
SAIGON BLUE RAIN
What I don't see
Music
•
CD
Cold Wave
•
Ethereal / Heavenly Voices
•
Gothic Rock
[77/100]

Self-released
07/09/2014, Benny CALUWE
---
Saigon Blue Rain is a duo from Paris. They will play in Brussels on October 4th at another edition of Fantastique Night together with Soror Dolorosa and The Breath Of Life. They were first announced as Stupid Bitch Reject: a name that reminds us of some angry metal band. Recently the band was renamed as Saigon Blue Rain: a name that suits better with the ethereal atmosphere (a mix of dream pop and cold wave) they want to share with their listeners.
Franck Pelliccioli's guitar play often reminds us of The Cure or Cocteau Twins. Sometimes it's more gothic rock orientated, occasionally we hear some "noisy" chords. Even when the guitars are prominent, they're never dominant: so is distortion for example hardly used. So don't expect any devastating riffs!
Saigon Blue Rain's most important weapon is definitely Ophelia's beautiful voice. She can compete with Natasha Khan (Bat For Lashes) or Nika Roza Danilova (Zola Jesus). Ophelia has a versatile voice: melancholic, dreamy, fragile and sometimes sensually whispering (as in the track Lovelorn). Her singing can be categorized as ethereal.
With this record they confirm the positive reviews of their debut-EP Stupid Bitch Reject as they are able to create and sustain an atmosphere. A minor point might be that the album misses some sharpness. The tracks that stand out are the title track and Break the disease. No surprise that these are the songs with more a prominent programming. Other recommendable songs are the atmospheric So Cold and L'Offerande.
Benny CALUWE
07/09/2014
---
Dit duo uit Parijs treedt weldra in Brussel op. Om precies te zijn op 4 oktober, want dan staan ze samen met Soror Dolorosa en The Breath Of Life op het podium tijdens een nieuwe editie van de Fantastique Night. Aanvankelijk werden ze aangekondigd als Stupid Bitch Reject: een naam die je eerder aan een kwade metalband doet denken. Recent werd dat dus Saigon Blue Rain, wat meteen beter aansluit bij de atmosfeer die ze met hun luisteraars willen delen. De naam past trouwens beter bij hun mix van dream pop en cold wave.
Franck Pelliccioli's gitaarspel herinnert ons vaak aan dat van The Cure of Cocteau Twins. Soms gaat het iets meer de gothic rock richting uit, occasioneel zelfs met wat meer noisy- akkoorden. De gitaren treden op de voorgrond zonder echt dominant te zijn, zo wordt er bijv. amper gebruik gemaakt van distortion. Verwacht dan ook geen verwoestende riffs!
Het grootste wapen van Saigon Blue Rain is zonder meer de prachtige stem van Ophelia die gerust kan wedijveren met Natasha Khan (Bat For Lashes) of Nika Roza Danilova (Zola Jesus).
Ophelia's stem is veelzijdig: melancholisch, dromerig, soms breekbaar en sensueel fluisterend (Lovelorn). Haar zang kun je dan ook eerder als ethereal categoriseren.
Met deze plaat bevestigen ze de positieve recensies die ze voor hun maart 2013 verschenen debuut-EP Stupid Bitch Reject kregen. De groep is in een staat om een sfeer te creëren en deze ook vast te houden, alhoewel het album echte snedigheid mist om echt hoge toppen te scheren. De sterkste nummers zijn het titelnummer en Break The Disease. Het zijn tevens de nummers waar de programming nadrukkelijker aanwezig is die eruit springen. Het sfeervolle So cold en L'Offerande zijn dan ook echte aanraders!
Benny CALUWE
07/09/2014
---