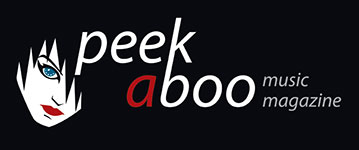 like this cult movies review
---
SANDOR STERN
Pin
Movie
•
Cult movies
Horror
•
Slasher
[69/100]

Arrow
07/11/2013, Didier BECU
---
Most readers probably have never heard from Pin, but fanatic horrorfans classify this Canadian gem as a real cult classic. This movie was made in 1989 under the name of Pin, A Plastic Nightmare. Even if the picture wasn't what you'd call a massive success at the theatres, Pin got later its deserved recognition throughout the video market.
The story that's based on the book by Andrew Neiderman might seem like a lightweight, but due to its remarkable directing the film gets close to the masterpieces David Cronenberg used to make in his early days.
Doctor Frank Linden (Terry O'Quinn) raises his two children in a severe way, but it soon appears that there's something wrong with them. Daughter Ursula (Cynthia Preston) has the doubtable fame of being the easy screw at school, and with son Leon (David Hewlett) things are even get worse. In Franks office sits a medical dummy that's named Pin. This creature is a true member of the family. Especially Leon has a special relationship with him as he can speak with the doll. Pin is involved in all the family decisions. Even when Ursula got pregnant it's important for the family to get Pins advice. After a while we discover that Leon is schizophrenic. His family pretend Pin is alive because they feel pity for their sick son. Despite all this, Leon got madder (and especially dangerous) by the day. He succeeds in camouflage his parent's death with the tale of a car accident, but soon Ursula discovers that she's alone with an outrageous lunatic.
The strongest part of the movie is surely the first one. Especially the young Ursula is hilarious with immortal oneliners like "Do you think daddy washes his penis with Spic & Span"? Or what about "Do you think I become like this?" when she reads some dirty mags along with her brother. Yeah, this type of humour was only possible back then. The second part of the movie is a bit less as there are a bit too many clichés used, but this doesn't limit the fun you'll have with this classic. The film has also its followers because of Terry O'Quinn who's not only one of the leading stars of Lost, but he also appeared in that other horrorclassic The Stepfather.
There used to be a time that fans had to seek this picture at fleamarkets on some dusty videotape, but since shortly Arrow has released Pin on dvd. The quality from both image and sound is excellent.
You can order this dvd at the Arrow-site or lots of mailorders who send their deliveries overseas.
Didier BECU
07/11/2013
---
Wellicht zullen de meeste lezers nog nooit van Pin hebben gehoord, maar in het horrorcircuit geniet deze Canadese prent de faam van cultklassieker. Deze griezelfilm die in 1989 werd uitgebracht had bij aanvang de welluidende titel Pin, A Plastic Nightmare. De film brak wel geen potten aan de kassa, toch kreeg hij jaren later de nodige herwaardering.

Het verhaal dat is gebaseerd op de pulproman van Andrew Neiderman stelt misschien maar weinig voor, maar dankzij de strakke regie komt deze film aardig in de buurt van het werk uit David Cronenbergs begindagen. Huisarts Frank Linden (Terry O'Quinn) voedt zijn kinderen wel streng op, toch gaat het behoorlijk mis met zijn twee spruiten. Dochter Ursula (Cynthia Preston) ontpopt zich op vrij jonge leeftijd als de schoolslet, maar met zoonlief Leon (David Hewlett) is het nog erger gesteld. In Franks werkkamer zit er een levensgrote pop die door de gezinsleden Pin wordt genoemd. De plastieken pop is een volwaardig lid van het gezin, maar het is vooral Leon die er een speciale band mee heeft omdat hij met de pop kan praten. Pin wordt in alle gezinsbeslissingen betrokken. Zelfs wanneer Ursula zwanger is, vindt Leon dat de raad van de pop moet worden gevraagd. Na een tijdje ontdekken we het echte mysterie van het verhaal. Leon is schizofreen, maar uit medelijden met de jongen doen de andere gezinsleden alsof Pin echt bestaat. Wel wordt Leon met de dag gekker, en vooral gevaarlijker. De dood van zijn ouders kan hij nog door een auto-ongeluk camoufleren, desalniettemin ontdekt de arme Ursula dat ze met een krankzinnige psychopaat opgescheept zit.

Het sterkste gedeelte van de film is zonder twijfel het eerste. De humor zit behoorlijk fout en vooral de kleine Ursula is hilarisch met onsterfelijke oneliners als "Do you think daddy washes his penis with Spic & Span"? Eens Leon compleet gek is geworden vervalt deze cultklassiekers wel in clichés, toch kan dit de pret niet drukken. De film werd bij horrorfanaten ook gekend omdat Terry O'Quinn niet alleen bekend werd door Lost, maar ook door zijn onvergetelijke rol uit die andere klassieker, The Stepfather.

Tot voor kort moesten genrefans de rommelmarkt afschuimen om op zoek te gaan naar een videotape, maar sinds kort is deze cultfilm op dvd te vinden (ook al moet je daarvoor naar het Verenigd Koninkrijk trekken).
Didier BECU
07/11/2013
---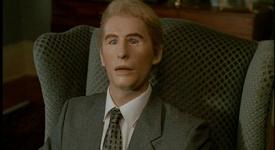 ---