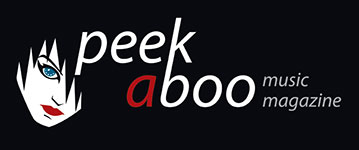 like this article review
---
SIDEARTICA
Sideartica: a forgotten gem
Article
11/12/2016, Maurizio MOSCARELLI
---
As an important agenda where one pins the "good things in life" to be taken into high memory, this month I decided to try my hand at writing about this seminal and important Italian project, which unfortunately "was".
In spacetime 2001-2006 Elena Alice Fossi, already member of Kirlian Camera along with founder Angelo Bergamini and recently, Kyoo Nam Rossi, Simone Fornari and Falk Pitschk well, as well as leader of other quite recent inspired groups (post-Siderartica project SPECTRA*paris, Stalingrad Valkyrie, Alice Neve Fox), Elena Alice Fossi gave birth to a specimen combo that, unfortunately for us, was short-lived.

In addition to Elena A. Fossi (vocals-electronics-music-lyrics-production-artwork) operating on such a "synthetisch autobahn" we also find Andrea Savelli and Andrea Fossi (brother of Captain Elena Alice exactly).
Since 2002, the year their debut work Night Parade came out, they started producing real gems of an electro-pop / future-glacial-pop going to take best shape on 2004 album Shapes and Colours from the Land of God.
We might call that Arctic-pop, being genetically robotic with an "artificial" hint. So, after first work Night Parade and following double album Shapes and colors from the land of God, Siderartica issued the 7"picture-disc King Snow's Garden/Silver Surfer's Shroud and an exclusive split-CDr including Drifting (live rehearsals 2003 from Kirlian Camera)", the mysterious project Camera Artica's track Lunar Cockroach (Bergamini-Fossi) and an acoustic version to Arkhangel'sk.

The item in question was released as a limited edition of 283 hand-numbered copies. They appeared on various compilations, as well. We will go forward to analyzing those cinematic gems, but even now we can say the Siderartica patrol was a brilliant invention of Elena Alice Fossi offering a relentless and icy first job to posterity, whereas as a leaden sun is arising at the same time. An album based on Roland Mc-505 and arctic melted electronic, guitars landscapes being treated by sidereal minimalism, as well as deeply inspired voices combined with the glacial power of that great vocalist E.A. Fossi exactly is.

The following Shapes and colors from the land of God came out as a double album, instead, where Disc 1, which gave a main title to the work, appeared more complex when going to be compared to above mentioned full-length debut and Disc 2, phantasmagorically entitled Toys and Robots from the land of God added some new prismatic pieces to the many-coloured CD 1.

Just a curiosity: song number 8 of the tracklist was inspired by the soundtrack to the American movie Portrait of Jennie (music by Dmitry Tyomkin and Bernhard Herrmann) which appeared on large screen in 1948.

The 7" picture-disc King Snow's Garden finally saw the light in November 2005 as a limited edition of 500 copies. After that, the "White Tiger" put the project on deep freeze and start giving shape to today's brilliant "UFO-pop" project SPECTRA*paris, but who knows… maybe one day our heroine starts venturing again into that book made of ice pages containing desolate and cold boreal nights, going to cross again the shapes and colors of the (wonderful) Land of God!

We are here in the meantime, basking in those evergreen sider-icescapes, cathartic sounds, arising under a blinding sun and lonely electronic pulse generator metrics. I'll be writing soon about those works which diligently shine Artic Light and shouldn't be forgotten "like tears in rain"… as Batty the "Replicant" said!
Maurizio MOSCARELLI
11/12/2016
---
Het is belangrijk om in je agenda ook de "goede dingen in het leven" aan te stippen, daarom besloot ik deze maand om iets te schrijven over een veelbelovend en belangrijk Italiaanse project, dat jammer genoeg tot de verleden tijd behoort.
Het was in de ruimtetijd 2001-2006. Elena Alice Fossi, was toen reeds lid van Kirlian Camera en ook betrokken bij het post-Siderartica project SPECTRA*PARIS, Stalingrad Valkyrie en Alice Neve Fox. Samen met Angelo Bergamini, Kyoo Nam Rossi, Simone Fornari en Falk Pitschk richtte ze het Siderartica-combo op dat helaas een kort leven had.
Naast Elena A. Fossi (zang-elektronica-muziek-teksten-productie-artwork) horen we op deze "synthetische autobaan" ook Andrea Savelli en Andrea Fossi (jawel, de broer van kapitein Elena Alice). In 2002 kwam hun debuut Night Parade uit, en sinds dan kregen de elektropoppareltjes van het in 2004 te verschijnen album Shapes and Colours from the Land of God vorm.
Je kan het Arctic-pop noemen, je weet wel robotachtig met een "kunstmatige" hint. Na Night Parade en het dubbelalbum Shapes and Colours from the Land of God, bracht Siderartica een 7 "picture-disc uit (King Snow's Garden/Silver Surfer's Shroud) en een exclusieve split-CDr met daarop een liverepetitie uit 2003 van Drifting van Kirlian Camera ) en Lunar Cockroach: een track van het mysterieuze project Camera Artica (Bergamini-Fossi) plus een akoestische versie van Arkhangel'sk.
Deze plaat verscheen in een zeer gelimiteerde oplage: 283 om precies te zijn en allen met de hand genummerd. Later verscheen het op verschillende compilaties. Laten we deze filmische edelstenen even verder analyseren, hoewel we nu al kunnen zeggen dat Siderartica een briljante muzikale uitvinding van Elena Alice Fossi was: een meedogenloze ijzige eerste baan met daarop een loden zon die aan het nageslacht werd aangeboden. Een album met een Roland Mc-505 en arctische landschappen van elektronica en gitaren en dat met een siderisch minimalisme, en tevens geïnspireerd door de ijzige kracht van E.A. Fossis stem.
De opvolger Shapes and colors from the land of God kwam als een dubbelalbum uit. De titel van het eerste schijfje was de belangrijkste, maar bleek ingewikkelder te zijn wanneer je het met de titel van het debuut vergeleek. Daarom werd aan de titel de woorden Toys and Robots from the land of God toegevoegd.
Een leuk weetje overigens, de achtste track was geïnspireerd op de soundtrack van de Amerikaanse in 1948 verschenen film Portrait Of Jennie die door Dmitry Tyomkin en Bernhard Herrmann is geschreven.
De 7 "picture-disc King Snow's Garden zag eindelijk het licht in november 2005, ook hier in een gelimiteerde oplage van 500 exemplaren. Daarna zette de "White Tiger" dit project in de diepvries en kreeg de hedendaagse briljante"UFO-pop" van SPECTRA*PARIS gestalte. Maar wie weet... Misschien komt op een dag onze heldin terug met het geluid van desolate en koude boreale nachten die worden getransformeerd tot vormen en kleuren van het (prachtige) land van God!
In de tussentijd koesteren we de evergreen Sider-icescapes: geluiden die voortvloeien uit een verblindende zon en elektronische apparaten. Ik zal binnenkort iets schrijven over wat verscheen na Artic Light en ook niet vergeten mag worden, "als tranen in de regen" zoals Batty de "Replicant" zei…
Maurizio MOSCARELLI
11/12/2016
---