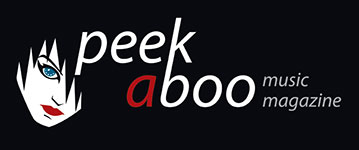 like this vinyl review
---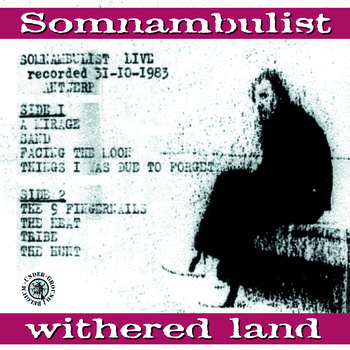 SOMNAMBULIST
Withered Land
Music
•
Vinyl
Minimal
[83/100]

Walhalla Records
04/05/2011, Didier BECU
---
One of the most underrated Belgian artists certainly must be Mark Burghgraeve.
Every music history book that respects itself will quote this man as one of the founders of The Klinik. While Dirk Ivens became the star he deserved to be, Mark decided to hide himself in the underground releasing tapes under the alter ego from Somnambulist or M. Byro.
Art for the sake of it or the fruit of a misinterpreted genius?
Who will tell, but we're pretty sure though that artists like Mark never would have thought themselves that thirty years later they would be seen as innovators from a genre that is now named "minimal wave".
Anyway, let's be happy with the current recognition. One of the labels that are digging for those pearls from the past is the Antwerp based Walhalla Records and it's even through the efforts from label founder Lieven that Mark Burghgraeve suddenly got a new breath of artistic life, and so getting little by little the respect he deserves to have.
This record has originally been released on Central Tapes and is a live recording made at the Paradox in Antwerp, at 31stOctober 1983.
"Withered land" features 8 tracks and they all have that typical Somnambulist-sound that can best be defined as a schizophrenic one: his songs consists of experimental weird synths that are similar to those from Der Plan and melancholic coldwave synths that were dominating the 80's at the same time.
Add an intriguing voice to that and you have indeed a beautiful musical project.
An ice-cold beauty, with a "thank you" to those nuclear missiles of the eighties.
Didier BECU
04/05/2011
---
Een van de meest ondergewaardeerde artiesten uit België moet ongetwijfeld Mark Burghgraeve zijn.
Ieder zichzelf respecterend muziekgeschiedenisboek zou deze man moeten aanduiden als één van de oorspronkelijke bezielers van The Klinik.
Terwijl Dirk Ivens later (meer dan verdiend) een ster werd, verschool Mark zich in de underground en kwam hij o.a. in het tapecircuit terecht waar hij releases uitbracht onder de naam van Somnambulist of M. Byro.
Kunst voor de lol of het werk van onbegrepen genieën? Wie zal het zeggen, maar we zijn vrijwel zeker dat dit soort artiesten destijds nooit zou hebben verwacht dat ze dertig jaar later plots in de kijker zouden staan en dat de destijds genegeerde muziek nu aangeprezen wordt als zijnde "minimal wave".
Laten we blij zijn dat de erkenning er nu toch komt. Eén van de labels die op zoek gaat naar de pareltjes uit het verleden is het Antwerpse Walhalla Records, dat er zelfs voor zorgt dat door deze heruitgave de carrière van Mark Burghraeve plots een tweede levensadem krijgt, waardoor deze man misschien toch nog een beetje de erkenning krijgt waarop hij onmiskenbaar recht heeft.
Deze heruitgave was oorspronkelijk uitgebracht op Central Tapes en is een live-opname die dateert van 31 oktober 1983, opgenomen in de Antwerpse Paradox.
Deze plaat telt 8 nummers en bevat het typische Somnambulist-geluid dat het best kan omschreven worden als schizofreen: enerzijds heb je de experimentele synths die aanleunen bij Der Plan, terwijl je anderzijds die zware, melancholische coldwavesynths hebt die de jaren '80 zo mooi maakten. Voeg daarbij nog eens een intrigerende stem en je bekomt een uniek muzikaal project.
Ijskoud mooi, met dank aan de dreigende kernraketten van weleer.
Didier BECU
04/05/2011
---