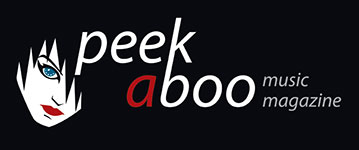 like this cd review
---
SOPOR AETERNUS AND THE ENSEMBLE OF SHADOWS
Mitternacht
Music
•
CD
Darkwave
•
Gothic
•
Neoclassical
[90/100]

Apocalyptic Vision (Trisol)
19/10/2014, Tom PLOVIE
---
Anna-Varney Cantodea from Sopor Aeternus & The Ensemble of Shadows opens her new album with the sober sound of crackling fire and some arpeggio's. After quietly exposing the central theme of the instrumental opening track 'Mitternacht' the number burst and ends as quickly as it started...

The timbre of this album sounds -to the fans- very familiar: classical instruments such as the violin, cello, bassoon, clarinet, oboe, cornet, trombone, tuba, bass, lute, harpsichord.. completed with drums and the occasional, spooky sound of a theremin. Lovely instrument tho'!

The artwork is once again very crafty and taken care of: the cover art by Natalie Shau and photograph by Ingo Römling connects the album to the "Have you seen this ghost?"-CD. The hardcover booklet has a handy size and is illustrated with wonderful fantasy drawings made by Anastasiya Chyringa. There is one for each track. Auntie Anna does know how to encircle herself with talented artists. All of this give some extra atmosphere to the music and dark world of Sopor Aeternus. A red-eyed teddy bear as an ersatz lover, a dead boy on a tomb, the black shroud, the wounded bride, satanic and occult rituals,.. There's a lot of symbolism here!

Let's go back to the music. Another connection with the "Have you seen this ghost?"-album are the covers. There is "Bang-Bang" by Sonny Bono (police siren included), the whirling "Carnival of Souls" by Verne Langdon and the Twin Peaks-track "Into the Night", written by Angelo Badalamenti & David Lynch. Sopor excels the original by this instrumental version. The Sephardic traditional "La Prima Vez", made famous by the choreographer Pina Bausch ends this list with a very beautiful and well-balanced interpretation. A highlight.

Sopor is a master of bells. The carillon at the beginning of "Unter His Light" sounds as soft and delicate as the melody from a small music box. The airy (and eerie) sound of the theremin combined with Anna-Varney's dark voice makes a surprising duet. The baroque regularity, solemnly sounding brass instruments, the cradling character of the metre,.. all of this is to be found into this 7 minute track.

Halfway the album "Confessional" is without any doubt another highlight. AVC sings open-hearted about the loneliness: "No-one ever writes, no-one ever calls,.. I often try picturing what it would be like to have a friend, someone who spends his time with me, enjoys my company...". But she believes in FRIENDSHIP and TRUTH as the lyrics tell us, written in those capital letters. Confiding in Love is another matter, as we hear on "You cannot make him love you". Her male body ( ) is the cause of this. Literally: "He will never love you! The reason for your failure, it hangs between your thighs." The discontent of the own gender is a recurring theme...

Although the battle for love seems to be settled in the final track 'Miniature'. A page is being turned and the lute sounds suspiciously charming. With a submissive and breakable voice she sings to have found peace in the simple fact of the other one's happiness. The one with whom she cannot share that emotion. The corresponding image by Chyringa shows us Anna-Varney with her hand on her bosom and an approving look in the eyes looking towards the desired hunk who walks away, hand in hand with his girlfriend. The marching music accompanies them towards Happiness. The silence that follows could not tell us anything more.
Tom PLOVIE
19/10/2014
---
Met het geknetter van een haardvuur en enkele arpeggio's opent Anna-Varney Cantodea van Sopor Aeternus & The Ensembe of Shadows stemmig zijn/haar nieuwe plaat. Nadat het thema van de instrumentale opener 'Mitternacht' sober wordt ingezet (die blazers!) barst het nummer open om daarna weer even snel uit te doven...

De klankkleur blijft -voor de fans- vertrouwd: een klassiek instrumentarium bestaande uit viool, cello, luit, fagot, klarinet, hobo, trombone, tuba, kornet, clavecimbel aangevuld met drums en het occasionele, soms spooky geluid van een theremin. Heerlijk, die elektrofoon.

Het artwork is opnieuw zeer uitgekiend en verzorgd: de cover art van Natalie Shau en foto van Ingo Römling linkt het album aan de CD "Have you seen this ghost?". Het hardcover boekje heeft een handig formaat en staat vol met illustraties van Anastasiya Chyringa: een prent voor elke track. Anna-Varney weet zich artistiek goed te omringen. Dit alles geeft uiteraard extra cachet aan de wereld waarin ze ons wil laten onderdompelen. De teddybeer als surrogaat voor een (bed)partner, een dode jongen op een graftombe, de zwarte weduwensluier, de gewonde bruid, duivelse en occulte rituelen,... Symboliek op overschot!

Terug naar de muziek. Een andere link met de "Have you seen this ghost?" zijn de covers. Zo is er "Bang-Bang" van Sonny Bono (inclusief met politiesirene), het zwierige "Carnival of Souls" van Verne Langdon en het Twin Peaks-nummer "Into the Night" van Angelo Badalamenti & David Lynch. Sopor maakt er een instrumentale versie van die het origineel overtreft. De Sefardische traditional "La Prima Vez", bekend door de choreografie van Pina Bausch, sluit dit rijtje af met een bijzonder mooie en uitgebalanceerde bewerking.

Sopor beheerst het klokkenspel meesterlijk. Zo klinken de beiaardklokken die "Under His Light" openen even zacht als de melodie uit een muziekdoos. De ijle thereminklanken zorgen vervolgens voor een verrassend duet. De barokke regelmaat, de plechtig klinkende koperblazers, het wiegende karakter van het metrum,.. het zit allemaal in deze zeven minuten durende parel.

Halfweg het album vormt "Confessional" ongetwijfeld een hoogtepunt. AVC bezingt -in alle oprechtheid- de eenzaamheid: "No-one ever writes, no-one ever calls,.. I often try picturing what it would be like to have a friend, someone who spends his time with me, enjoys my company...", maar blijft geloven in VRIENDSCHAP en WAARHEID, zoals de lyrics dat in dezelfde hoofdletters weergeven. In de liefde is dat vertrouwen dan weer zoek, zo horen we op "You cannot make him love you". Haar man-zijn is daar reden van: "He will never love you! The reason for your failure, it hangs between your thighs." De geslachtelijke onvrede blijft een terugkerend thema.

De strijd om die liefde lijkt beslecht in afsluiter 'Miniature'. Een bladzijde wordt letterlijk omgeslagen en de luit klinkt verdacht lieflijk. Met een gelaten stem zingt ze vrede te hebben met het simpele geluk van de ander, diegene waarmee ze geen liefde kan delen. De bijhorende prent van Chyringa toont een Anna-Varney met de hand op de borst en een instemmende blik richting de begeerde hunk die met zijn liefje het geluk tegemoet stapt. De marsmuziek doet hen uitgeleide. De stilte die erop volgt sluit dit laatste hoofdstuk passend af.
Tom PLOVIE
19/10/2014
---