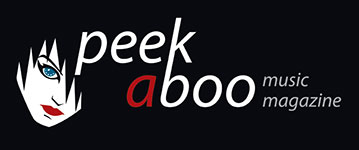 like this cd review
---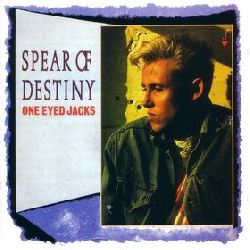 SPEAR OF DESTINY
One-Eyed Jacks
Music
•
CD
Dark Pop
•
Glampop
[90/100]

Cherry Red Records
27/01/2012, Didier BECU
---
Why does someone love a band? I guess there might be a dozen different reasons for it, no? The tunes, the sound, their attitude....even for some their image, but above all what it means in your personal life. I totally admit that I am one of those who has a soft spot for heroes.
Call it a lack of an own personality or whatever but heroes are in the first place created to help you in your personal life, why else would they have invented Batman, you think? Kirk Brandon always used to be one of those persons I cherish so much. In fact, I always thought it has been a weird choice as for those who once saw Kirk on stage, they all know that this blond guy is the kind of person who believes in some good rock 'n roll. But in his case it always has been the kind of melancholic rock and that's probably why wavefans from all over the world love him so much.
Kirk was indeed the guy behind Theatre Of Hate who asked us once if we still believe in the westworld, but sadly enough lots of music devotees lost their belief in his second band, Spear Of Destiny, of course with the big expection at where this band is seen as an institution of good taste (or at least by them who actually have good taste).
Just like with so many other records, Cherry Red decided to reissue those little gems that are not easy to be found. "One Eyed Jacks" (hence the Marlon Brando-thing) was the second album by Spear Of Destiny. A quite courageous album in fact as pure musically it was Kirk's statement that there is a difference between Theatre Of Hate and Spear Of Destiny. In all honesty, it still pisses me off to hear people say that SOD aren't like TOH, learn to listen folks!
On this album you can hear the essence of Kirk: a song is a song if it's simple and effective and more, if it's pure from the heart. Ten tracks which makes you wonder why they're not been automatically classified as classics. I mean, can you find today one band who write tunes like "Young Men", "Liberator" or "Rainmaker"? Yes, you can but it will be difficult anyway....
Oh, you still want to know how they sound like? What about perfect Miami Vice-tunes for people who at the end of the day like to dream away? Miami Vice, you say? Yeah, not only had Kirk a song about them, but can you sum up one cop tv-show that featured The Mission or Dead Can Dance? No, you can't! Put on a siren on the roof of your car, play bloody loud and discover (or even better rediscover) the beauty of the Spear. All hail Kirk!
And for the wiseguys who say that they already have this one in their collection, of course we do congratulate you for your fine taste in music, but you better get this version too as it features lots of 12" versions and live versions!
Didier BECU
27/01/2012
---