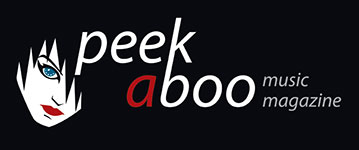 like this concert review
---
SPECTRA*PARIS
FRIDAY THE 13TH

KORTRIJK

DE KREUN

13/05/2011

When indus meets beauty
Concert
[3/100]
16/05/2011, Didier BECU
---
Horror and Goth always seem to go hand in hand and that must be what Shadowplay-founder Bernd had in mind when he transformed Friday the 13th May into a minifestival.
The audience still needs to find its way to De Kreun in Kortrijk but as we always think "what's not yet, can be later" we think we can sum up this evening musically in a very positive way.
First band Der Klinke opened for Covenant a few weeks ago and lots of have things happened since for the West-Flanders gothbunch. Not only was it the day that "Square Moon" officially got released but it is also Chesko and his mates can claim that the reactions are more than positive so far. Something tells us that this is due to the fact that Der Klinke are coming up with sounds you don't hear that much these days.
It isn't gothrock, it isn't waverock, it's just (well) Der Klinke and they know how to write a proper tune. It's a very uplifting experience to see that this band grow with every gig.
It wasn't just Der Klinke who were founded at the De Klinke youthclub.
Some time ago this place also provoked the resurrection of Mildreda and what we saw from these three musicians yesterday only made us hungry for more.
We saw founder Jan Dewulf, along with Gwenny and Mika (This Morn' Omina) coming up with their darkest feelings. More than once we had the dark ambient acts in mind that once graced Cold Meat Industry. It also made us hope that it would make Jan concentrate on some more Mildreda in the future as the silence has lasted a bit too long, but we got some glorious thunder on Friday the 13th and it felt good.
Third act of the day was Spectra*Paris, the dark dancepop act from the most beautiful thing ever to come out of Italy. The whole world should know we're talking about Elena Fossi.
In an ideal world this woman should be crowned as the ultimate popqueen, as pop is simply what Spectra*Paris is all about.
Fed by a world of Bond and female superheroes the famous voice of Kirlian Camera is carried away on a carpet pop. Too Goth to be pop or just too poppy to be Goth? It's a statement like any other but it's also a statement to say that Spectra*Paris gave a performance that touched our imagination.
The final act was Sonar, the noiseproject from Dirk Ivens fronted by Eric Van Wonterghem (just like Absolute Body Control).
It's quite impossible for me to catch the energy of Sonar's music with words. Apart from the fact that Dirk and Eric are having the time of their life, they also succeed in elevating the public to a trance-like state where language is ruled by the power of machines.
You could say Sonar's music is ultimate aggression but the power of the fist has been transformed in industrial beats.
Sublime, even if we doubt if this can be healthy for the mind…but what was that about Horror and Goth?
Didier BECU
16/05/2011
---
Horror en goth zijn blijkbaar steeds goede vrienden geweest en dat vond ook Shadowplay-bezieler Bernd die van Vrijdag de 13e meteen een minifestivalletje maakte.
Blijkbaar moet de grote massa nog de weg naar De Kreun vinden, maar onder de noemer van "wat niet is, kan komen" was de eindbalans op muzikaal vlak er enkel één die zeer positief te noemen was.
Opener Der Klinke stond een paar weken geleden nog met Covenant op het podium en ondertussen lijkt er veel te verandert te zijn voor de West-Vlamingen. Niet alleen werd "Square Moon" die dag officieel op het publiek losgelaten maar kan Chesko en zijn maten toch met enige trots zeggen dat de reacties positief zijn, en dat zal veel te maken hebben doordat Der Klinke een groep is die een geluid neer weet te poten die je anno 2011 te weinig hoort.
Het is geen gothrock, het is geen waverock, het is (tja) Der Klinke en ze kunnen nog nummers schrijven ook en vooral zie je dat dit een groep is die optreden per optreden groeit.
Het was niet alleen Der Klinke die ontstond in het beruchte jeugdhuis De Klinke, ook de heropstanding van Mildreda ontstond ginder en wat deze drie gisteren bewezen, deed enkel smaken naar meer.
Samen met Gwenny en Mika (This Morn' Omina) toonde bezieler Jan Dewulf met Mildreda het donkerste uit zichzelf en moest je aan meerdere dark ambient acts denken die ooit schoon weer maakten op Cold Meat Industry. Het deed je ook ergens hopen dat Jan zich meer zou concentreren op Mildreda want de stilte duurde net iets te lang maar vrijdag de 13e donderde het wel.
Derde op de affiche was Spectra*Paris, de donkere dancepop-act van Italië's mooiste en ondertussen zou heel de wereld moeten weten dat dit Elena Fossi is.
In een ideale wereld zou Elena tot de ultieme popkoningin moeten gekroond worden want dat is nu net wat Spectra*Paris is.
De bekende Kirlian Camera-stem laat zich doorheen een wereld die gevoed wordt door Bond en allerlei stripheldinnen wegvoeren op een poptapijt. Te goth om pop te zijn of te pop om goth te zijn? Het is een stelling als een andere, maar het is eveneens een stelling om vast te stellen dat Spectra*Paris vrijdag een concert gaf dat tot de verbeelding (en weliswaar niet alleen de muzikale) sprak.
Afsluiten deden we met Sonar, het noiseproject van Dirk Ivens dat hij net als Absolute Body Control met Eric Van Wonterghem brengt. Hoe energievol Sonar's muziek ook klinkt, blijft het moeilijk om het geluid van Sonar in woorden te vertalen want wat Eric en Dirk doen (naast een hoge dosis zelf-amusement) is het volk in een trance brengen waarbij het wordt meegevoerd naar een wereld waar de taal er één is van machines.
Sonar's muziek zou je kunnen omschrijven als ultieme agressie, alleen zijn het vuistslagen die vertaald worden in industriële mokerslagen. Subliem, maar of het nu echt gezond is voor de geest...nu ja, horror en goth!
Didier BECU
16/05/2011
---