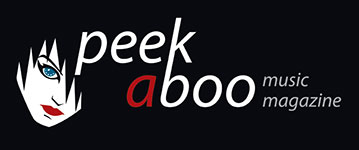 like this concert review
---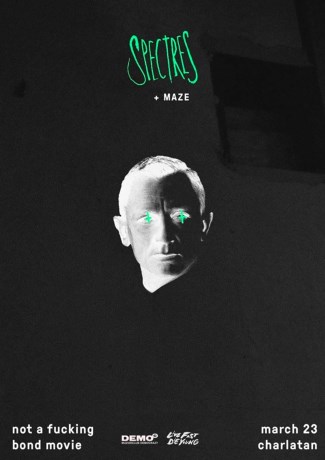 SPECTRES + MAZE
Ghent, De Charlatan (23/03/2016)
Concert
09/12/2016, Didier BECU
---
Noise rock. Some say it's just noise without any direction, while others consider the genre as the best you can dream of! Peek-A-Boo opts for the latter, and so we decided to go the centre of Ghent. In the venue De Charlatan a concert was organised by both the veterans of Democrazy and the brand new Ghent based booking agency Live Fast Die Young. This cooperation has one goal only: to get bands on stage which break the sound barrier.
The first band on stage consisted of the Belgian youngsters of Maze. There's almost no information available and they don't say a lot on stage either (except a thank you. But what a sound they produce!
They truly are the children of The Jesus Lizard, and they probably don't even have one record by them. Maze played five tracks, and they contained everything: variation, agression, energy, lots of ideas and above all talent! Loud guitars, tribal drums and vocals that come straight out of the underworld. Short, powerful and in fact so brilliant that they overshadowed the main act.
It was quite a special evening for Spectres, as it was actually the first time the band played in Belgium. Not that they said anything about it, as from the start the British band produced a deafening set without pauses. Although Spectres is signed to the shoegaze label Sonic Cathedral, you mainly hear noise without compromises and guitar effects that were explored on Psychocandy by The Jesus & Mary Chain. In a way, you can say that Spectres is the bastard child of Swervedriver (the psychedelic touch) and A Place To Bury Strangers (that noise).

It sounded quite nice and we saw a lot of people who stuck their fingers in ears (the guitar was even played with a beer bottle), but Spectres simply wasn't strong enough to wash away the genius of Maze.
Anyway, the first edition of Live Fast Die Young in Ghent was as announced: hard, even very hard! Up to the second edition!
Didier BECU
09/12/2016
---
Noiserock. Voor de een is het niet meer dan richtingloos lawaai, terwijl het voor anderen de geliefde oorsmeer bij uitstek is. Dat geldt ook voor Peek-A-Boo en dus trokken wij met een hart vol verlangen naar het Gentse stadscentrum. In De Charlatan was er immers voor het eerst een concert dat een samenwerking is tussen de veteranen van Democrazy en het nieuwe Gentse boekingskantoor Live Fast Die Young. Dit bondgenootschap duldt maar één soort acts op het podium: bands die net niet (of net wel) de geluidsmuur doorbreken.

De eerste band bestond uit door de jonge wolven van Maze. Veel info hebben we niet en zelf zijn ze nu ook niet meteen de meest spraakzame mensen op een podium (op een merci na), maar wat een geluid hebben deze jonge kerels!
Het zijn de kinderen van The Jesus Lizard die waarschijnlijk geen enkele plaat van deze Texanen in hun collectie hebben staan. We hoorden vijf tracks en daar zat werkelijk alles in: variatie, agressie, energie, vindingrijkheid en bovenal zeer veel talent. Loeiharde gitaren, tribal drums en vocalen die uit de onderwereld komen. Kort, krachtig en eigenlijk briljant genoeg om de hoofdact van de avond in de schaduw te stellen.
Voor Spectres was het gisteren een speciale avond, want het was voor het eerst dat ze op Belgische bodem stonden. Veel aankondiging kwam daar niet bij kijken, meteen begon het Britse gezelschap aan een oorverdovende set zonder ook maar één seconde adempauze. De band zit op het shoegazelabel Sonic Cathedral, maar behalve de gitaareffecten van Psychocandy van The Jesus & Mary Chain, hoor je vooral noise zonder compromissen. Ergens kan je zelfs stellen dat deze Engelsen het bastaardkind zijn van Swervedriver (de flarden psychedelica) en A Place To Bury Strangers. De band heeft tot nu toe twee releases uit: de ep Hunger en de lp Dying.
Het klonk wel lekker, verschillende bezoekers peuterden geregeld met de vingers in de oren (de gitaar werd zelfs met een bierflesje bespeeld), maar helaas woog hun geluidsbrij niet genoeg op tegen het vernuft van Maze (we hebben nu al medelijden met andere bands die deze klasbakken als voorprogramma hebben).

De eerste avond van Live Fast Die Young in Gent was dan ook zoals beloofd: hard, zeg maar keihard. Op naar een tweede editie!
Didier BECU
09/12/2016
---