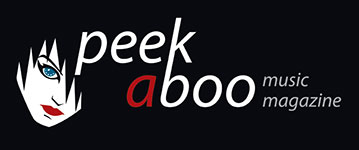 like this vinyl / digital review
---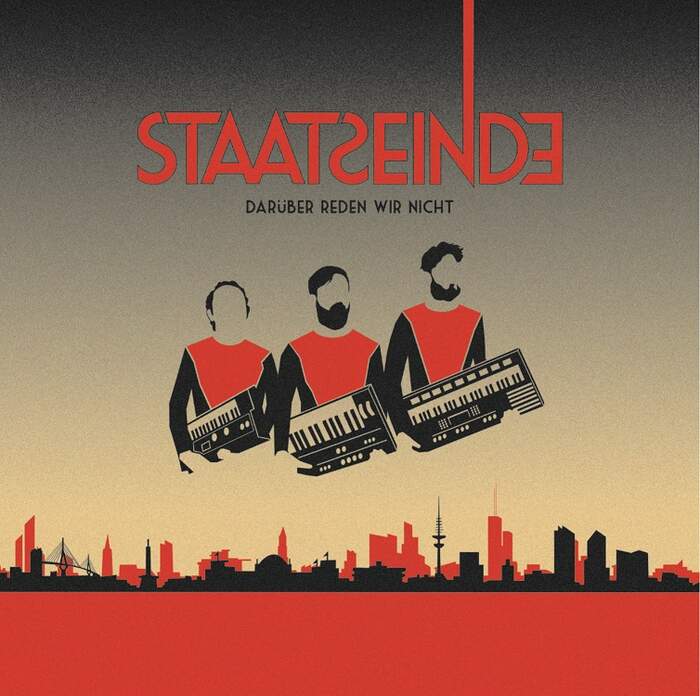 STAATSEINDE
Darüber Reden Wir Nicht
Music
•
Vinyl / Digital
EBM
•
Minimal
[87/100]

Lo Phi Forms Records
20/08/2020, Jurgen BRAECKEVELT
---
They seem to skim through space at dizzying speed. The gentlemen of Dutch band Staatseinde spent their recent earthly time creating their third EP called Darüber Reden Wir Nicht. A 6-track EP with their own mix of Neue Niederländische Welle, Synth-Wave and EBM. In addition to the musical language, these Staatseinde guys also use 4 different languages ​​to spread their message to humanity. The EP unfolds to us with a real anthem: 'Staatsanthem'. A very grotesque, heroic soundtrack, an ode, tribute and hymn to their home planet. Are they indeed aliens after all? Wherever they have landed on Earth, their anthem is full of greatness, a haze of sublimity, and feels like an intimate, loving pat on your head. 'Darüber Reden Wir Nicht!' Genau! Enough greatness, back to the big bang with some minimalist EBM. Rhythmically uplifting and danceable down to the smallest molecule. Now that they have pulled the gearshift in sixth gear, the accelerator pedal gets an extra push. Although the use of hardware is also very economical on this track, it still sounds firmer than ever before. While the A-side is still fading away in our head, the B-side immediately lashes out with 'Laat het Gebeuren' (EN: 'Let it Happen'). Back to the mothership, called Synth-Wave. With a message about the self-destructive side of humanity and the answer to it from Mother Earth. And by now we know that it can kick back quite harsh. Borders must be guarded, between east and west, between politics and freedom. Who gets through and who is forcefully reprimanded by the 'Grenztruppenführer'. All this in a retro Synth-Wave jacket. To conclude 'Vi Åker Dit', which started as the Swedish translation of their hit song 'Ruimtevaart Vooruit'. On the way, an ultimate flight to another dimension. Another fascinating piece of work by this Dutch trio, which avoids any label in terms of genre or style. I witnessed them live once, and this trip to the limits of the solar system was more than intoxicating. They tap from many barrels and every drink tastes like more!
Jurgen BRAECKEVELT
20/08/2020
---
Ze lijken aan duizelingwekkende snelheid door de ruimte te scheren. De heerschappen van het Nederlandse Staatseinde brachten hun recente aardse tijd door met het creëren van hun derde EP genaamd Darüber Reden Wir Nicht, een EP met zes songs met hun eigen combinatie van Neue Niederländische Welle, synthwave en EBM. Naast muzikale verscheidenheid bedienen de Staatseinders zich ook van 4 talen om hun boodschap aan de mensheid te verkondigen.
De EP start met een heus anthem: Staatsanthem. Een groteske, heroïsche soundtrack, een ode, eerbetoon en hymne aan hun thuisplaneet. Zijn ze dan toch extraterrestrials? Hun anthem zit vol grootsheid, een waas van verhevenheid en voelt aan als een intieme, liefdevolle aai over je bol.
Darüber Reden Wir Nicht! Genau! Genoeg grootsheid, terug naar de oerknal met een minimalistische EBM-er. Ritmisch opzwepend en dansbaar tot in de kleinste molecule. Nu ze de versnellingspook in zesde hebben gejaagd, krijgt het gaspedaal nog een trapje bij. Hoewel ook hier heel zuinig met de hardware wordt omgegaan, klinkt het toch steviger dan ooit.
De A-kant is verleden tijd, de B-kant haalt meteen uit met Laat het Gebeuren. Terug naar het moederschip, de synthwave. Met een boodschap over de zelfdestructieve kant van de mensheid en het antwoord daarop van moeder Aarde. Dat die aardig kan terugtrappen, weten we intussen. Grenzen dienen bewaakt, tussen oost en west, tussen politiek en vrijheid. Wie komt erdoorheen en wie wordt met strenge hand terechtgewezen door de Grenztruppenführer. Dit alles in een retro-synthwave-jasje.
Als afsluiter Vi Åker Dit, dat begon als de Zweedse vertaling van hun hitsong Ruimtevaart Vooruit. Op weg, de ultieme vlucht naar een andere dimensie. Alweer een boeiend werkstuk van het Nederlandse drietal, dat wars van enig label qua stijl gewoon hun ding doet. Ik mocht ze ook al live aanschouwen, waar de trip richting grenzen van het zonnestelsel meer dan bedwelmend was. Ze tappen uit vele vaatjes en elke dronk smaakt naar meer.
Jurgen BRAECKEVELT
20/08/2020
---
---