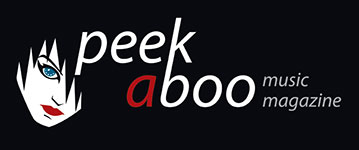 like this concert review
---
STADT, KISS THE ANUS OF A BLACK CAT, RADIAL SEQUENCE
Ghent, De Handelsbeurs (17/12/2015)
Concert
20/12/2015, Didier BECU
---
Seeing three (good) bands for the price of one, it still is possible! Those who were at De Handelsbeurs (venue in Ghent) this Thursday night, could discover a fresh selection of the current Flemish music scene. The organisation of Autumn Falls chooses for a quite bold line-up as the three bands barely have something in common with each other musically (except the talent), and of course with a predictable result: the concert hall was divided into groups.
Probably, the youngsters of Radial Sequence were satisfied that they could present their new songs on a big stage, but is there anyone who wants to walk in their shoes? This foursome offers a complete different music style, and you can see that they also have some lack of stage experience (and controlling the stage is exactly what makes Kiss The Anus Of A Black Cat and Stadt so unique!).
Radial Sequence makes psychedelic indie pop with a wink to Radiohead (the experimental factor) and Syd Barrett (the reverie). Even if the tracks are compelling enough to make us look forward to the upcoming EP, they still have to learn some things. Their compositions are well made, but the beauty gets lost because the band doesn't seem to know that playing a concert is different from repeating what was learned in a rehearsal room the night before. If they can fix that, then Radial Sequence surely be successful.
Saying that Kiss The Anus Of A Black Cat is a newcomer, would make us blush, but the sound on their sixth album To Live Vicariously definitely is brand new.
Ten years ago, Stef Irritant (or if you prefer Stef Heeren) released his debut at K-RAA-K Records, and during a decade the band with the hilarious name could convince a lot of music fans, even if most people labelled their drone music as (too) experimental. This evening Stef warned us that the set contains one song only that you can dance to, but still... The addition of electronic sounds makes Kiss The Anus Of A Black Cat a lot more accessible (not to say accessible!). But, and that's more important, anyone who saw them in Ghent, was aware that they have transformed themselves into an untameable animal!
The set of ten songs started with an impressive version of Lying. After a few notes only, everyone realized that Stef Obnoxious, Kwinten Mordijck, Matthias Debusschere and Jonathan Callens have a total control over their newest CD, a collaboration between Zeal and 9000 Records. Semantics (that one song which you can dance to) is just minimal wave. In Drone For Conan you can hear the dismal drums of The Cure, while somewhere in heaven Nico laughs as she surely approves their version of Evening Of Light. The set in Ghent was exciting, innovative, but above all a sound that was squarely aimed at the listener's heart. No one doubted the fact that in 2015 Kiss The Anus Of A Black Cat will outgrown the status of "interesting experimental band".
After the whirlwind of Kiss The Anus Of A Black Cat, there was one more concert: Stadt (and yes, to be pronounced in the German way!). Last autumn we asked Simon, Frederic, Fulk and Joris why the group has to have a German name, and the answer was quite simple: for the love of krautrock!
Only one question had to be answered: will the public fall for the (lesser known) Flemish-Dutch band? After just a few seconds the fear seemed to have no grounds as the audience thoroughly enjoyed the strange (at times mesmerizing) musical potpourri. Sometimes their compositions sound very poppy, and then it is difficult to find a way through their psychedelic, almost experimental adventure. But, it works!
Most performed songs (of course) came from their second CD Escalators. Although earlier this year we enjoyed this CD, Stadt gave us the image that, because of their energy, they're in the first place a band you have to discover on stage. Beach Boys mixed with Can? Impossible, you say? Listen to Stadt!
Didier BECU
20/12/2015
---
Drie (goede) bands voor de prijs van één, het bestaat nog! Wie donderdagavond in de Gentse Handelsbeurs stond, kon dankzij het Autumn Falls-concept genieten van een frisse greep uit het huidige Vlaamse muzieklandschap. De samenstelling van het programma was best gewaagd, het ging immers om drie groepen die muzikaal nauwelijks een band met elkaar hebben (op talent na) waardoor de concertzaal duidelijk in groepjes was opgedeeld.
De jonge snaken van Radial Sequence waren misschien wel tevreden dat ze hun nummertjes op het grote podium van de Handelsbeurs mochten opvoeren, de vraag is wie in hun schoenen zou willen staan. Niet alleen is dit viertal muzikaal van een heel ander kaliber dan de twee hoofdacts, ook hebben deze jongens wat gebrek aan podiumervaring (en het podium beheersen is nou net waar Kiss The Anus Of A Black Cat en Stadt in uitblinken!).
De vier maken brave psychedelische indiepop met een knipoog naar Radiohead (het experimentele) en Syd Barrett (het mijmeren). De nummers zijn overtuigend genoeg om met interesse naar de ep uit te kijken, qua podiumwerk is er echter nog wat werk aan de winkel. Het oog van de concertganger wil trouwens ook wat, een optreden moet meer zijn dan louter herhalen wat je in een repetitieruimte hebt geleerd. Als de vier jongens van Radial Sequence daar iets aan doen, dan komt beslist alles goed, de juiste songs hebben ze in ieder geval al gecomponeerd!
Zeggen dat Kiss The Anus Of A Black Cat nieuwkomers zijn, zou alleen maar het schaamrood op onze wangen toveren, maar het geluid van de zesde To Live Vicariously is wel gloednieuw.
Het is ondertussen tien jaar geleden dat Stef Irritant (of zo je wil Stef Heeren) zijn debuut op K-RAA-K uitbracht, en ook al kon de groep met de hilarische naam in een decennium tijd heel wat muziekfans overtuigen, bleef hun dronemuziek voor de meeste mensen toch enigszins (te) experimenteel. Stef verwittigde ons dat er in de set maar één mogelijkheid was om te dansen, maar toch… Door de toevoeging van elektronische klanken is Kiss The Anus Of A Black Cat heel wat toegankelijker (om niet te zeggen toegankelijk) geworden. Maar gisteren bleek vooral dat de band in een ontembaar podiumbeest is veranderd!
De ijzersterke set van tien nummers begon met een imponerende versie van Lying. Na de eerste noten had iedereen toen al door dat Stef Irritant, Kwinten Mordijck, Matthias Debusschere en Jonathan Callens de nieuwe plaat (een samenwerking tussen Zeal en 9000 Records) van achteren naar voren kennen. Semantics (dat ene nummer waarop je dus wel kon dansen) is eigenlijk gewoon minimal wave. In Drone For Conan weerklinken de akelige drums van The Cure, en ergens in de hemel lacht Nico het viertal toe dat zij hun versie van Evening Of Light goedkeurt. De set in Gent was spannend, vernieuwend, maar vooral regelrecht op het hart gericht. Er was dan ook geen mens die twijfelde aan het feit dat in 2015 Kiss The Anus Of A Black Cat de status van "interessant experimenteel groepje" al lang ontgroeid is.
Na de Gentse wervelwind hadden we nog recht op één concert: Stadt (en jawel, op zijn Duits uitspreken!) Toen we Simon, Frederik, Fulco en Joris de afgelopen herfst vroegen waarom die groepsnaam nu absoluut in het Duits moest, was het antwoord simpel: de liefde voor de krautrock!
Het was eventjes bang afwachten of het publiek ook oor zou hebben voor de (veel minder bekende) Vlaamse-Nederlandse groep, maar na amper een paar seconden bleek deze vrees totaal ongegrond. Het publiek genoot met volle teugen van de vreemde (maar bij momenten betoverende) muzikale potpourri. Enerzijds klinken de composities ontzettend poppy, anderzijds is het allesbehalve eenvoudig om een weg te vinden in het psychedelische, avontuurlijke kluwen van Stadt.
De meeste nummers kwamen (natuurlijk) uit hun tweede cd Escalators. Ofschoon wij eerder dit jaar van dit ondergewaardeerde schijfje genoten, toonde Stadt zich in de Handelsbeurs door zijn energie in de eerste plaats als een band die je op een podium moet ontdekken. Beach Boys met Can? Het kan, luister naar Stadt!
Didier BECU
20/12/2015
---