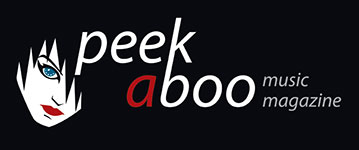 like this concert review
---
STAR INDUSTRY, DAGEIST, KEZDOWN
EGW- ROCK, Jeugdhuis Asgaard
Concert
14/01/2019, Jurgen BRAECKEVELT
---
On the 23rd of December, the pleasant Jeugdhuis Asgaard in Sint-Amandsberg, where usually many Metal-heads get their fix, became refuge for a new wave / goth party with live concerts by Kezdown, Dageist and Star Industry.
Kezdown kicked off at 17:00. A band with members who also make dark weather at The Breath Of Life, as well as ex-Texas Trauma and Modern Cubism. The band plays a mix of ancient synths, solid guitar play and intense rhythm sessions. The band did certainly not disappoint the people who came early. Their set was smart, rocking, but with a dark edge. Without too much bling bling and gadgets, as they don't need it at all. They breathe experience and motivation! With most songs sung in two voices, the concert tended to start a bit monotonous once in a while. The songs that bear the perfect mix between synths, pop and post-punk luckily did stand out.
An hour and a half later, French Dageist entered the stage. For this occasion, with a third live member, who took care of the synths. Singer Davide apologized in advance for voice problems from being sick. But it was not really audible, the frontman sang and sounded healthy as f*ck! It was striking that the audience sang along to most of the songs quite quickly. Dageist has clearly found it's support in Belgium it seems. The band that already proved to be on the edge only one week earlier at the Club B52, did exactly the same on this night. The bass guitar, prominent, went through marrow and bone. Besides a few minor problems with the PA at the start, this was again a very successful passage of a band that you just have to see live at least once. They sound much more alive than on a their records.
To conclude this very successful party, the Belgians from Maasmechelen (as announced by themselves) and Goth Rockers from Star Industry took over the rather small but cosy stage. The gigantic Marshall amps stacked at the back already suggested this little youth house was about to shake to its foundations. The band that has already a decent following within but also far beyond the borders of our little country, applied for the title of Belgium's loudest band in the Asgaard. These 5 gentlemen, with their eternal sunglasses raged like a whirlwind and well-oiled hit machine through a large amount of strong songs. They presented a mix of songs taken from their four albums, while announcing in between, a fifth album is on its way. Pounding songs like as 'Ceremonial', the great 'Eyline', the grandiose 'Selling Icons' and the dance-floor-filler 'Nineties', that elicited a pogo from the audience, confirm they still sounded as fresh as ever before. Live even louder and more powerful as on CD, these Limburg rascals are still very solid live-band. A band who deserves more stages, radio attention and so much more. The fact that our eardrums were massively abused during this concert we take for granted.
Jurgen BRAECKEVELT
14/01/2019
---
Het sympathieke Jeugdhuis Asgaard in Sint-Amandsberg waar menige metallo regelmatig zijn of haar meug vindt, was op 23 december de toevlucht voor het door EGW Rock georganiseerde new wave/gothicfeestje met Kezdown, Dageist en Star Industry.
Kezdown gaf de aftrap om 17 uur. Een gezelschap met leden die ook bij The Breath Of Life het donkere weer uitmaken, alsook ex-Texas Trauma en Modern Cubism. De band brengt een mix van stokoude synths, stevig gitaarwerk en hevige ritmesessies. De band liet het op dat vroege uur opgekomen publiek niet in de kou staan. De set was snedig, rockend, maar met een donker randje. Zoder veel tierlantijntjes, en die heeft deze band ook niet nodig. Er staat ervaring, gedrevenheid. In vele songs wordt er tweestemmig gezongen, wat na verloop van tijd wat monotoon begon te klinken. De songs die een mix zijn tussen synths, pop en postpunk houden wel stand.
Anderhalf uur later beklom het Franse Dageist het podium. Voor de gelegenheid met een derde live-member on stage dat de synths voor zijn rekening nam. Davide verontschuldigde zich bij voorbaat voor stemproblemen door wat ziekjes te zijn. Echt hoorbaar was het niet, de frontman zong dat het een lust was. Opvallend was dat het publiek heel vlot de songs meezong. Dageist heeft duidelijk zijn aanhang in Belgenland gevonden. De band die een week eerder in de B52 al bewees live een voltreffer te zijn, deed dat gevoel nog eens de volle eer aan. De basgitaar, prominente aanwezig, ging door merg en been. Op enkele kleine problemen in het begin met de PA na, werd dit alweer een heel geslaagde passage van een band die je gewoon live moet zien. Ze klinken zoveel méér doorleefd dan op een schijfje.
Als afsluiter van dit heel geslaagde feestje, betraden de Belgisch Maasmechelse (ja het werd ook zo nog eens aangekondigd) gothrockers van Star Industry het kleine maar fijne podium. De gigantische Marshall-versterkers lieten al vermoeden dat het kleine jeugdhuis op zijn grondvesten zou daveren. De band die intussen toch al een aanhang heeft tot ver buiten de grenzen van ons landje, solliciteerde in de Asgaard voor de titel van luidste Belgische band. Voor zover dat nog nodig zou zijn. De 5 heren met hun eeuwige zonnebrillen raasden als een wervelwind en goed geoliede hitmachine doorheen intussen grote hoeveelheden straffe songs. Ze brachten een mix van songs uit hun vier albums, en lieten weten dat een vijfde onderweg is. Kanjers als Ceremonial, het geweldige Eyline, het grandioze Selling Icons en de dancefloorkiller Nineties, dat een pogo aan het publiek ontlokte, ze klonken nog steeds even fris als ooit. Live nog eens zo luid en krachtig als op CD, de Limburgse rakkers staan heel stevig op het podium. Een podium dat na deze passage veel meer navolging verdient. Hun muziek verdient veel meer podia, radio-aandacht en zoveel meer. Dat onze trommelvliezen massaal in spreidstand kwamen te staan, nemen we er graag bij.
Jurgen BRAECKEVELT
14/01/2019
---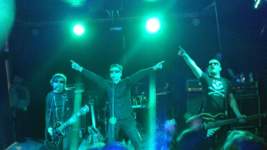 ---