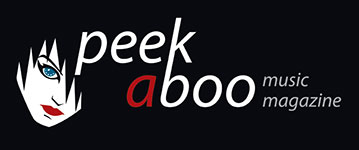 like this movie classics review
---
STEFAN UHER
The sun in the net
Movie
•
Movie classics
[75/100]

Second Run DVD
12/11/2013, Didier BECU
---
As a fanatic film fan, I have a soft spot for East European gems from the past. The truth however is that most of the times my selection is similar to those classics which are selected by reviewers. You know those type of movies which are to found in those lists from timeless classics you have to see before you die. In a way that's kind of normal as it are all these movies you can find in the shops. Of course there are plenty of other undiscovered pearls and if you want to discover these (if you love cinema, you simply have to) then the Second Run DVD-label is the place to be. A fine example from a picture as such is
Sun In The Net (Sinko V Sieti) from Slovenia. The fact that this picture is made over there is already a remarkable thing. Till 1993 Slovenia was part of Czechoslovakia. The directors which are coming from the Slovenian part were a minor group. One of the most important directors from over there is Štefan Uher. This guy used to be one of the founders of the New Wave-movement from Czechoslovakia. After ending his studies at the FAMU (Film and TV School of the Academy of Performing Arts) in Prague, he directed We from Study Group 9-A. This debut was a perfect preparation for his second movie The Sun In A Net. Today this movie is still seen as one of the very first New Wave-pictures from Eastern Europe.
The story itself is less important as this movie is in the first place a visual feast. The cinematographic shots by Stanislav Szomolányi are extraordinary. His work can compete with those from the greatest cinematographers from that period. Even if the style is difficult to find, you can describe this movie as perfect marriage between the experimental touch from Jean-Luc Godard and the tragedy which was typical for Sergej Eisenstein-movies.
The story is set in Bratislava, in the early 60's. The young Favolo (Marián Bielik) doesn't know how to spend his time in a proper way. As he states in the beginning of the movie, everything's bullshit and the sole pleasure he gets is by listening to the rock'n roll music on his little radio. The only person who can understand him is his love Bela (Jana Beláková). One day Favolo decides to go to Melenany to work in a collective farm. As soon as he gets there, his beloved Bela throws herself into the arms of another.
The scenes from Bratislava are similar with the French New Wave (from Godard till Truffaut). The stills on the rooftops are having a very East-European touch. The other part which is filmed at the farm look like those typical socialist propaganda films from the 40's and the 50's. In a way The Sun In A Net is a very lyrical film that you keep on re-watching because of its splendid shots. An unknown pearl which should be discovered by every movie buff. Apart from the film itself, there's also the great score by Ilja Zeljenka which is a nice mixture from modern jazz and experimental cocktailmusic. Or in other words: a soundtrack to dig!
The only extra you'll find on this disc is an interview with Peter Strickland who directed the remarkable psychothriller Berberian Sound Studio. Strickland explains why he thinks this movie is so important. Agreed, this is hardly a bonus, but still the director succeeds in explaining the essence of this movie in 11 minutes.
The Sun In A Net has been described more than once as the East-European answer to Les 400 Coups by François Truffaut. That's kind of true as not only there's the cinematographic resemblance, there's also the striking story from a young fellow who's searching his own identity. So yes, this is another must have-release on Second Run DVD-label.
Didier BECU
12/11/2013
---
Sinds lange tijd ben ik een fervente fan van Oost-Europese pareltjes uit de oude doos. Jammer genoeg gaat het meestal wel om klassiekers gaat die je regelmatig in lijstjes ziet staan die zijn opgesteld door recensenten. Je weet wel, films die je moet zien. Ergens is dat ook normaal omdat het alleen deze films zijn die je gemakkelijk (alhoewel) in de winkels op de kop kan tikken. Er bestaan evenwel nog ontelbare andere obscure titels waarvan de doorsnee cinefiel nog nooit heeft gehoord. De Slowakijnse Sun In The Net (oorspronkelijke titel: Sinko V Sieti) is daar zo'n voorbeeld van. Het feit dat deze film uit Slovenië komt is al merkwaardig. Tot in 1993 behoorde Slowakije nog tot Tsjecho-Slowakije en de filmmakers van het Sloveense landgebied waren in de minderheid. Een van de belangrijkste cineasten uit Slovenië is ongetwijfeld Štefan Uher. De man was één van de oprichters van de new wave-beweging uit Tsjecho-Slowakije. Nadat hij aan de FAMU (Film and TV School of the Academy of Performing Arts) in Praag afstudeerde, maakte hij met We from Study Group 9-A zijn debuut . Het was een soort van vingeroefening voor zijn tweede The Sun In A Net die nu nog altijd als één van de eerste new wave-films uit Oost-Europa wordt beschouwd.

Het verhaal zelf heeft maar bitter weinig om het lijf omdat deze film in de eerste plaats een visuele belevenis is. Het camerawerk van Stanislav Szomolányi is verbluffend goed en kan gerust met dat van de allergrootsten worden vergeleken. De stijl is moeilijk om te definiëren, toch kun je ergens stellen dat het om een bonte mengeling gaat van het experimentele van Jean-Luc Godard en de tragiek van Sergej Eisenstein. In het Bratislava van de jaren 60 verveelt de jonge Favolo (Marián Bielik) zich. Het liefst zit hij hoog op de daken te luisteren naar de rock 'n roll-muziek op zijn transistorradiootje. Het leven stelt niks voor. De enige die hem begrijpt is zijn liefje Bela
(Jana Beláková). Op een dag besluit Favolo om naar Melenany te trekken om daar in een collectieve boerderij te gaan werken. Zijn vriendinnetje blijft thuis en ligt een paar dagen later al in de armen van een ander.

De scènes uit Bratislava hebben zeer veel verwantschap met de Franse New Wave (van Godard tot Truffaut). Doordat deze stukken zich meestal op de daken afspelen, zorgen de talloze televisieantennes voor een Oost-Europees tintje. Het lijkt wel of Štefan Uher hiermee een link maakt naar het juk van de Sovjets. Het deel dat zich op de boerderij afspeelt is dan weer zo'n typische socialistische propagandafilm. The Sun In A Net is een zeer lyrische film die je blijft herbekijken wegens zijn vele prachtige shots. De film is een onbekende parel die iedere cinefiel toch eens zou moeten hebben gezien. Luister ook naar de opmerkelijke score van Ilja Zeljenka die het midden houdt tussen moderne jazz en experimentele cocktailmuziek. Met andere woorden: een zeer verdienstelijke soundtrack!

De enige extra die je hier aantreft is een interview met Peter Strickland die onlangs de knappe psychothriller Berberian Sound Studio maakte. Strickland werkte zelf een paar jaar in Slovenië en in dit korte gesprek vertelt hij waarom Sun In The Net zo'n belangrijke film is. Toegegeven, een echte bonus kan je zoiets moeilijk noemen, toch slaagt Strickland erin om in een elftal minuten de essentie van deze film te schetsen.

The Sun In A Net wordt wel eens omschreven als het Oost-Europese antwoord op Les 400 Coups van François Truffaut. Deels terecht, want er is niet alleen de gelijkaardige cinematografie, ook zien we in deze nouvelle vague-film van Štefan Uher hoe een jonge knaap op zoek gaat naar zijn eigen ik. Wederom een knappe release van het Second Run DVD-label.
Didier BECU
12/11/2013
---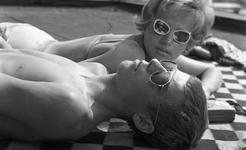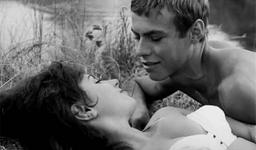 ---