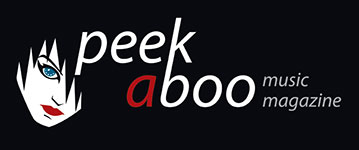 like this movie review
---
STEVEN QUALE
Into The Storm
Movie
Action
[54/100]

Warner Home Video
08/12/2014, Didier BECU
---
Actually, every movie lover, surely the blockbuster fan, loves disasters. Take for example Into The Storm. Why do you watch a movie like that? To see how firefighters save the furniture of some poor sods? No, of course not, the more destructive nature proceeds, the better for the viewer. A guy like Roland Emmerich has understood that well and made it his daily job to direct movies like these. Steven Quale (a name nerds like myself may recognize as the man who directed Final Destination 5) wanted to try this too, but he chose the found footage method.
Before you start sweating, you should take that term not too seriously. No hand camera can make such images and sometimes Quale just forgets that he chose found footage (there are, for example spectacular aerial shots). You won't find logic in here. A good scenario or good performances neither. The absence of these three elements would lead in most cases to a fiasco, Into The Storm however (at least if you want to see a spectacle) isn't as bad as they want you to believe.
The place of disaster is Oklahoma. One expects tornadoes with wind speeds of 450 kilometers per hour, or to put it in simpler words: anything that the tornado encounters will be swept away. The only safe place is a shelter or a Titus. A what? Well, a Titus is a sort of jeep that has been transformed into of tank that can drive you into the eye of the storm. You can imagine that this leads to some spectacular images. Trucks, airplanes or torn church towers: they all fly over your scree during 84 minutes. You get the silly dialogues and spasmodic performances as a bonus.
Into The Storm is a great tip for lovers of frenzied CG effects that transcend all reality.
Into The Storm is released by Warner Home Video , both on DVD and Blu-ray. As for the Blu-ray, we should mention that the quality is exceptional (something you will not expect when you see the word found footage on the cover).
Didier BECU
08/12/2014
---
Eigenlijk is iedere filmliefhebber, zeker de blockbusterfan, een ramptoerist. Neem nou bijv. Into The Storm. Waarom bekijk je zo'n film? Toch niet om te zien hoe de brandweer het hele hebben en houden van een paar pineuten redt? Neen natuurlijk niet, hoe destructiever de natuur te werk gaat des te beter voor de kijker. Een kerel als Roland Emmerich heeft dat goed begrepen en er de popcornvreter al jarenlang tot vervelens toe mee verwend. Steven Quale (een naam die nerds, zoals ondergetekende, wel zullen kennen als de man die Final Destination 5 draaide) zag zoiets ook wel zitten, maar verkoos de found footage-methode.
Alvorens je last krijgt van angstzweet, moet je die term met flink wat zout nemen. Geen enkele handcamera kan zulke beelden maken en soms vergeet Quale gewoon dat hij voor found footage koos (zo zijn er bijv. spectaculaire luchtopnames of zijn er scènes ingebouwd terwijl de filmer op een heel andere plaats zit). Logica moet je dus niet zoeken in deze rampenfilm. Een goed scenario of degelijke vertolkingen zal je er ook niet in vinden. Het ontbreken van die drie elementen zou in de meeste gevallen tot een fiasco leiden, desalniettemin is Into The Storm (ten minste als je voor spektakel kiest) bijlange zo slecht niet als men je wil laten geloven.
De plaats van het onheil is Oklahoma. Men verwacht tornado's met een windsnelheid van 450 kilometer per uur, of om het met simpelere woorden te zeggen: alles wat de tornado tegenkomt wordt meedogenloos van de kaart geveegd. De enige veilige plaats is een schuilkelder of een Titus. Een wat? Wel, een Titus is een jeep die is omgebouwd tot een soort tank waarmee men tot in het oog van de storm kan geraken. Je kan je inbeelden dat zoiets voor heel wat spectaculaire beelden kan zorgen. Vrachtwagens, losgeslagen vliegtuigen of afgerukte kerktorens, ze vliegen allemaal gedurende 84 minuten in groten getale over je scherm. De onnozele dialogen en krampachtige vertolkingen krijg je er gratis bovenop, en hoe raar het ook mag klinken: je mist ze niet eens.
Into The Storm is een gouden tip voor liefhebbers van uitzinnige CG-effecten die de realiteit overstijgen. Als film wat anders voor je betekent, weet je dat dit geen spek is voor je bek.
Into The Storm is uitgebracht op Warner Home Video, zowel op dvd als Blu-ray. Bij de Blu-ray dienen we te vermelden dat de beeldkwaliteit van uitzonderlijke kwaliteit is (iets wat je dus helemaal niet verwacht als je het woord found footage op het hoesje ziet staan).
Didier BECU
08/12/2014
---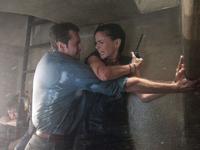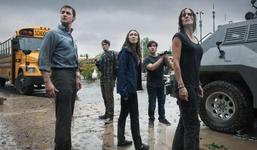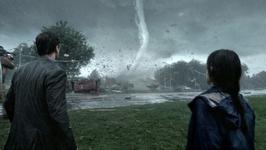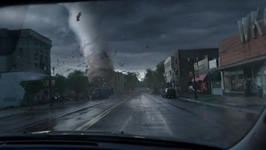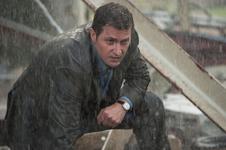 ---