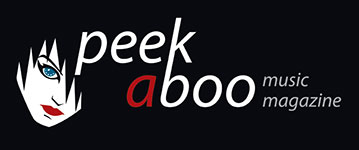 like this cult movies review
---
STUART GORDON
Re-animator
Movie
•
Cult movies
Horror
[80/100]

Second Sight
27/05/2014, Didier BECU
---
Every horror fan is convinced that Re-Animator by Stuart Gordon is one of the greatest classics in the genre. A movie that is as important as say Halloween, Blood Feast or The Texas Chainsaw Massacre. Because the movie was a rather cheap production, it took some time before it finally got released on Blu-ray. But today it's a fact, the release on the British Second Sight-label is even a blast for every fan as it's a steelbox that is full of extra's that are never seen before.


Nobody was interested in the plans from Stuart Gordon to make a film version from the short novel The Re-animator by H.P. Lovecraft. It took a long time before he found the needed money until he meet Brian Yuzna who was interested. The rest is horror history as they say because the movie became a huge hit and Yuzna one of the most important producers from the genre.


Lovecraft probably knew very well that when he wrote his short novel that he simply copied Frankenstein. The story is indeed about some lunatic who invents a serum that make the dead alive! The inventor is the insane Herbert West (Jeffrey Combs) who got banned from the Swiss university. He later seeks recognition in some university in the States. His roommate is Daniel Cain (Bruce Abbott) who has a secret relationship with Megan (Barbara Crampton) …and yes she's the daughter of the director of the university! West is not the sole lunatic at the university, there's also the sadistic Dr. Hill (David Gale) who has a huge interest in the serum. West tries out the liquid on the cat (!) of Daniel's girlfriend and his suspicions were right. He can bring back the dead, but the resurrected creatures seem to be extremely dangerous!


Re-animator is a nice mixture from different styles: from the Romero zombiestyle till the bloody slashergenre! The special effects are cheap, but effective! The scene in where the headless (!) Hill is making operations is legendary. The performances aren't good, but all actors have the right face to perform their character.


As said before this steelbox also has lots of extra features that are all gathered on a second disc. There's not only the integral version that is included, also tons of interviews with everyone who was involved in this project. Who doesn't like to watch more than two hours footages of interviews can watch the 70 minutes-long documentary Resurrect Us in where many background information is included.


In short, Re-Animator is loved by both the movie buff and horror fanatic and that has a reason! Out now on Second Sight Films and a real must have!
Didier BECU
27/05/2014
---
Iedereen die zichzelf een horrorfan noemt weet natuurlijk dat Re-Animator van Stuart Gordon één van de grote klassiekers uit het genre is. Een film die op gelijke voet staat met Halloween, Blood Feast of The Texas Chainsaw Massacre. Omdat deze film al bij al een supergoedkope productie was die tot stand kwam met de hulp van Charles Band (de horrorguru die eerst met Empire Pictures en nadien met Full Moon Entertainment ontelbare B-films op de markt gooide) duurde het een hele tijd vooraleer hij op Blu-ray uitkwam. Deze release is er vandaag wel, ofschoon je daarvoor bij het Britse Second Sight-label terecht moet. Maar niet getreurd, want deze uitgave is een steelbox geworden die bol staat van de extra's.

Niemand had oor naar Stuart Gordons plannen om het kortverhaal The Re-animator van H.P. Lovecraft te verfilmen. De voormalige toneelregisseur kon dan ook niet het nodige geld vinden tot hij Brian Yuzna ontmoette die wel brood in het project zag. De rest is pure horrorgeschiedenis, want de film werd een gigantisch succes waardoor Yuzna één van de belangrijkste producers uit het genre werd. Voor Gordon werd het evenwel zijn hoogtepunt, want ook al draaide hij nadien nog een twintigtal films kon hij alleen nog maar (matig) met het Christopher Lambert-vehikel Fortress scoren.

Lovecraft zal ook wel hebben beseft dat hij bij het schrijven van zijn verhaal gewoonweg het relaas van Frankenstein aan het kopiëren was, want het gaat hier inderdaad om een krankzinnige geleerde Herbert West (Jeffrey Combs) die een serum heeft uitgevonden dat de doden opnieuw tot leven kan wekken. Door zijn uitzinnige ideeën is West uit de Zwitserse universiteit verbannen en zoekt nu zijn heil in de Verenigde Staten. De jonge bolleboos krijgt Daniel Cain (Bruce Abbott) als kamergenoot, een student die een geheime relatie heeft met Megan (Barbara Crampton) en laat dat nu de decaan van de universiteit zijn! West is niet de enige gek op het instituut, ook de sadistische Dr. Hill (David Gale) loopt daar rond. De professor heeft grote belangstelling voor de uitvinding. West probeert het levenserum uit op de kat van Daniels vriendinnetje en tot diens grote verbazing lijkt het nog te werken ook! Er zit wel één addertje onder het gras: de doden komen tot leven, maar ze gedragen zich uiterst agressief.
Re-animator is een bont allegaartje van allerlei horrorstijlen: van het zombie- tot het bloederige slashergenre. De special effects zijn goedkoop, maar ze werken wel. Het beeld van de geschifte Hill die zonder hoofd bloederige operaties uitvoert is bij horrorfanaten legendarisch. De acteerprestaties zijn ook zeer goed, en dat is voor griezelfilms niet zo vanzelfsprekend. Niet dat ze kunnen acteren, maar ze hebben wel het ideale smoel voor de rol die ze vertolken. Misschien zullen azijnpissers opmerken dat het verhaal niet bepaald geniaal is. Dat is het ook niet, maar Re-animator wordt door heel wat fans als een onverwoestbare cultklassieker beschouwd en deze titel heeft hij niet zo maar veroverd. Onmisbaar in iedere horrorcollectie dus!
Zoals eerder gezegd bestaat deze steelbox uit twee disks waarvan er eentje vol staat met bonusmateriaal. Niet alleen kan de kijker kiezen tussen de bioscoop- of de integrale (nooit eerder verschenen) versie van de griezelklassieker, ook zijn er tal van weggelaten scènes die nu voor het eerst worden vertoond. Ik heb de exacte optelsom niet gemaakt, maar als je alle interviews bij elkaar neemt zit je gauw over de twee uur. Zowat iedereen die ook maar iets met de film heeft te maken komt uitgebreid aan bod, behalve David Gale die ondertussen reeds was overleden. Voor wie geen zin in zo veel interviews heeft wellicht genoeg aan Resurrect Us, een allesomvattende documentaire van 70 minuten waarin je heel wat leuke achtergrondinformatie te weten komt.

Re-Animator is een onverwoestbare klassieker uit het horrorgenre die vandaag door zowel de cinefiel als de griezelfanaat respect geniet. Het heeft een tijdje geduurd, maar wachten loont ook in de filmwereld. Second Sight Films heeft een schitterende steelbox op de markt gebracht waarin je zowel een knappe gerestaureerde versie als massa's bonusmateriaal vindt. In huis halen die handel!
Didier BECU
27/05/2014
---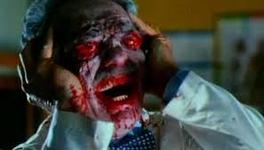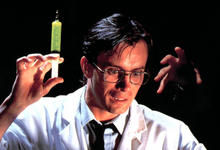 ---