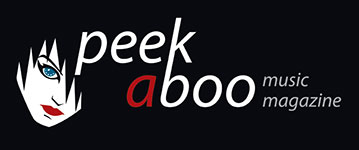 like this movie review
---
TAKASHI SHIMIZU
Flight 7500
Movie
Horror
[30/100]

Entertainment One
27/11/2014, Didier BECU
---
In the 70s planes were very popular among directors. Ask a movie buff with gray hair if he remembers the Airport-series or Skyjacked with Charlton Heston. Slowly the audience got tired of terrorists who hijacked planes and so the genre died. By lack of inspiration planes are suddenly hip again, just think of Liam Neeson as a macho job in Non Stop and Denzel Washington as a drunken pilot in Flight. Now there's Flight 7500. The film was released straight on DVD and that is quite strange when you know that Takashi Shimizu was behind the camera: the Japanese filmmaker who made Ju-On (and the American remake The Grudge) and turned out (at least for a short time) to be a child prodigy. Unfortunately for him, it was a flash in the pan. After 70 minutes it is clear that the director kind of lost it.
There are no hijackers aboard, but a passenger who dies of fear because of the turbulence. However, there is more, the man had something in his suitcase that affects everyone on the plane. What? Well, we won't tell. Not that it is so interesting, because it's just an item that would be removed from a Tim Burton script after the first reading, but if we tell then the viewer has no fun at all.
The movie is touted as horror, but there is nothing to be afraid about. When Takashi Shimizu has presented all the characters we're already in the middle of the film. At least the performances are decent (eg. you see Ryan Kwanten of True Blood and Leslie Bibb of Iron Man). All the cliches are on board: a fighting couple, a flight attendant who is unintentionally pregnant, a freaky goth, a chatty fellow passenger... it looks almost like the cast of Dallas instead of a horror!
But do not be fooled by the many negative reviews that are circulating on the net. Of course Flight 7500 is not a masterpiece, and it is even disappointing when you compare it to The Grudge, but if you do not expect a miracl,e then it's okay. Too bad that the horror section is almost negligible. A movie for people who do not know what to do with their free time.
Flight 7500 is now out on DVD and Blu-ray on Entertainment One.
Didier BECU
27/11/2014
---
In de jaren 70 was een vliegtuig het geliefkoosde decor voor heel wat regisseurs, vraag maar aan een filmfanaat met grijze haren of hij zich nog de Airport-reeks of Skyjacked met Charlton Heston herinnert. Stilletjes aan raakte het publiek uitgekeken op terroristen die een vliegtuig kapen waardoor het genre uitstierf. Bij gebrek aan inspiratie is het luchtwezen er plots weer, zo mocht Liam Neeson in Non Stop onlangs nog de macho uithangen en speelde Denzel Washington in Flight een zatte piloot, en nu is er Flight 7500. De film haalde niet eens de bioscopen en dat is vreemd als je weet dat Takashi Shimizu achter de camera stond: de Japanse cineast die Ju-On (en ook de Amerikaanse remake The Grudge) draaide en een heel klein beetje (voor korte tijd) als een wonderkind werd beschouwd. Helaas voor hem is het meer een eendagsvlieg geworden, want na 70 minuten (zo lang duurt de film dus) wordt het duidelijk dat Flight 7500 (ook uitgebracht als 7500) niet meer is dan wat aanpappen.
Er zijn geen kapers aan boord, wel een passagier die wegens de turbulentie sterft van angst. Er is echter meer aan de hand, want de man had iets in zijn koffer dat iedereen op het vliegtuig treft. Wat? Nou ja, dat verklappen we lekker niet. Niet dat het zo interessant is, want het is al bij al niet meer dan een item dat zonder genade uit een Tim Burton-script na de eerste lezing zou worden geschrapt, maar anders blijft er voor de kijker maar weinig plezier over.
De film wordt als horrorfilm aangeprezen, maar er valt nauwelijks wat te huiveren. Alsr Takashi Shimizu alle personages heeft voorgesteld, zit je al middenin de film en blijft er uiteindelijk niet veel meer over, alhoewel de vertolkingen (je ziet o.a. Ryan Kwanten uit True Blood en Leslie Bibb uit Iron Man) veel goed maken. Het lijkt inderdaad allemaal verdomd veel op die films waar we eerder naar verwezen. Alle clichés zijn aan boord: een kibbelend echtpaar, een stewardess die ongewild zwanger is, een freakerige goth, een babbelzieke medepassagier...het lijkt wel de casting van Dallas.
Laat je echter niet misleiden door de vele negatieve recensies die op het net circuleren. Natuurlijk is Flight 7500 geen meesterwerk, en hij is zelfs ronduit ontgoochelend als je de film met The Grudge vergelijkt, maar wie geen wonderen verwacht kan er zich wel aan wagen. Wel jammer dat het horrorgedeelte bijna verwaarloosbaar is. Filmvoer voor mensen die met hun vrije tijd geen raad weten.
Flight 7500 is nu uit op dvd en Blu-ray op Entertainment One.
Didier BECU
27/11/2014
---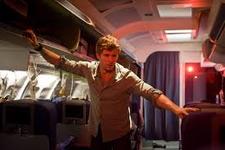 ---