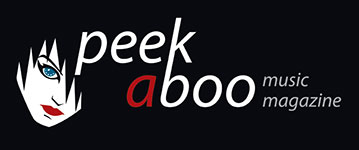 like this cd review
---
TANKS AND TEARS
Know Yourself
Music
•
CD
[88/100]

SwissDarkNights
09/12/2016, Patrice HOERNER
---
Tanks and Tears is an Italian post-punk band, formed by Matteo (bass, vocals), Claudio (guitar) and Francesco (drums). They started in the winter 2013 as a duo, using a drum machine, because they did not find a drummer. In 2014, the duo released a demo and after hearing it, Francesco decided to join. The duo became a trio. And last year in March, it released the first official EP Know Yourself.

Of course, Tanks And Tears has been influenced by British post-punk bands like the Cure or Joy Division, but also by the Seattle grunge bands. The band wants to play gigs all over Europe, especially for those who love the dark atmospheres of the 80s. So far, the band hasn't played that much, but that is the result of work on the EP.
Tanks and Tears did not expect to receive that many compliments from all over the world, and that's only justified.

Know Yourself is a good record. It was a starting point. Most songs were composed with a drum machine, even though (according to the band) the music has evolved now.
What they want to do in the next months? We want to record another album, to play near Italy, in Europe and maybe... around the world!, is the spontaneous reaction. Tanks and Tears would like to gain new fans. Even South America! To all these fans they have one message: don't worry, we will get there soon!
Patrice HOERNER
09/12/2016
---
Parfois des choses font qu'il arrive que nous découvrions de nouveaux artistes de la scène underground. "Tanks and Tears" nous apparaît comme l'un d'eux. Quand vous ne connaissez rien d'un groupe, cela s'appelle donc une découverte. Il était donc temps de creuser, et, nous devons reconnaître que parfois nous tombons sur de vrais trésors. Okay, cela sera ainsi si vous êtes d'accord avec nous, cependant nous avons été agréablement surpris. Ce groupe à un véritable potentiel musical et un chanteur d'une voix claire et forte. Le résultat est une belle douceur et conviendra à bon nombre d'oreilles! Donc des questions réclamaient des réponses. Allons donc voir qui est "Tanks and Tears".
"Tanks and Tears" est un groupe post punk formé par Matteo (Basse, vois), Claudio (guitare) et Francesco (Batteries). Ils ont juste démarré à l'hiver de 2013 en tant que duo, utilisant une boîte à rythme pour la batterie simplement parce qu'ils ne trouvaient pas de batteur. En 2014, le duo a produit une démo entendue par Francesco qui a finalement rejoint le groupe. Le duo est donc devenu un trio. Et l'année passée, en date du 16 mars, ils ont officiellement sorti leur premier EP intitulé "Know yourself".
Bien sûr, "Tanks and Tears" a été largement influencé par bon nombre de groupe post punk Britannique comme The Cure ou encore Joy Division mais aussi par la scène grunge de Seattle. Le groupe espère réaliser un bon début d'album et se produire sur scène à travers l'Europe, pour tout le public qui aime l'atmosphere dark des années 80 ou simplement pour tous ceux qui veulent écouter de la bonne musique. Ils reconnaissent actuellement ne pas avoir de dates de concert prévues car ils ont travaillé dur justement pour la sortie de leur EP. Cependant, ils n'en peuvent plus d'attendre de retourner sur scène!
Comment ont-ils reçu les premiers retours de "Know yourself" ? En fait, ils ne s'attendaient pas à recevoir autant de compliments de par le monde, c'est gratifiant pour tous les sacrifices qu'ils ont fait durant ces jours pour réaliser leur musique. "Know yourself est un bon enregistrement mais est pour nous seulement un point de départ, la plupart des chansons sont faites avec l'appui d'une boîte à rythme, notre musique a évolué et maintenant il est temps de franchir un cap" affirme le groupe.
Qu'aimeraient ils faire ces prochains temps ? tous en chœur et d'une même voix : "Oh, c'est facile! Enregistrer! Jouer à travers l'Italie, à travers l'Europe et peut-être... à travers le monde ?" Finalement, Tanks and Tears désirerait jouer et conquérir de nouveaux fans. Ils ajoutent en remarque qu'ils reçoivent pas mal de messages des quatre coins de la terre, et spécialement d'Amérique latine. Et à cela ils ont une réponse à leur donner : "Ne vous inquiétez pas, nous serons près de vous bientôt".
Patrice HOERNER
09/12/2016
---