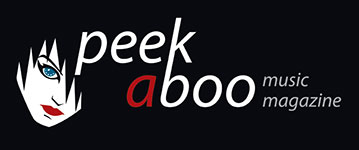 like this concert review
---
TANZTHEATER WUPPERTAL, PINA BAUSCH
Auf Dem Gebirge Hat Man Ein Geschrei Gehört (Antwerpen, deSingel, 4-6/12/2014)
Concert
Dance
[70/100]

07/12/2014, William LIÉNARD
---
On December 4th, 5th and 6th, 2014, Tanztheater Wuppertal Pina Bausch performed Auf dem Gebirge hat man ein Geschrei gehört at deSingel in Antwerp, a 2-hour dance performance, made by Pina Bausch in 1984 to the Bible verse of Matthew 2:18 (In the mountains a cry was heard, much wailing and weeping; Rachel was weeping for her children and would not be comforted, because it was done with them). The text refers to the infanticide, ordered by King Herod, for which Mary and Joseph fled to Egypt. But there is no trace of religious connotations in the performance. The Wuppertal dancer and choreographer goes for unrest and tension and she makes fear, threat, despair and anxiety visible. That does not sound like a nice idea, but Bausch regularly adds humour and even jokes to restore the balance.
De Singel provides a text on the performance, written by Bausch scholar Norbert Servos, but you will not learn much about Pina Bausch's intentions and it soon becomes clear that the short and longer scenes for solo dancer, duos and groups are illustrations of moods and do not form a linear narrative in which these moods are grafted. Depending on the degree of difficulty, the scenes can be denoted as easy, difficult or incomprehensible, meaningful or funny, absurd, touching, but sometimes just tiresome and meaningless, cheap and rather ridiculous in stead of humorous. Is Pina Bausch undermining her own seriousness? Maybe, but then once is enough and twice is too much. Unfortunately mushy scenes easily drive out the momentum of a performance and there are lots of those scenes in Auf dem Gebirge hat man ein Geschrei gehört, leaving the viewer with the uncomfortable feeling that this is not really a indispensible show - despite the perfect performances and the wonderful production design - and that the next hour will probably bring the same. Unfortunately, that is the case.
Note that Auf dem Gebirge hat man ein Geschrei gehört contains some beautiful fragments like the whirling scene with a boy and a girl who are forced by their friends to kiss each other despite the fact that they rather wouldn't, or a very touching scene with two older men, which evokes memories of Café Müller, but in this performance there is a chair, a table or just another person to cling to and - though perhaps for a moment - to regain one's senses. You see rowing people, a man saving a girl from drowning, a young woman attempting to run against a vertical wall as if it were a regular floor, you see the Flemish Seniors Music Ensemble and a girl in a gondola, but also a man who is distributing white paper shreds on the arena floor using his own length as a measure, a girl who is putting earth on a chair, a naked guy who is blowing balloons, singing girls, an incarnate martino, a transvestite who is doing the dishes and mimicking a cigarette smoking gigolo, etc., etc. A two-hour spectacle, surely, and the legitimate revival of a work of one of the most important and most influential choreographers of the last century.
Each work of Pina Bausch is, however, ruthlessly weighed against her masterpieces (Café Müller, Kontakthof, Le Sacre du Printemps ), but Auf dem Gebirge hat man ein Geschreu Gehört lacks the unity of action, time and place ánd the emotional tension which made these performances into timeless masterpieces. It's always nice to witness a performance of Pina Bausch, but this was no perfect theatre. Perhaps it was in 1984, but meanwhile much has changed in the genre and the spectators are spoiled by dance companies that have built on the pioneering work of people like Pina Bausch, and in many cases have come to more consistent results. We feel the performance of the Wuppertal Tanztheater and the production design are worth a 10, the scenario however is worth no more than a 6.
William LIÉNARD
07/12/2014
---
Op 4,5 en 6 december 2014 was het Tanztheater Wuppertal Pina Bausch in deSingel in Antwerpen te gast voor een opvoering van Auf dem Gebirge hat man ein Geschrei gehört, een 2 uur durende dansvoorstelling die Pina Bausch in 1984 maakte naar een Bijbelvers uit Matteus (2:18 – In het Gebergte weerklonk geschrei, veel geweeklaag en gehuil; Rachel beweende haar kinderen en liet zich niet troosten, want het was met ze gedaan). De tekst verwijst naar de kindermoord, bevolen door koning Herodes, waarvoor Maria en Jozef op de vlucht sloegen naar Egypte, maar van religieuze connotaties is in de dansvoorstelling geen sprake. Wel houdt de Wuppertaler danseres en choreografe de onrust en de spanning over en maakt ze angst, dreiging, vertwijfeling en faalangst zichtbaar. Dat klinkt niet meteen als een prettige voorstelling, maar Bausch voegt regelmatig humor en zelfs kolder toe om het evenwicht te herstellen.
Zelfs als u de tekst in de deSingel-flyer heeft gelezen – van de hand van Bausch-kenner Norbert Servos – wordt u niet veel wijzer over wat Pina Bausch met dit werk wil vertellen en naar gelang de voorstelling vordert wordt het duidelijk dat de korte en langere scènes voor solodanser, duo's en groepen veel meer een pure illustratie zijn van de eerder opgesomde stemmingen dan dat er sprake zou zijn van een lineaire vertelling waarop al die verschillende stemmingen geënt zijn. Wat u twee uur lang te zien krijgt is een waterval van scènes met een heel verschillende gemoeds- en geestesgesteldheid, die zich al naargelang de moeilijkheidsgraad makkelijk, moeilijk of helemaal niet laten duiden, die zinvol zijn of grappig, absurd, aandoenlijk, maar soms ook gewoon vermoeiend en nietszeggend, goedkoop en eerder lachwekkend dan humoristisch. Haalt Pina Bausch haar eigen serieux bewust onderuit? Mogelijk, maar dan zou één keer, hooguit twee keer volstaan. Jammer genoeg halen slappe scènes de vaart uit een voorstelling en dat gebeurt vaak in Auf dem Gebirge hat man ein Geschrei gehört, waardoor je als toeschouwer halfweg toch een beetje het gevoel hebt dat dit niet echt een grote voorstelling is – ondanks de perfecte dans- en acteerprestaties en een wondermooi production design – en dat het volgende uur alleen maar van hetzelfde zal brengen. Wat jammer genoeg ook het geval is.
Let op, Auf dem Gebirge hat man ein Geschrei gehört bevat prachtige fragmenten zoals de wervelende scène met de jongen en het meisje die door hun vrienden gedwongen worden om elkaar te zoenen ondanks het feit dat ze zich daartegen verzetten, op de tonen van Mendelssohns Oorlogsmars der Priesters, of de zeer aandoenlijke scène met twee oudere mannen, die overigens herinneringen oproept aan Café Müller, maar in deze voorstelling vindt die ene wél een stoel, een tafel of gewoon een ander iemand om zich vast te klampen en om – zij het misschien voor even – tot zichzelf te komen. U ziet mensen roeien, een man een meisje van de verdrinkingsdood redden, een jonge vrouw een poging doen om tegen een verticale wand op te lopen alsof het een gewone vloer zou zijn, u ziet het Vlaamse Senioren Muziekensemble en een meisje dat zich in een gondel voort schijnt te bewegen, maar ook een man die witte briefjes op de arenavloer neerlegt en z'n eigen lengte als maat gebruikt, een meisje dat aarde op een stoel schept, een naakte kerel die ballonnen blaast, een man die men op ballonnen legt, zingende meisjes, een vleesgeworden martino, een travestiet die de vaat doet en die een gigolo na-aapt die een sigaret rookt, etc., etc. Twee uur spektakel, zondermeer, en de terechte heropvoering van een werk uit het oeuvre van één van de belangrijkste en invloedrijkste choreografen uit de vorige eeuw.
Elk werk van Pina Bausch wordt evenwel meedogenloos afgewogen tegen haar meesterwerken (Café Müller, Kontakthof, Le Sacre du Printemps), maar Auf dem Gebirge hat man ein Geschrei gehört mist de eenheid van handeling, tijd en plaats én de emotionele spanning waardoor die stukken tijdloze meesterwerken zijn geworden. Het is altijd leuk om een uitvoering van werk van Pina Bausch mee te maken, maar in dit geval gaat het niet om een perfect theaterstuk. Misschien was het dat wel in 1984, doch ondertussen is er veel veranderd, in het dansmilieu, maar ook bij de toeschouwer, want die is verwend door ontelbare gezelschappen die voort hebben gebouwd op het pionierswerk van mensen zoals Pina Bausch en die in vele gevallen tot consistentere resultaten zijn gekomen. We geven met plezier een 10/10 voor de prestaties van het gezelschap en voor het production design. Voor het scenario houden we het op 6/10.
William LIÉNARD
07/12/2014
---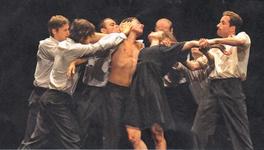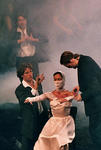 ---