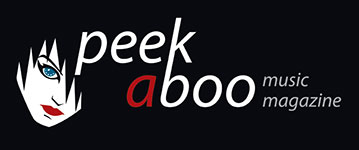 like this concert review
---
THE BLACK HEART REBELLION
Ghent, De Handelsbeurs (07/11/15)
Concert
10/11/2015, Didier BECU
---
Since quite a long time, De Handelsbeurs in Ghent is a (brilliant) stage for great talent that for unknown reasons seems to be banned from the major media. On Saturday, 7th October you could (re)discover three acts. The first one on this dark night was Matthieu Serruys, a young composer who I accidentally saw a few weeks ago at the Museum of Fine Arts in Ghent, when I landed there by sheer coincidence, but it certainly was no coincidence that Matthieu was able to keep the audience captivated during half an hour with his experimental sound structures. In the experimental circuit Matthieu is best known for writing the soundtracks for old and obscure films by Germaine Dulac. Indeed, it seems to be difficult music, and it is by no means easy music, but if you close your eyes then you are excited by the experimental sounds that he creates on stage. Most of the crowd shut the eyes and was right in doing so, because Matthieu Serruys can stand next to a giant like Dirk Serries.
Normally, Echo Beatty is a duo, formed by Jochem Baelus and Annelies Van Dinter, but for unknown reasons Jochem was not present and so this heavenly duo was reduced to (according to Annelies anyway) "the girl with the guitar." A guitar and some effects pedals was everything this Antwerp musician needed and what she did was intense and sheer beauty. It's easy (but also an honor) to compare her work to PJ Harvey's and Cat Power, but such is the fate of a female musician who climbs the stage with strong songs and a voice that hits you. Annelies promised us that there will be a successor for Tidal Motions in the spring (released on Icarus Records). We look forward to it anyway, because even though it was a solo gig, Annelies showed that she belongs to the top of the alternative Belgian pop scene. Too short? Yes, but never mind, just like on the CD, she did some guest vocals during the set of the next sledgehammer: The Black Heart Rebellion.
No matter how hard you try, you will never find a suitable genre to describe The Black Heart Rebellion. They have a psychedelic sound, the music is loud, there are many references to the 60s, you can link it to Amen Ra or simply describe it as derailed postrock that degenerates into something genius. Nobody knows, but in the crowded venue, the Ghent group showed that it is a band that really matters.

There was hardly any interaction with the audience (well, vocalist Pieter Uyttenhove said "merci") and the band did not return (but a priest doesn't return either when Mass has ended). A priest? Yes, that's how Pieter's function feels like, simply because the music is a ritual.

You're involved from the first to the last second, it is a descent into the dark folds of your mind. The band uses the most amazing tools to let your brains bleed. Sometimes it's aggressive, sometimes quite painful, sometimes liberating and then suddenly wonderful as when Annelies joins the band.

The set started with Body Breakers, the first song on their CD People when you see the smoke, do not think it is fields they are burning and was followed by Silk Bow And Arrow. Almost all the songs of the new album were included in the set, but also classics from Har Nevo like Avraham, Ein Advat of Animalesque. A man is better careful with the use of superlatives, but what we saw yesterday was simply great!
Didier BECU
10/11/2015
---
De Handelsbeurs biedt al jaren een (schitterend) podium voor talent dat om God weet welke redenen geweerd wordt in de grote media. Op zaterdag 7 oktober kon je drie acts (her)ontdekken. De eerste die de duistere avond mocht openen was Matthieu Serruys, een jonge componist die ik toevallig enkele weken geleden aan het werk zag op een zaterdagavond in het Museum Van Schone Kunsten in Gent toen ik daar door pure verveling belandde. Maar het was zeker geen toeval dat Matthieu een halfuurtje het publiek in de ban hield met zijn experimentele geluidsconstructies. Matthieu is in het experimentele circuit vooral bekend door het schrijven van de soundtracks voor oude obscure films van Germaine Dulac. Inderdaad, het lijkt op moeilijke muziek, en gemakkelijk is het geenszins, maar als je de ogen sluit, is het eenvoudig om je te laten meeslepen door de experimentele klanken die hij uit allerlei knopjes tevoorschijn tovert. Het merendeel van het publiek sloot de ogen, en het had gelijk want Matthieu Serruys kan je gerust naast een reus als Dirk Serries plaatsen.
Echo Beatty is normaal een duo dat wordt gevormd door Jochem Baelus en Annelies Van Dinter, maar om onbekende reden was Jochem er vandaag niet en werd het hemelse duo herleidt (volgens Annelies toch) tot "het meisje met de gitaar". Meer dan een gitaar en wat effectpedalen had deze Antwerpse muzikante inderdaad niet, maar wat ze ermee deed was pure en intense schoonheid. Het is gemakkelijk (maar tegelijkertijd een eer) om haar werk met dat van PJ Harvey of Cat Power te vergelijken, maar dat is nu eenmaal het lot als je een vrouwelijke muzikante bent die het podium beklimt met ijzersterke songs en een stem die je murw slaat. Annelies beloofde ons dat er in de lente een opvolger komt voor Tidal Motions, die op Icarus Records is uitgebracht. Wij kijken er in ieder geval reikhalzend naar uit, want ook al was het een soloproject, toonde Annelies dat zij tot het kruim van de alternatieve Belgische popscene behoort. Te kort? Ja, maar niet getreurd, net als op de cd zou ze wat gastvocalen doen tijdens de set van de volgende mokerslag: The Black Heart Rebellion.
Hoe hard je ook probeert, je zal nooit een passend genre vinden om The Black Heart Rebellion te omschrijven. Het klinkt psychedelisch, de muziek is loeiend hard, er zijn veel verwijzingen naar de jaren 60, je kan het aan Amen Ra linken of gewoon beschrijven als ontspoorde postrock die in genialiteit ontaardt. Niemand die het weet, maar de Gentse groep bewees in een bomvolle Handelsbeurs dat ze er stond.

Er was nauwelijks interactie met het publiek (nou ja, zanger Pieter Uyttenhove zei "merci") en de band kwam na afloop niet terug (maar dat hoeft ook niet, want een priester komt ook niet terug als de mis is afgelopen). Een priester? Jawel, zo voelt Pieters functie aan, omdat de muziek een ritueel is. Je bent er van de eerste tot de laatste seconde bij betrokken, het is een afdaling naar de duistere kronkels van je geest. De band gebruikt de meest waanzinnige instrumenten om je hersenen te laten bloeden. Soms is het agressief, soms behoorlijk pijnlijk, dan weer bevrijdend en dan plots weer wondermooi als bijv. Annelies de band assisteert.

De set begon met Body Breakers, tevens ook het eerste nummer op de cd People when you see the smoke, do not think it is fields they are burning, werd meteen door Bow And Silk Arrow gevolgd. Zowat alle nummers uit de nieuweling werden gespeeld, maar ook klassiekers uit Har Nevo zoals Avraham, Ein Advat of Animalesque. Een mens is maar beter voorzichtig met het gebruiken van superlatieven, maar wat wij gisteren zagen was groots!
Didier BECU
10/11/2015
---