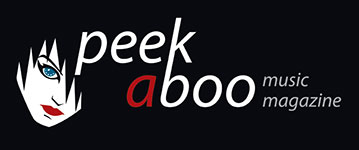 like this vinyl review
---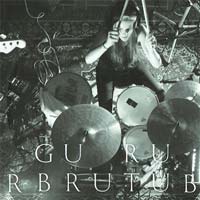 THE GURU GURU / BRUTUS
split out 10 inch
Music
•
Vinyl
Noise
•
psychotic rock
[85/100]

Funtime Records
04/12/2015, Wim GUILLEMYN
---
Besides the single Hole in the Ground ,The Guru Guru releases a split single with Brutus this month. They cover a song by Brutus: Julia. And yes, Brutus performs a song by The Guru Guru: Dance With Me. And apart from that, they both do Troy by Sinéad 'O Connor. Talking about something bold!
Julia is an adaptation of Bye Julia by Brutus. They completely rebuild the basic blocks of the original, and the result is quite clever. A balanced song with even a better structure than the original.
Reworking the classic Troy... Well, you must have the guts to do so, because I'm sure that this is one of the hardest 'O Connor songs to cover. The beginning is quite strong. Just listen to the vocal response of Stefanie to the subdued voice of Tom, this is a magical moment! An excellent cover.
As said before, Dance With Me is a song by The Guru Guru. Actually it is a remake from two of their songs: SLP and Syq Kumshod. They appeared on their previous live EP.
But how does Brutus handle it? Well, it's a short song with a rather melodic guitar, rhythmic changes and fine mad vocals of Stefanie. A song like Hole would make, or in other words: just a short and sweet gem! This 10" is recommended and available on vinyl via interpunk.com
Wim GUILLEMYN
04/12/2015
---
Naast de Hole in the Ground-single, brengt deze maand The Guru Guru ook een splitsingle met Brutus uit. Ze spelen hier een nummer van Brutus: Julia. En jawel, Brutus speelt op zijn beurt Dance With Me, wat dus een nummer van The Guru Guru is. Samen wagen ze zich ook aan Troy van Sinéad 'O Connor. Als dat niet gedurfd is!
Julia is een bewerking van Bye Julia van de eveneens lichtjes verknipte band Brutus. Wat ze hier met de oorspronkelijke bouwstenen van de song doen is wel knap. Het is een evenwichtige compositie geworden. De zanglijn beklijft. De song bevat meer structuur en is beter gearrangeerd dan het origineel.
Troy coveren… Je moet toch maar het lef hebben. Een van de moeilijkste 'O Conno-songs, lijkt mij. Het begin is nochtans vrij sterk. Luister maar eens naar het vocale antwoord van Stefanie op de ingetogen zang van Tom: dit is een kippenvelmoment! Brutus-gewijs wordt er dan loos gegaan om daarna terug de grip te vinden en rockgewijs naar het einde van de song te fietsen. Een knappe cover.
Dance With Me is een cover van The Guru Guru. De cover is in feite een samenvoeging van twee nummers van The Guru Guru: SPL en Syq Kumshod. Afkomstig van hun vorige live EP.
Maar hoe klinkt het nummer nadat Brutus het verwerkt heeft? Wel, het is een korte song geworden met vrij melodieus gitaarwerk, ritmewisselingen en de fijne vocale gekte van Stefanie. Een song à la Hole, zou je kunnen zeggen. Heerlijk nummertje. Kort en krachtig.
Een heel fijne 10 inch. Een aanrader. Ook op vinyl verkrijgbaar via interpunk.com
Wim GUILLEMYN
04/12/2015
---