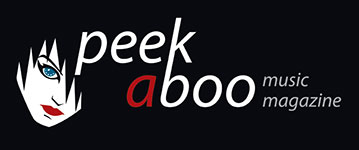 like this concert review
---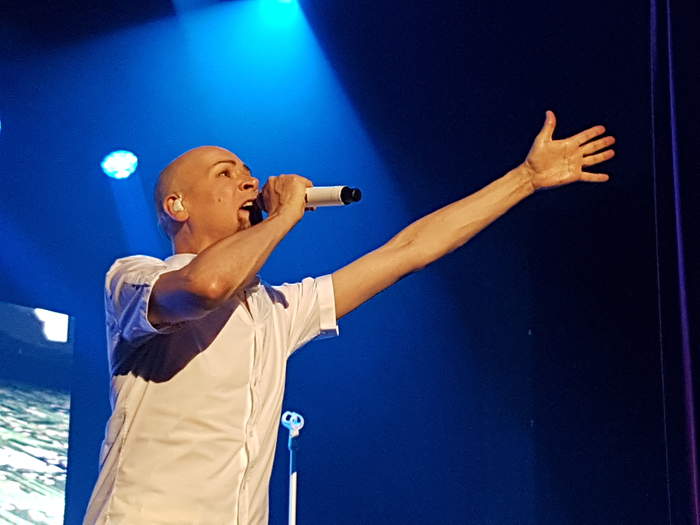 THE HUMAN LEAGUE + EKKOES
Borgerhout, De Roma (16/11/2016)
Concert
Synth Pop / Electro Pop
•
Synth Wave
11/12/2016, Mark VAN MULLEM
---
Wednesday, November 16, The Human League played the sublime Soundtrack to a Generation in a fully packed De Roma, in Antwerp. For many in the public, yours truly included, this of course is their soundtrack.
Ten years after the infamous autopilot gig at the AB in Brussels, Phil Oakey, Susan Ann Suley and Joanne Catheral, backed by excellent musicians, played a brilliant concert. From the more recent Sky to the glorious Together in Electric Dreams, the band performed a well balanced and varied set. We definitely felt fascination, sung along and danced away, thanks Phil, Susan Ann, Joanne & Co!
Before The Human League was on, Ekkoes had the honour to support the band. Ekkoes is inspired by The Human League and contemporary bands, as the band confirmed. You surely could hear those influences, but unfortunately it did not lead to an exciting and original music. It was not even close, definitely no cigar.
Was it that bad? Actually, yes, if you ask me. The biggest mistake was perhaps the inclusion of Laura Branigan's Self Control, the second song in the set. The song wasn't done justice. The dance moves by barefooted beauty Rosalee O'Connel couldn't make up for the little inspired dime a dozen synthipop echoes. A pitty!
At about half past nine The Human League, exactly ten minutes later than scheduled, walked on stage. The synthipop feast could begin! And a feast it was! De Roma witnessed a band that did all it could to please the hungry audience, providing a fantastic sound and playing a setlist which was composed in a very ingenious way: a perfect mix of the best known songs and lesser known gems.
Phil Oakey was in a good voice and kept tune very well, although it seemed to go wrong for a moment during Sky. The ever charming and lovely Susan Ann Suley had a little problem keeping tune during her lead on One Man in My Heart.

A very talkative Phil couldn't stop complimenting the Antwerp/Belgian audience and declared his love to the fashion city. Speaking of fashion: fashion fan Oakley changed outfits a couple of times during the show, all part of the game of course. Not that it's important. What is important is the way the very British synthesize group performed the eighties gems in a sublime way. The synthipop, blitz and newwave still sound very fresh in 2016!
My favourite moments of the evening were the renditions of The Sound of the Crowd, Seconds, The Lebanon, (Keep Feeling) Fascination, Filling Up With Heaven, Together in Electric Dreams, Love Action and also Human, actually never a favorite of mine, but wow, what a version!
I missed Louise and Marianne in the set, but of course we had plenty of other sweets to devour, didn't we? Look at the setlist and see my point proven! The Very British Synthesizer Group threw a perfect party in Antwerp!
Recently The Human League was announced as headliner of the W-festival on August 20. If I were you, I wouldn't doubt, so order that ticket!
Setlist:
Sky / Mirror Man / The Sound of the Crowd / Open Your Heart / Filling Up With Heaven / Heart Like a Wheel / Soundtrack to a Generation / Seconds / The Lebanon / One Man In My Heart (lead vocal: Suzanne) / Human / Stay With Me Tonight / Love Action / Tell me When / (Keep Feeling) Fascination / Don't You Want Me Baby

Encores:
Being Boiled / Together in Electric Dreams
Mark VAN MULLEM
11/12/2016
---
Met een bang hartje trok ik woensdag 16 november 2016 naar De Roma, maar ook met goede moed. Het ultrakorte en vooral erg makke concert van 2006 in de AB indachtig enerzijds maar anderzijds gemotiveerd door vele recente positeve kritieken. En om meteen duidelijk te zijn: dat concert van toen is bij deze vergeten en vergeven. Phil Oakey, Susan Ann Suley en Joanne Catheral, gesteund door gedegen muzikanten, waren in top form in De Roma! The Human League zette een mooie uitgebalanceerde set neer, beginnend bij het recente Sky en glorieus eindigend met Together in Electric Dreams.
We moesten eerst nog Ekkoes ondergaan, een band die zich naar eigen zeggen laat inspireren door The Human League en tijdgenoten. Dat hoorde je inderdaad. Het leidde helaas niet tot veel interessante of originele songs. En als je tweede song in de set in de set al een cover is, en dan nog een barslechte interpretatie van Laura Braningan's Self Control, dan zit het niet echt snor natuurlijk. Het probleem met Ekkoes is verder dat elke song met de andere in te ruilen valt en het niet bijster origineel is. Het werd ook nooit spannend. De danskunstjes van de blootvoetse bevallige Rosalee O' Connel waren ook steeds dezelfde. De goedkope dertien in een dozijn synthipop kon jullie verslaggever niet bekoren.
Om twintig na negen was het dan tijd voor The Human League al zouden die het rekken tot half tien om op het podium te verschijnen. Maar het wachten werd dan ook beloond; Oakey & co serveerden ons hun sublieme Soundtrack to a Generation, ondergetekende en menigeen in de zaal voelden zich aangesproken, onze generatie, ja!
Phil Oakey was erg goed bij stem, ook dat was tien jaar eerder in de AB wel anders, meestal ook toonvast. Alleen bij de opener Sky ging het ei zo na mis maar dat heeft Phil mooi opgevangen. Susan Ann Suley, nog steeds even bekorig, was iets minder stemvast en bij One Man In My Heart waar zij de lead vocals voor zich nam, was dat een beetje pijnlijk. En zo zijn meteen de énige minpuntjes benoemd.
Er stond een band op het podium die alles uit de kast haalde om het publiek te bekoren, met een geweldige sound en een setlist die erg verstandig opgebouwd was: heel erg bekende nummers met minder bekende nummers afwisselend. Phil sprak meermaals zijn waardering uit voor het belgische publiek en stak zijn liefde voor modestad Antwerpen niet onder stoelen of banken. Modebewust als Oakey is, wisselde man ook regelmatig van kostuum. Niet dat zo belangrijk is natuurlijk. Veel belangrijker is dat de aanstekelijke synthipop, new wave en blitz van The Human League anno 2016 nog okselfris klinkt.
Mijn favorietjes van de avond: The Sound of the Crowd, Seconds, The Lebanon, (Keep Feeling) Fascination, Filling up with Heaven, Together in Electric Dreams... Oh, en ook Love Action en Human nochtans niet echt een van mijn favoriete League-songs!
Jammer dat Louise niet bij zat, noch Marianne zo bedenk ik me nu, maar een blik op de setlist zal je overtuigen dat er genoeg ander lekkers te snoepen was! The Very British Synthesizer Group had overduidelijk veel plezier in en bouwde een bijzonder tof feestje in Antwerpen!
Recent werd bekend dat de band op het W-festival prijkt op zondag 20 augustus 2017, ik zou niet twijfelen als ik jou was!
Setlist:
Sky / Mirror Man / The Sound of the Crowd / Open Your Heart / Filling Up With Heaven / Heart Like a Wheel / Soundtrack to a Generation / Seconds / The Lebanon / One Man In My Heart (lead vocal: Suzanne) / Human / Stay With Me Tonight / Love Action / Tell me When / (Keep Feeling) Fascination / Don't You Want Me Baby

Bis:
Being Boiled / Together in Electric Dreams
Mark VAN MULLEM
11/12/2016
---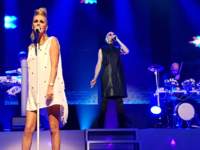 ---