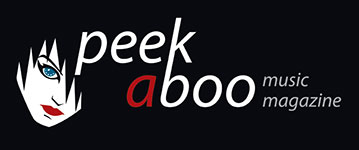 like this cd review
---
THE LUCID DREAM
The Lucid Dream
Music
•
CD
Post Punk
•
Shoegaze
[83/100]

Holy Are You Recordings
08/12/2016, Jurgen BRAECKEVELT
---
Holy Are You Recordings presents The Lucid Dream from Carlisle. The 8-track disc contains lots of shoegaze and post-punk demons. The band is not bloodthirsty. Neither cuddly or bite-sized chunk. No, The Lucid Dream is something different!

What do we get then? Well, art with the big A. Mona Lisa has a great bass with some lingering shoegaze guitars as a partner. And they love each other. Justen listen how the pace gets higher. The drums take part and the instrumental grows into a great track.
Cold Killer is again a combination of post-punk and shoegaze. The vocals are in perfect harmony with the shrill guitars!
The Darkest Day-Head Music is a rather quiet song. The voice caresses the eardrums and the sound is intimate, drums and bass are a bit in the background. But only for a while because soon the devils return, even if this song never gets heavy.
In Moonstruck, the vocals are performed with vocoders, a song with a post-punk feel.
Perhaps some electronics? Unchained has a vague ska, reggae and dub sound. It is totally different from the previous tracks and it is more of a feel-good song. Even the harmonica participates. Unchained is more poppy and Beatlesquet. A lesser song for me, but what do I complain about?
People who like to wake up with a fresh Morning Breeze get what they want. No snooze function on the alarm clock, but you wake up with the radio. Just wait until the song develops into a sledgehammer. You will be awake indeed!
The final song You And I sounds a bit like an obligatory ballad. The image of closely intertwined couples on a dance floor floats through my head. Once they try to kiss, the song explodes with an overwhelming guitar sound. Then the romantic feel takes over again…
The Lucid Dream has something to tell and this record is the prove. Sublime tempo changes, beautifully constructed songs: from melodic to messy, but always with quality.
Jurgen BRAECKEVELT
08/12/2016
---
In Engeland hebben wel meer groepen met ballen het levenslicht gezien. Holy Are You Recordings presenteert ons The Lucid Dream uit Carlisle. Met hun 8 nummers tellende schijf laten ze allerlei shoegaze- en postpunkdemonen op ons los. Bloeddorstig zijn ze niet. Aaibaar? Ook niet? Een hapklare brok dan? Neen, want dan doen we de prestaties van deze jongens oneer aan.

Wat krijgen we dan wel? Kunst met de grote k. Mona Lisa heeft een basgitaar die klinkt alsof ze er geen zin in heeft, en krijgt slepende shoegazegitaren als metgezel. En ze houden van elkaar. Luister gewoon hoe het tempo de hoogte in gaat, drums die ze bijtreden en zo deze instrumentale song geweldig laten groeien.
Cold Killer barst meteen los en is weer een combinatie van postpunk en shoegaze. De zang komt het schelle gitaarwerk vergezellen en het plaatje klopt!
Een stuk rustiger gaat het er in The Darkest Day-Head Music aan toe. Het stemgeluid streelt het trommelvlies en de sound is intimistisch, drums en basgitaar schakelen een versnelling of drie lager. Halfweg breken de duivels opnieuw los, zonder dat het een harde song wordt.
De vocoders laten de vocalen weergalmen in Moonstruck, dat eerder naar postpunk neigt, hoewel het gitaarwerk de song op het einde een oplawaai verkoopt.
Elektronica kan er ook nog wel bij, toch? Unchained Dub heeft een vage ska-, reggae- en dubinslag. Totaal anders dan de voorgaande tracks en een feelgoodsong. Zelfs de mondharmonica komt meedoen. Unchained is meer poppy en heeft een Beatles-gehalte. Een mindere song, vind ik, maar waarover geklaagd?
Mensen die graag wakker worden met een frisse Morning Breeze krijgen wat ze willen. Geen snoozefunctie, maar meteen de radio op als de wekker afloopt. Net als je weer dreigt in te dommelen, krijg je een mokerslag van harde muziek. Ik ben wakker....
De afsluiter You And I heeft wat weg van een obligate ballade. Het beeld van innig in elkaar verstrengelde koppeltjes op een dansvloer doemt op. En op het moment dat menig verliefd koppeltje denkt rustig te kunnen kussen, ontploft ook deze song in overdonderend scheurend gitaargeweld, om dan terug te keren naar de romantische song die dit in se is...
De heren van The Lucid Dream hebben wat te vertellen en deze plaat bewijst dat. Sublieme tempowisselingen, mooi opgebouwde songs: van melodieus tot rommelig, maar het blijft meer dan overeind.
Jurgen BRAECKEVELT
08/12/2016
---