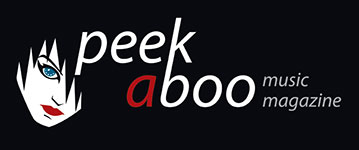 like this concert review
---
THE PRETTY THINGS
Leicester, The Musician (23/12/2015)
Concert
24/12/2015, Kevin HEWICK
---
I doubt if the young Phil May and Dick Taylor gave much thought to 2015 in 1963 as they formed a band with a name that anticipated glam rock by a decade, but here they were, the 2015 version, sounding sensationally like they should regardless of the decades.

Having these two remarkable veterans on stage was like having the Jagger and Richards or the Plant and Page of The Pretty Things in front of us, legends before our eyes and ears.

Certainly the ears, Roadrunner was dispatched at a Motörhead level of brutality, there was no mercy for pub rock. This certainly wasn't some old geezers having a nice saunter through the pub rockers R n' B songbook, it was as electric as an electric banana shoved in your underpants, Taylor downright lacerating on the acoustic slide guitar, Frank Holland at war with his own lungs on harmonica.

Their often romping takes on their blues and roots were at the heart of their set but it was their psychedelic era offerings that truly shone like on the giddy time signature interplay of Defecting Grey, a head spinning stretched out LSD and in their selections from the definitive psych masterpiece that is SF Sorrow.

May, Holland and youthful bassist George Woosey had the classic Pretty Things vocal harmonies nailed so good that one hankered for them to tackle something non-Taylor era like The Good Mr Square/She Was Tall,She Was High from the exquisite Parachute-album but that was but a small quibble especially when both old and new material like Dirty Song had such vital energy. Baby faced Jack Greenwood even killed it on the dreaded drum solo.

Any thought that this was two originals with some youthful session guys tacked on was utterly rubbished by their combined unity of purpose but the charisma of Phil May binds it all together. May is part Carry On chancer, blues shaman and mystic poet, he slips lots of jokey references to Leicester in his announcements but with up to three maracas in his hand shaken as if performing a spell he is in fact as authoritative and as powerful a rock frontman as any could be whilst his cohort Dick Taylor simply states a case for being as important to the electric guitar as any Beck, Townshend, Page or Rolling Stone, the very outfit he helped to birth before throwing in his lot with Phil instead.

So thanks to this utterly fabulous fivesome we certainly had our early Christmas present at The Musician and it can be said that 1963 or 2015, what does it matter? This music is happening now, it's alive, raw, visionary, urgent and bids you to shake your thing oh you pretty things..
Kevin HEWICK
24/12/2015
---
Wellicht zullen Phil May en Dick Taylor in 1963 nooit hebben gedacht dat ze ook als glamrockband in 2015 op een podium zouden staan. Maar toch, hoeveel decennia het ook geleden is, hier zijn ze dan: de 2015 versie van The Pretty Things!

Het blijft opmerkelijk, zowel voor onze ogen en oren, om de veteranen May en Taylor op een podium te zien, want het is zoiets als Jagger en Richards of Plant en Page.

Vooral de oren werden verwend, Roadrunner werd gespeeld met een brutaliteit die je alleen van Motörhead zou verwachten, van pubrock was dan ook geen sprake. Neen, dit was geen optreden van een stel oude mannen die zich doorheen een songboek van rhythm and blues worstelden, dit optreden voelde net aan alsof er een dildo in je onderbroek zat! Het leek wel alsof Taylor zijn akoestische slidegitaar aan het verscheuren was, en Frank Holland bleek met zijn mondharmonica wel alle lucht uit zijn longen weg te blazen.

De blues- en rootsreferenties waren misschien wel het hart van de set, toch waren het vooral de nummers uit hun psychedelische periode die straalden: bijv. het duizelingwekkende samenspel op Defecting Grey, de mokerslag op je hoofd die LSD is en hun ultieme psychedelische meesterwerk SF Sorrow.

May, Holland en de jonge bassist George Woosey speelden de klassieke Pretty Things-nummers op zo'n treffende wijze, dat je hunkerde om iets te horen uit hun periode zonder Taylor zoals bijv. The Good Mr Square/She Was Tall,She Was High uit het Parachute-album. Maar toegegeven, dat is niet meer dan een minpuntje omdat zowel het oude als het nieuwe materiaal (Dirty Song) met zo'n vitale energie werd gespeeld, zelfs drummer Jack Greenwood met zijn eeuwige babyface speelde op een moordend tempo.

Het charisma van Phil May zorgde ervoor dat je nooit het idee kreeg dat je naar een band staart die is samengesteld uit originele oude knarren en jonge wolven. Tijdens Carry On kon May zich volop bewijzen als frontman. Hij is deels grappig, een bluestovenaar, en dan weer een mystieke dichter die verschillende grapjes over Leicester maakt terwijl hij met drie maracas in zijn handen staat. Neen, een betere frontman kan je niet bedenken, en dat terwijl Dick Taylor minstens even belangrijk is als Beck, Townshend of Page.

Dankzij dit fabelachtige vijftal kreeg de muziekfan in The Musician een vervroegd kerstcadeau. En of dat nu 1963 of 2015 is? Wat maakt het uit? Deze muziek is er nu, het leeft, het is rauw…
Kevin HEWICK
24/12/2015
---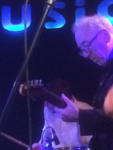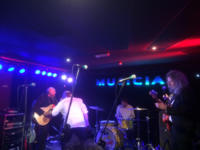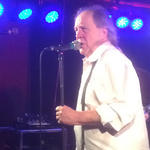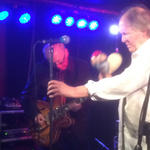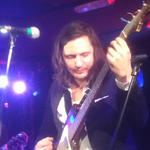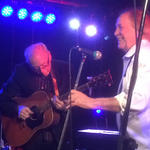 ---