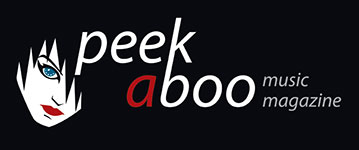 like this concert review
---
THE RESIDENTS
'Shadowland' Tour, De Vooruit, Ghent, 02/05/2014
Concert
Experimental
[92/100]

04/05/2014, Ward DE PRINS
---
The American avant-garde group The Residents began their (short) European tour in the extremely cosy concert hall De Vooruit in Ghent. "Shadowland" is the third and final part of the trilogy, the third tour to celebrate their 40th anniversary.
Living in Belgium, I am very fortunate. With performances in Brussels (AB, 2010) and Kortrijk (De Kreun, 2010) , Leuven (Het Depot, 2013) and now in Ghent (De Vooruit), I had the privilege to experience the entire trilogy, in which Randy, Chuck and Bob Life aspire to examine life in reverse. Part 1 of the trilogy, "The Talking Light" was a study about death and ghosts. Part 2, "Wonder of Weird" was focussing on love and sex. And today, in the third part, "Shadowland": birth and rebirth were examined.
"Shadowland" is a fitting conclusion to the trilogy. A magical scenery awaited us, black and white checkered banners, vertical light bars and a huge white ball formed the setting against these gentlemen were performing.
Ingenious lighting and intriguing films about birth, rebirth, near-death experiences and reincarnation, which were projected on the giant white ball, gave that extra touch, but it was mostly their music (as in each tour) that charmed me once again. With an extensive catalogue, it is of course not difficult to fill a show and their quirky, new interpretations of their own songs makes this even more intriguing.
Randy stumbled and staggered as usual on the stage, and with his conjuring trembling fingers and vigorous gestures all compositions, masterly played by Bob & Chuck, got the necessary visual support to present us one highlight after another.
Their music varies enormously, partly because of their bizarre, quirky combinations of electronics, deconstructed rock 'n' roll and even a touch of avant-garde jazz, all graced with surreal visuals and freaky stories.
It is therefore impossible to discuss all the songs but with superb and wayward versions including opener "Rabbit Habit" (The Bunny Boy) , "Harry The Head" (Freak Show) , "Blue Rosebuds " (Duck Stab) , "Fever Dream" (The Bunny Boy) and "Easter Woman" (Commercial album) The Residents managed to convince me (once again) of their genius!
In 2010 The Residents began this trilogy to celebrate their 40th anniversary. If I count correctly, next year they may celebrate their 45 years of existence. Hopefully they do that again with a smashing trilogy. Looking forward!
Photos © Creepking Mac Kroki.
Extra photos by Creeping Mac Kroki through this link, or this link (MusicZine).
Ward DE PRINS
04/05/2014
---
Het Amerikaanse avant-garde gezelschap The Residents startte zijn (korte) Europese tour in de uiterst gezellige concertzaal van De Vooruit in Gent. "Shadowland" is het derde en laatste deel van de trilogie, waarmee de heren met 3 tournees hun 40 jarig jubileum vierde.
Als Belg mag ik me gelukkig prijzen, want met tussenstops in Brussel (AB, 2010) & Kortrijk (De Kreun,2010), Leuven (Het Depot, 2013) en nu Gent (De Vooruit) had ik het privilege de volwaardige trilogie mee te maken, waarbij Randy, Chuck & Bob Het Leven in omgekeerde volgorde trachtten te doorgronden. Deel 1 van de trilogie, "The Talking Light" was een studie over de dood & geesten. In deel 2, "Wonder of Weird" werd er gefocussed op liefde en seks. En vandaag, in het derde deel, "Shadowland", werden geboorte en wedergeboorte onder de loep genomen.
"Shadowland" is een waardige afsluiter van de trilogie. Een schitterend decor wachtte ons op, zwartwitte geruite banners, verticale staaflampen en een reusachtige witte bal op een pied-de-stal vormden het decor waarin de heren optraden.
Vernuftige belichting en intrigerende filmpjes over geboorte, wedergeboorte,bijna-dood-ervaringen en reïncarnatie, die geprojecteerd werden op de reusachtige witte bal, gaven die extra touch, maar het was toch vooral hun muziek die me (zoals bij elke passage) weer wist te bekoren. Met een oeuvre als dat van deze heren is het natuurlijk niet moeilijk om een show te vullen, en hun eigenzinnige, nieuwe interpretaties van hun eigen songs maakt dit alles nog meer intrigerend.
Randy zwenkte en zwalpte zoals vanouds over het podium, en met zijn bezwerende trillende vingertjes en krachtdadige gebaren kreeg elke compositie, overigens magistraal vertolkt door Bob & Chuck, de nodige visuele ondersteuning om ons zo op het ene na het andere hoogtepunt te trakteren.
Hun muziek varieert ontzettend, mede door hun bizarre, eiegnzinnige combinaties van electronica, gedeconstrueerde rock-'n-roll en zelfs een vleugje avant-garde jazz, opgeluisterd met surrealistische visuals en verhaaltjes.
Het is dan ook onmogelijk alle nummers te bespreken maar met superbe én eigenzinnige versies van onder andere opener "Rabbit Habit" (The Bunny Boy), "Harry The Head" (Freakshow), "Blue Rosebuds" (Duck Stab), "Fever Dream" (The Bunny Boy) en "Easter Woman" (Commercial album) wisten de heren mij wederom te overtuigen van hun genialiteit !
In 2010 begonnen The Residents aan deze trilogie om hun 40 jarig jubileum te vieren. Als ik dan goed tel kunnen ze volgend jaar hun 45 jaar bestaan vieren. Hopelijk doen ze dat dan terug met een straffe trilogie. Ik kijk er naar uit!
Foto's © Creepking Mac Kroki.
Bekijk meer schitterende foto's van Creeping Mac Kroki via deze link, of deze link (MusicZine).
Ward DE PRINS
04/05/2014
---
---