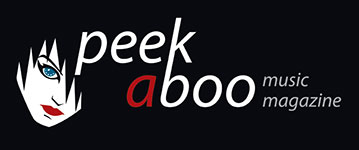 like this article review
---
THE WORLD GOES POP
London, Tate Modern (until/tot 24/1/2016)
Article
20/12/2015, William LIÉNARD
---
Until January 24th, you can visit the exhibition The World Goes Pop at the Tate Modern in London. Pop art is often referred to as a primarily North American and British phenomenon. In reality it expanded in very different areas during the 60s and 70s and the so called pop artists did not limit their strategies and visual techniques to subjects related to modern consumer culture only. They applied those to issues such as social imbalance, censorship, the role of women, sexual liberation, tradition, war and civil rights. The imagery used by the artists in this exhibition is not limited to images of advertising and pin-ups, but includes political propaganda and folk traditions.
The Spanish artists Eulalia Grau made photo montages in which she combined material from the press and advertising to denounce Franco's repressive dictatorship (Ethnographies, 1972-1973), but she also addressed female sexuality, political violence and economic inequality, while the English painter and sculptor Joe Tilson's Page (1969) - a three-dimensional wooden composition – is a parody of the cover of radical magazines from that period. The Vietnam War was a very popular topic in Pop art and artists from around the world focused in a critical way on the role of the US in the conflict. Images of consumer goods were combined with symbols or scenes of violence from WWII. Other artists used the subject to denounce contemporary conflicts or faltering human rights in their own territories. In the exhibition we see Kill Fly by Marcello Nitsche, a protest against the military dictatorship in Brazil.
Less well known is the fact that Pop art was made in Eastern Europe too. The Romanian artist Cornel Brudascu combined portraits of family members and friends with images from Western magazines, because travel was forbidden and direct contact impossible. In Guitarist he placed the head of a friend on the image of a Western rock star and in Youth on the Building Yard he exceeded the limits of official proletcult – for the promotion of the spirit of the communist collective - by adding bright colors and photographic material. His colleague Jana Zelibska, graphic designer and illustrator in Bratislava, created structures with fragmented female bodies in the late 60s, using non-art materials such as mirrors, canvas, neon and plastic, while the Indian artist Kandarya-Mahadeva was inspired by elements from Hinduism and erotic scenes. He replaced the female genitals by mirrors, making voyeurism impossible. Originally he wanted to exhibit his work in the street, but that fell through because the material was too explicit.
Political action was an important issue in the 60s because of the war in Vietnam, but it also served as a protest against dictatorship in many parts of the world. In their collaborative work, Claudio Tozzi and Equipo Crónica suggest the potential of a protesting mass to liberate the individual from dictatorship, while in Red Coat, Nicola L turns eleven people into a single unit, liberated from the distinction of class, race or gender. In Room 9 of the exhibition, the relationship between Pop art and folk art is discussed, opposites at first glance, but sharing the interest in everyday visual culture as a counterpart to high art. In room 10, the attention is focused at the relationship between Pop art and consumption and the risk that art itself might become a consumer product, which is not a bad idea at all, because copies of the work of Andy Warhol can be bought in every art store today…
The World Goes Pop is an wonderful experience. Yes, there is a painting of Roy Lichtenstein and work of Andy Warhol and some other known Western artists, but The World Goes Pop emphasizes the fact that the phenomenon was much more widespread than is generally thought. It's a colorful, informative and instructive exhibition about an art movement that went far beyond the pop music of that time.
THE WORLD GOES POP
Tate Modern (level 3)
Until January 24, 2016
Admission: £ 16
Every day from 10 am to 18 pm
Closed 24-26 December 2015
Holders of a Eurostar ticket to enjoy a reduction of 50%.
William LIÉNARD
20/12/2015
---
Tot 24 januari 2016 kan u nog een bezoek brengen aan de tentoonstelling The World Goes Pop in de Tate Modern in Londen. Popart wordt vaak aangeduid als een voornamelijk Noord-Amerikaans en Britse fenomeen. In werkelijkheid manifesteerde de kunststroming zich in een veel ruimere geografische context tijdens de jaren 60 en 70 en de kunstenaars beperkten hun strategieën en visuele technieken niet uitsluitend tot onderwerpen met betrekking tot de moderne consumptiecultuur. Ze hadden ook interesse voor sociale onevenwichtigheid, censuur, de rol van vrouw, seksuele bevrijding, traditie, oorlog en burgerrechten. De beelden in deze tentoonstelling beperken zich evenmin tot advertenties en pin-ups, maar omvatten ook politieke propaganda en folkloristische tradities.
De Spaanse artieste Eulalia Grau gebruikte bijvoorbeeld fotomontages waarin ze materiaal uit pers en reclame combineerde om Franco's repressieve dictatuur aan de kaak te stellen (Ethnographies, 1972-1973), maar ook om vrouwelijke seksualiteit bespreekbaar te maken of politiek geweld en economische ongelijkheid aan te klagen, terwijl de Engelse schilder en beeldhouwer Joe Tilson's Page (1969) – een drie dimensionale houten compositie – een persiflage is op de covers van radicale magazines uit die periode. De Vietnamoorlog was een zeer populair onderwerp in de Popart en artiesten uit de hele wereld focusten op kritische manier op de rol van Amerika in het conflict. Beelden van consumptiegoederen werden gecombineerd met symbolen of scènes over geweld in bijv. de Tweede Wereldoorlog. Voor andere Artiesten was het een aanleiding om eigentijdse conflicten en gebrekkige mensenrechten in hun eigen omgeving aan te klagen. In de tentoonstelling ziet u Kill Fly van Marcello Nitsche als een aanklacht tegen de militaire dictatuur in Brazilië.
Minder bekend is het feit dat ook in het Oostblok Popart werd gemaakt. De Roemeense artiest Cornel Brudascu combineerde portretten van familieleden en vrienden met beeldmateriaal uit westerse magazines, want reizen naar het buitenland was verboden en direct contact dus onmogelijk. In Guitarist plaatste hij het hoofd van een vriend op de afbeelding van een westerse rockartiest en in Youth on the Building Yard overschreed hij de grenzen van de officiële proletcult - die de geest van het communistische collectief behoorde uit te stralen - door felle kleuren en fotomateriaal toe te voegen. Zijn collega Jana Zelibska, grafisch ontwerper en illustrator in Bratislava, creëerde in de late jaren 60 constructies met gefragmenteerde vrouwenlichamen waarvoor ze non-artmaterialen zoals spiegels, linnen, neon en plastic gebruikte, terwijl de Indiër Kandarya-Mahadeva zich liet inspireren door elementen uit het Hindoeïsme en uit erotische taferelen voor werk waarin de vrouwelijke genitaliën zijn vervangen door spiegels, waardoor voyeurisme onmogelijk is. Oorspronkelijk wilde hij z'n werk op straat exposeren, maar dat ging niet door wegens te expliciet.
Politieke actie was in de jaren 60 een belangrijk onderwerp wegens de oorlog in Vietnam, maar ook als protest tegen dictaturen in grote delen van de wereld. Claudio Tozzi en Equipo Crónica suggereren in hun werk het potentieel van een protesterende massa om het individu te bevrijden van de dictatuur, terwijl Nicola L in Red elf mensen in een groep verzamelt, waarbij klas, ras of geslacht geen rol meer spelen. In zaal 9 komt de relatie tussen Popart en folkart ter sprake, op het eerste gezicht tegengestelden, want het ene mikt op massa's en het andere op het lokale en het individuele, maar ze delen wel de interesse voor het alledaagse als tegenhanger van grote kunst. In zaal 10 gaat de aandacht naar Popart en consumptie en het gevaar dat die kunstvorm zelf een vorm van consumptiegoed wordt, wat nog niet zo'n gek idee is, want iets dergelijks is bijv. gebeurd met het werk van Andy Warhol, waarvan je tegenwoordig in elke kunstboetiek een goedkope kopie kan kopen…
The World Goes Pop is een geweldige ervaring. Ja, er is een schilderij van Roy Lichtenstein en werk van Andy Warhol en enkele andere bekende westerse kunstenaars, maar The World Goes Pop benadrukt vooral het feit dat het fenomeen veel ruimer verspreid was dan algemeen wordt aangenomen. Het is een kleurrijke, informatieve en leerzame tentoonstelling over een kunststroming die veel verder reikte dan de popmuziek van die tijd.
THE WORLD GOES POP
Tate Modern (niveau 3)
Tot 24 januari 2016
Toegangsprijs: £16
Elke dag van 10 tot 18 uur
Gesloten van 24-26 december 2015
Houders van een Eurostarticket genieten een reductie van50%.
William LIÉNARD
20/12/2015
---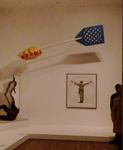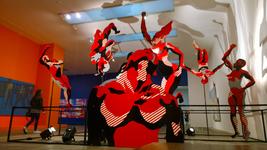 ---