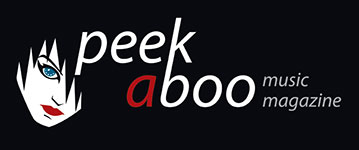 like this concert review
---
THE YOUNG GODS
Live @ Le Nouveau Casino - Paris (16.11.2013)
Concert
[90/100]

21/11/2013, Fred GADGET
---
We don't have to say we were pretty exited to see The Young Gods perform especially as the band announced they would play songs from their first two albums The Young Gods (1987) and L'eau Rouge (1989). When we arrived at the cosy venue Le Nouveau Casino it was already packed to the roof, not surprisingly as the concert was sold out.

The support DJ/Artist BIT-TUNER was already halfway his set and the second half didn't make us feel we miss out something spectacular. It was only when the stage was being prepared for the headliners of that night, the tension and cheering started to rise. And then the lights dimmed …

Only a couple of white beams penetrated the pitch black venue when singer Franz Treichler and original keyboard player and sample wizard Cesare Pizzi entered the stage. They kicked off with the dark and gloomy C.S.C.L.D.F. (As if it was the last time), a B-side from their first 12" single Envoyé! (1986). It was clear I would be a steamy night at Le Nouveau Casino. Meanwhile drummer Bernard Trontin placed himself behind the impressive drum kit and counted down for their second song of the night Jusqu'au Bout.

The live drums clearly added more energy and the front rows started to heave to the music. From then on their classic songs like Fais la Mouette, The Irrtum Boys, Á Ciel Ouvert where fired upon us, turning the floor into a whirlpool of people and leaving the audience almost no time to breathe.

The Young Gods kept building up the tension and energy toward the triple climax with Crier Les Chiens , Pas Mal and L'Amourir which set the complete venue on fire, even making a six year old (sitting on the bar next to her parents wearing ear protection) headbang wildly! Eat this Justin Bieber! They left the stage as they entered … with a more quiet song... Si Tu Gardes.

As expected the audience didn't had enough and chanted for more or 'Encore!'. The Young Gods came back to play three more songs, ending with their first ever and underground hit single Envoyé!. After that they left their fans totally exhausted and almost numb behind... but they didn't go before not explicitly thanking everyone present for the great night!

Conclusion: After more then 23 years The Young Gods still didn't pas their expiration date yet! Still sounding, young, godlike and angry!

The Young Gods will perform on December 21st @ BIMFEST 2013 - Trix - Antwerp, don't miss them!
Setlist:
The Young Gods Paris - 16.11.2013

1) C.S.C.L.D.F.(As if it was the last time)
2) Jusqu'au Bout
3) Fais La Mouette
4) The Irrtum Boys
5) Jimmy
6) À Ciel Ouvert
7) L'Eau Rouge
8) Did You Miss Me
9) Percussionne
10) Crier les Chiens
11) Pas Mal
12) L'Amourir
13) Si Tu Gardes
Encores
14) La Fille de la Mort
15) Feu
16) Envoyé
Fred GADGET
21/11/2013
---

---