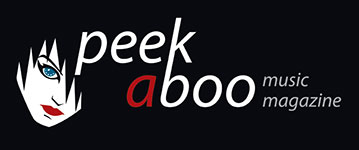 like this concert review
---
THIELEMANS GEBRUERS ANTUNES
Mechelen, Jazzzolder (22/07/2016)
Concert
Jazz
10/12/2016, Mark VAN MULLEM
---
I haven't got the slightest idea what to expect tonight, and I think the band doesn't know what it is going to play neither, Lejo Vanhaelen, founding father of Jazzzolder Mechelen said, giving the perfect definition of free jazz. That friday night, juli 22th, Seppe Gebruers, Eric Thielemans and Hugo Antunes played a grand set, creating the music on the spot. A wonderful musical journey it was.

Improvisation, creation and passion were the key words of the evening. Free jazz is like going on a journey without knowing the destination or which road to take. The only conventions were respect for the break and curfew.

Pianist Seppe Gebruers had to improvise only a few hours before the gig, seeking a replacement for sax player John Dikeman who was ill. After a phone call, percussionist Eric Thielemans was happy to help out. Thielemans and Gebruers were joined by Hugo Antunes on contrabass.

The trio took the audience on a adventurous musical journey, discovering the path and destination together, whilst creating wonderous music. Seppe Gebruers manically unleashed all of his demons on both black and white keys and piano strings, with Hugo Antunes attacked his contrabass vigourously and furiously as if it was his last day on earth. Percussionist Eric Thielemans played on everything he could lay his hand on and was cleary enjoying every single second of it.

Truly amazing how this trio created wonderful tunes on the spot, sometimes in a very chaotic and hectic way but mostly very subtle and always full of melody. And strange as it might sound: the composition came to a perfectly structured cohesion.

Although each composition came to life during the concert itself, one would have sworn that some of those compositions were very well prepared. All pieces fell into place swiftly.

Thielemans, Gebruers and Antunes created wonderful tunes on the spot. The trio succeeded in offering a beautiful and memorabele musical experience that friday. Thanks, Guys!
Mark VAN MULLEM
10/12/2016
---
Wat de muzikanten vanavond precies gaan brengen, weet ik niet, dat weten ze trouwens zelf ook niet, en dat is de bedoeling, aldus Jazzzolderbezieler Lejo Vanhaelen, niet alleen perfect het concert inleidend op vrijdagavond 22 juli 2016 in Jazzzolder Mechelen, maar meteen ook een mooie definitie gevend van freejazz.

Intelligente improvisaties waren ons deel die vrijdagavond. Merkwaardig en fascinerend was het om vast te stellen hoe drie topmuzikanten vanuit het absolute niets tot mooie composities kwamen en dat zonder een plan en met als enige afspraak dat die er niet was, of misschien toch: het respecteren van de pauze en de eindtijd.

Behalve het muzikale improviseren, had pianist Seppe Gebruers nog een extra improvisatietaak uit te voeren, luttele uren voor het optreden; saxofonist John Dikeman bleek ziek te bed. Gelukkig vond Gebruers percussionist Eric Thielemans bereid om in te springen. Tel daar contrabassist Hugo Antunes bij en je had het wondertrio dat ons meenam op de muzikale reis waarvan ze zelf, samen met ons, op het moment zelf beginpunt, parcours en eindhalte ontdekten.

In totaal kregen we zes spannende en frisse composities te horen, soms minimaal, meanderend en ingetogen, dan in een hels en hectisch tempo, een tikkeltje chaotisch en experimenteel, dan weer heel toegankelijk en, hoe contradictorisch het ook mag klinken, vaak met een heel erg sterke en logische opbouw.

Drie muzikanten die ter plaatse de muziek uitvinden en die dan ook nog fantastisch laten klinken en weten te beroeren en te emotioneren. Ondergetekende geniet nog na, ik beken!

Seppe Gebruers ontbond al zijn duivels op zowel toetsen als pianosnaren, Hugo Antunes beheerste de contrabas als geen ander, speelde alsof zijn leven ervan afhing en percussionist Eric Thielemans ging tekeer op alles wat met percussie te maken heeft en genoot zichtbaar van elk moment. Wat dat genieten betreft: dat geldt zeker voor álle muzikanten en voor wie net als ik het geluk had deze masterclass in instant componeren bij te wonen.
De drie muzikanten voelden elkaar perfect aan en je zou haast hebben gezworen dat de composities wél 'op papier' stonden of ingeoefend waren omdat het zo consistent en coherent klonk, al was niets minder waar natuurlijk.

Hoe het had geklonken met saxofonist John Dikeman weten we niet, ongetwijfeld krijgt die man wel eens een herkansing in de Jazzzolder of op een ander podium. Wat we wel weten is dat het trio Gebruers-Antunes-Thieleman menig Mechels melomaan een bijzonder aangename en memorabele muzikale ervaring bezorgde, dat is klaar als een klontje!
Mark VAN MULLEM
10/12/2016
---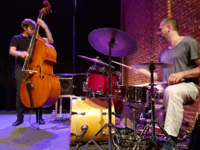 ---