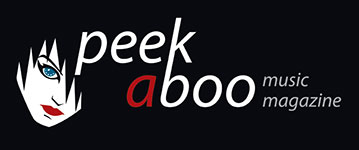 like this concert review
---
THIS MORN'OMINA, STIN SCATZOR, MIREXXX, NOIZE MACHINE
Dark Discharge Industrial Night - Roubaix - 25/02/2017
Concert
02/03/2017, Jurgen BRAECKEVELT
---
A 3/4 Belgian stage at the small but excellent liveclub Bar Live 301 in Roubaix. Playing on request of organisers Dark Discharge were French Noize Machine and Belgian force Mirexxx, Stin Scatzor and This Morn' Omina.
Opening were Noize Machine from the north of France. Two people that played a set midway between old school EBM and the more modern varieties of that genre. And they did a great job opening the evening; driven, danceable, energetic and a nice mix of songs. Mainly in French but some songs in English too. Personal favorites from their 10 song set were La Rage, strong uptempo, tight and angular, and their anthem Noise Machine. Some of the power in the performance was lost due to moderate sound that seemed to lose some of the bass, but notwithstanding this a good show by the duo!
Next it was time for the Belgian electro-power of Mirexxx. If you believe that some people are born to be on stage this certainly is the case for frontman Stijn S., hurtling himself across the stage with amazing energy and dedication. But mainly seasoned. Seeing him performe I am reminded of Hocico (or at least their Belgian counterpart); hard, energetic and above all credible and animated. Mirexxx also brought what we expected: dark electro that, at certain moments and brought on by the anger of the frontman, seemed to vibrate right through you and that seemed to make the hair on your arms stand up. The only thing that could have intensified this energy would have been the sound. This genre really needs more decibels but we did not get them. But who cares; a moving audience and a very good performance. And that is what Mirexxx stands for: a powerfull performance to more than entertain an audience. And there were some new songs in their set, maybe precursing more...
Keeping the Belgian flag in top next were Stin Scatzor. Their mix of beats, electro and firm guitar, based on more agressive industrial, gives them a solid base. Originally a solo-project they have been a duo with guitars since 2001 and they provided the more heavy sound of the evening. Despite the fact that many industrial bands have embraced guitars next to the stomping beats and distorted synths Stin Scatzor still sounds different. And after more than 25 years of experience on stage you know you are looking at a seasoned band. And everything indeed sounded tight and strong.
Headlining the evening were This Morn'Omina, the band that has as many faces as names used in the genre: tribal, ritual, industrial techno, dark psytrance, etc... Their musical style is something alltogether else, an arsenal of beats and melody, supported by acoustic percussion. The whipping, summerly, southern and very danceable arsenal of songs gripped the audience. As usual after only one song Bar Live was transformed into a muggy hot danceroom. First song Ayahuasca and (The) Rûach (Of God) set everything on fire immediately. It is great to see all members of the band having so much fun on stage. And this radiates onto the audience. I suspect that the flood of songs in their striking style caused a collective high that no Ayahuasca can counter. There was some new material as well, showing that 10 years is not nearly long enough for these misfits of Belgian alternative tribal bands...
Setlist Noize Machine
Wild Movements
United State Of Violence
AK47
Apothéose Du Néant
La Rage
Noise Machine
Maximum Noise Unit
Are U Ready
Les Rebelles
Wild And Sexy
Setlist Mirexxx
Inside You
Death Angel
Chaos
Anabolic
Nine Angels
Virtual
Existence
Bloodresource
Visions
Setlist Stin Scatzor

Hellgium (soundcheck)
The Bone-Collector
Let Me Rot
Black Silence
Someone's Memory
Skull-Sky
Backfire
It Doesn't Matter
Vernix Caseosa
E.A.P. 620
That Bloody Wall
Setlist This Morn' Omina
Ayahuasca
Rûach
Garuda Vimana
Tir Na Nog
Iboga
Immutable
Kachina Red
Shiftwind
Epoch
The Ninth Key
Mainomai
Maened
Jurgen BRAECKEVELT
02/03/2017
---
Een driekwart Belgisch podium in de kleine maar fijne liveclub Bar Live 301 in Roubaix. Spelen ten dans, op vraag van de organisatie Dark Discharge: het Franse Noize Machine en Belgisch geweld Mirexxx, Stin Scatzor en This Morn'Omina.
Opener was dus de Noord Franse band Noize Machine. Twee lieden die een set brachten die het midden hield tussen old school EBM en de iets hedendaagsere varianten binnen dat genre. En het was een waardige opener: gedreven, dansbaar, energiek en een fijne afwisseling in de songs. Hoofdzakelijk in het Frans, een paar songs in het Engels. Persoonlijke favorieten uit hun set van 10 songs waren dan toch La Rage, stevig uptempo, strak en hoekig, en het lijfnummer Noise Machine.
Er ging wat kracht van het optreden verloren door de matige klank, waarin de basdreunen verloren gingen, maar desalniettemin een goed optreden van het duo!
Dan tijd voor Belgisch electro-geweld met Mirexxx. En als je zou bedenken dat sommige mensen geboren zijn om op een podium te staan, dan zeker frontman Stijn S.. Die raasde over het podium met een energie en bezieling dat het een lust was. Maar vooral doorleefd. Als ik hem bezig zie, hoor en voel zie ik de Belgische variant van Hocico: hard, energiek en vooral geloofwaardig en bezield. Mirexxx bracht ook wat we verwachtten: dark electro die op een paar momenten bij het aanschouwen van de woede van de frontman, dwars door je heen trilt, het haar op je armen doet rechtstaan. Het enige wat de energie vanuit de zaal nog méér had kunnen voelbaar maken, was de klank. Dit genre vraagt wat meer decibels, we kregen ze niet. Maar wat maakt het uit: een bewegend publiek en een zeer goed optreden. En dat is waarvoor Mirexxx er staat: een publiek méér dan vermaken met een krachtig optreden. En er slopen een paar nieuwe nummers in de set, wat wellicht een voorbode is van….
En de Belgische driekleur wapperde verder met Stin Scatzor. Het op de agressievere industrial gebaseerde mix van beats, electro en stevig gitaarwerk zorgt voor een stevige basis. Wat ooit startte als een solo-project en sedert 2001 een duo is met inbreng van gitaren, zorgde ook voor de hardere noot op deze avond. Ondanks het feit dat veel industrial bands de gitaren omarmen naast de stompende beats en distortie in de synthgeluiden klinkt Stin Scatzor anders. En na intussen meer dan 25 jaar on stage weet je dat je een doorgewinterde band voor je hebt. Het klonk ook allemaal strak en krachtig.
Headliner was This Morn'Omina. De band die zoveel gezichten heeft als namen waarmee de muziek wordt benoemd: tribal, ritual, industrial techno, dark psytrance, enz… De muzikale stijl is sowieso apart: een arsenaal aan beats en melodie, ondersteund door akoestisch slagwerk. Het opzwepende, zomers , zuiders en uiterst dansbaar arsenaal aan songs had duidelijk het publiek in de greep. Zoals we gewend zijn werd de Bar Live al na één nummer omgetoverd tot een broeierig hete danstent. Opener Ayahuasca en (The) Rûach (Of God) zetten de keet meteen in lichterlaaie. Heel leuk om zien is dat alle bandleden een lol van jewelste beleven op het podium en dat straalt af op het publiek. Ik heb zo een donkerbruin vermoeden dat de vloed aan songs in de markante stijl van This Morn' Omina voor een collectieve high zorgde, waar géén Ayahuasca tegenop kan. Er werd nieuw materiaal gespeeld, wat aantoont dat ruim 10 jaar nog verre van genoeg is voor het buitenbeentje van de Belgische alternatieve tribal-band….
Setlist Noize Machine
Wild Movements
United State Of Violence
AK47
Apothéose Du Néant
La Rage
Noise Machine
Maximum Noise Unit
Are U Ready
Les Rebelles
Wild And Sexy
Setlist Mirexxx
Inside You
Death Angel
Chaos
Anabolic
Nine Angels
Virtual
Existence
Bloodresource
Visions
Setlist Stin Scatzor

Hellgium (soundcheck)
The Bone-Collector
Let Me Rot
Black Silence
Someone's Memory
Skull-Sky
Backfire
It Doesn't Matter
Vernix Caseosa
E.A.P. 620
That Bloody Wall
Setlist This Morn' Omina
Ayahuasca
Rûach
Garuda Vimana
Tir Na Nog
Iboga
Immutable
Kachina Red
Shiftwind
Epoch
The Ninth Key
Mainomai
Maened
Jurgen BRAECKEVELT
02/03/2017
---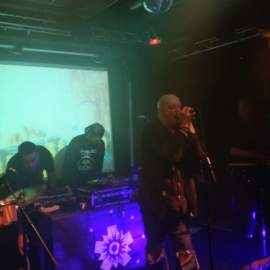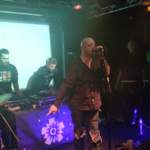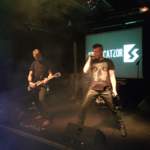 ---