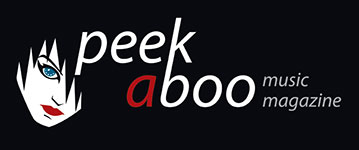 like this movie review
---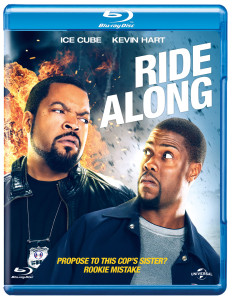 TIM STORY
Ride Along
Movie
Comedy
[56/100]

Universal Pictures
24/08/2014, Didier BECU
---
After having made the two movies with The Fantastic Four ,Tim Story wanted to make an old fashioned cop movie. The result is Ride Along and across the Atlantic Ocean the movie scored so well that now a sequel is already announced. Of course you saw it all before (from 48 Hours to Rush Hour) but if you're not a crabby person then you'll surely have a good time with this 90 minutes long comedy.
As so many told before, this is the story about two cops who don't like each other. Well, something like that as one part of the duo isn't even a rookie yet! James (Ice Cube) is a rough cop who chases the bad guys in pure Dirty Harry-style. He can't stand his brother-in-law Ben (Kevin Hart). To make James' life a complete nightmare, Ben decided to join the police academy. But the cop has a great idea, he takes Ben on his daily journey hoping that he soon changes his mind.
It's quite clear that you don't have to watch this movie for the story. It's a comedy! Some can laugh with it, while others not…simply as that! The jokes might be a bit old fashioned (so no Hangover!), but they work! It's of course a very strange thing to see rapper Ice Cube playing a Hollywood-star, but if you put him in the right role then he can act! From time to time his partner Kevin Hart is a bit too
Chris Tucker-like, but not so annoying (yet!) The finale is a bit over the top, but if you can forget all that then you surely can consider Ride Along as being one of the better Hollywood-comedies from last months.
On this Blu-ray you find some extra material. All short movies that are interesting for die-hard fans. There's an alternate ending, a gag reel and deleted scenes. In Kev & Cube's Wild Ride it seems like
Kevin Hart can't believe the fact that he's performing next to Ice Cube. Talking about respect, but for the film fan this extra is not so interesting to watch! Anyone who wants to know how to set a building on fire can watch Anatomy Of The Big Blast , while An Explosive Ride says something about the stunts.
Ride Along is now out on DVD and Blu-ray through Universal.
Didier BECU
24/08/2014
---
Na twee keer te hebben gescoord met The Fantastic Four had Tim Story best zin in een ouderwetse copmovie. Het resultaat is Ride Along en blijkbaar heeft de film over de Atlantische Oceaan goed geboerd want er is er nu al sprake van een sequel. Deze komedie blaast je misschien niet van je stoel weg, maar wie geen zuurpruim is zal zich toch ongetwijfeld anderhalf uur vermaken met dit doldwaze flikkenverhaal.
Het is niks nieuws, maar ook in dit relaas gaat het over twee flikken die elkaar niet kunnen luchten, alhoewel het er bij dit duo iets anders aan toe gaat. James (Ice Cube) is een ruige flik die in pure Dirty Harry-stijl de boeven achterna rent. Zijn schoonbroer Ben (Kevin Hart) die James niet kan luchten heeft zich ingeschreven bij de politieacademie. James besluit om Ben mee te nemen op patrouille en er voor te zorgen dat zijn zwager het idee om flik te worden zo snel mogelijk uit zijn hoofd zet.
Nogal wiedes dat je deze schijf niet in je lader moet gooien voor het verhaal, dit is een komedie en ofwel kun je ermee lachen ofwel niet. De grapjes zijn misschien braaf, maar meestal werken ze wel. Het blijft vreemd om Ice Cube als Hollywoodster het schone weer te zien maken, maar hij doet het wel. Kevin Hart dreigt af en toe om net iets te veel in het straatje van Chris Tucker te geraken(je weet wel, Rush Hour), desalniettemin weet hij zich enigszins te beheersen. De finale is misschien net iets te veel van het goede, maar als je dat gedeelte door de vingers kan zien dan is Ride Along beslist één van de leukere Hollywoodkomedies van de afgelopen maanden.
Op de Blu-ray vind je heel wat bonusmateriaal terug, ook al gaat het hoofdzakelijk om korte filmpjes die vooral interessant zijn voor fervente fans. Er is een alternatief einde, wat weggelaten scènes en een collage bloopers. Kev & Cube's Wild Ride is een filmpje van vijf minuten waarin Kevin Hart vertelt dat hij het maar niet kan geloven dat hij samen op de set stond met Ice Cube. Van respect gesproken dus, ook al levert dat voor de filmfan maar weinig zinnigs op. Wie wil weten hoe hij het best een gebouw in de fik kan steken kan zich laven aan Anatomy Of The Big Blast en ten slotte is er nog An Explosive Ride waarin men wat over de stunts vertelt.
Ride Along is nu uit op dvd en Blu-ray via Universal.
Didier BECU
24/08/2014
---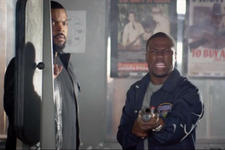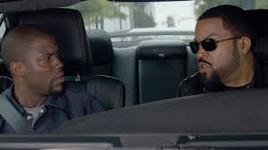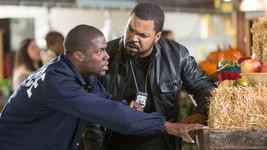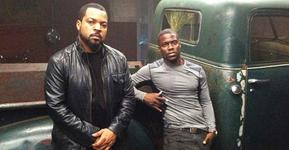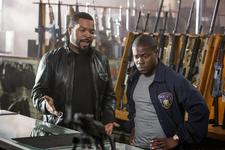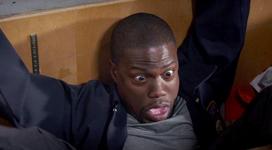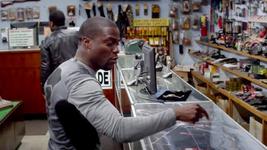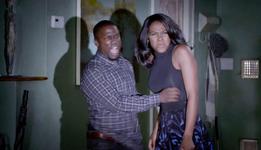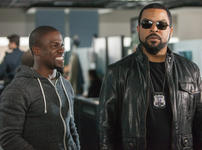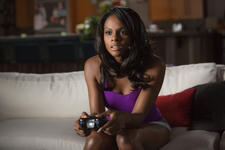 ---