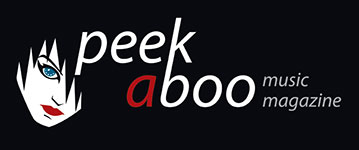 like this cult movies review
---
TOBE HOOPER
The Texas Chainsaw Massacre
Movie
•
Cult movies
Horror
[90/100]

Second Sight
21/11/2014, Didier BECU
---
Each film magazine has reviewed The Texas Chainsaw Massacre, but we have a very special reason. It took a while, but the mother of all horror films is now finally available on Blu-ray in a restored version!

In 1969 Easy Rider changed the movie world. With this film directors and not the studio's became the boss of the productions. With this new approach a lot of daring productions came out. In the horror world George A. Romero caused some fuss in 1968 with Night of the Living Dead. Previously, horror films were about creatures like Dracula or aliens who roamed the world. All chilling tales, yet they seemed far away from our world. Romero's zombie was quite nasty and could happen next door, at least if you believe in the living dead. In 1972 Sean S. Cunningham (later the director of Friday The 13th) and Wes Craven went a step further in The Last House On The Left by making a rape the most important part of a movie. This brutal film inspired Tobe Hooper and he made his own version of the Ed Gein-story (the insane killer who takes his dead mother out of the coffin and covers her with skin of other dead people).

Perhaps no one of the crew believed it, but these young filmmakers were shooting a film that would change the genre forever. It became director Tobe Hooper's masterpiece. Afterwards he only scored with Poltergeist (even though everyone knows that this is in fact a Steven Spielberg movie). The actors didn't make any profit although the movie made millions of dollars, but the invested money came from Louis "Butchie" Peraino, who also produced Deep Throat (the very first porn movie). When some actors dared to ask for their money, the producer replied laconically that nobody had the balls to prosecute him. Peraino indeed had ties to the Mafia. Eventually the actors participated worldwide in conventions to sign pictures so that they ultimately made a penny from it. These sad stories are included in the many extras that you find on the second disc of this release.

It makes no sense to repeat the script again. Every horror connoisseur knows that four youngsters are gripped by an insane family. Even though the film is very sinister, you see little blood. That's because Hooper was forced, because of the measly budget of $ 140,000, to draw attention on issues that cost no money, such as the haunting soundtrack. But fans of the harder work also will be pleased, because Hooper was the first director who hanged a woman on a meat hook, and that in 1974!

Personally, I lost count of the many times I've seen this classic, the fact is that The Texas Chainsaw Massacre is still making as much impact as the first time. It is a movie that has been copied countless times (we did not even talk about the sequels or remakes), but has never been equaled.

The extras on the second disc are too many to mention, but there are some twenty movies (there's one of 70 minutes included!)

The Texas Chainsaw Massacre is now out on the British Second Sight Films, including English subtitles.
Didier BECU
21/11/2014
---
Ieder filmmagazine heeft in zijn archief al lang een recensie van The Texas Chainsaw Massacre, maar wij hebben een zeer speciale reden. Het heeft wel ontzettend lang geduurd, maar de moeder van alle horrorfilms is vanaf nu eindelijk op Blu-ray verkrijgbaar, en nog wel in een gerestaureerde versie!
In 1969 veranderd Easy Rider de filmwereld. Met deze film werden de regisseurs de baas en waren het niet langer de studio's. Door deze aanpak verschenen er een heleboel producties die de studio's gewoonweg niet durfden uit te brengen. In de horrorwereld zorgde George A. Romero in 1968 met Night of The Living Dead voor de heibel. Voorheen zijn er natuurlijk ook griezelfilms gedraaid, maar het ging over Dracula of buitenaardse wezens die de wereld onveilig maakten. Allemaal wel huiveringwekkende verhalen, toch leek het ver van ons bed te staan. De zombiefilm van Romero was wel akelig echt. Je moest natuurlijk wel in levende doden geloven, desalniettemin had de kijker het gevoel dat het allemaal levensecht was. In 1972 gingen Sean S. Cunningham (later de regisseur van Friday The 13th) en Wes Craven in The Last House On The Left nog een stap verder door een verkrachting als het belangrijkste deel van een film op te voeren. Deze hondsbrutale film inspireerde Tobe Hooper en hij maakte zijn eigen versie van het Ed Gein-verhaal (de krankzinnige moordenaar die zijn dode moeder uit de lijkkist haate en haar nadien met huid van andere doden bedekt).
Wellicht zal niemand van de crew het zelf hebben geloofd, maar deze jonge filmmakers waren bezig aan de opnames van een film die van fundamenteel belang zou zijn voor het genre. Het is alleen maar bij eer gebleven. Regisseur Tobe Hooper kwam nadien nauwelijks nog aan de bak, alleen Poltergeist bracht geld op (alhoewel iedereen weet dat dit in feite een Steven Spielberg-film is). Ook de acteurs zijn er niet rijker van geworden. De film bracht wel miljoenen dollars op, maar het geïnvesteerde geld kwam van Louis "Butchie" Peraino die ook Deep Throat (de allereerste pornofilm) produceerde. Toen enkele acteurs het aandurfden om hun geld te vragen, antwoordde de producer laconiek dat niemand de ballen had om hem te vervolgen. Peraino had inderdaad banden met de maffia. Uiteindelijk dweilden de acteurs wereldwijd conventies af om tegen betaling foto's te signeren zodat ze er toch nog een stuiver aan overhielden. Het zijn eigenlijk allemaal trieste verhalen die uitvoerig aan bod komen in de vele extra's die je op het tweede schijfje van deze uitgave vindt.
Het heeft geen zin om het verhaal nog maar eens te vertellen. Iedere horrorkenner weet dat het om vier pineuten gaat die door een krankzinnige familie worden gegrepen. Ook al is de film ontzettend luguber, toch zie je weinig bloed. Dat komt omdat Hooper gedwongen was om, wegens het luttele budget van 140.000 dollar, zich te concentreren op punten die geen geld kostten zoals bijvoorbeeld de angstaanjagende soundtrack. Nu goed, fans van het hardere werk komen ook aan hun trekken, want Hooper riskeerde het om in 1974 een vrouw aan een vleeshaak te hangen.
Zelf ben ik de tel kwijtgeraakt over hoeveel keer ik naar deze klassieker heb gekeken, feit is dat hij nog altijd even veel impact heeft als de allereerste keer. Het is een klassieker die ontelbare keren is gekopieerd (we hebben het zelfs niet over de sequels of remakes), maar nooit is geëvenaard.
De extra's die je op het tweede schijfje vindt zijn te talrijk om op te noemen, maar het gaat om zo'n twintigtal filmpjes (nou ja, er zit ook een kanjer van 70 minuten tussen!) die je alles onthullen over wat je wilde (en wellicht ook niet wilde) weten over deze bibberklassieker.
The Texas Chainsaw Massacre is nu uit op het Britse Second Sight Films, inclusief Engelse ondertitels.
Didier BECU
21/11/2014
---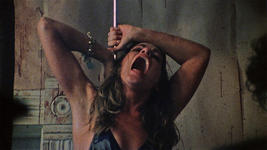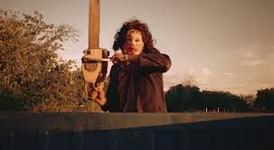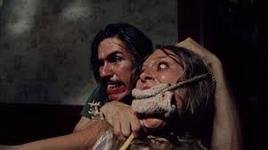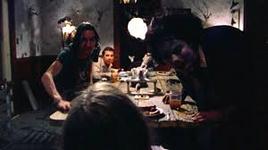 ---