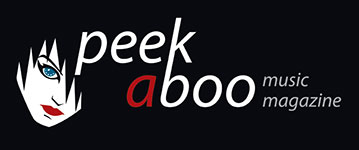 like this movie review
---
ULRICH SEIDL
Paradies Trilogie
Movie
Arthouse
•
Drama
[95/100]

Lumičre
23/11/2013, Didier BECU
---
Apart from Michael Haneke you can definitely state that Ulrich Seidl is the Austrian director to follow. In Cannes they know this as well and so it happened that in 2007 the ex-documentary maker caused a fuzz with Import/Export. It was a film that showed humankind at its worst as the movie is focused on human traffic. And it seems like Seidl is keep on going this way: showing people whom we actually don't wanna see….
The Paradies-trilogy exists from three movies which have a weak link with each other. Not only there's the perverse side of its protagonists, but also the characters are part of each other's life. Earlier Lumière released these movies separately but as Santa Claus wants to have some good stuff in his bag as well, the film company put them (along with Eye from Amsterdam) together in a nice box.
It's not only the nationality that links Seidl with Haneke. Just like with Michael, Seidl leaves us speechless at the end, just like if you receive an uppercut in your face that hurts for days. They are simple stories, but somewhere they explode. Every viewer wishes the protagonists can control themselves, he kind of hopes that they're striving for some dignity, but at the same time we all know that most of the times the human being can't stop chasing his own perversions. I'm just not that sure to call these longings perversions, as after all it are just people who are looking for their tiny piece of happiness.
In every movie Seidl focuses on a theme. In order you get: hope, faith and hope. It are universal elements, but still it feels like the characters are never able to reach those. In the first part (Paradies: Liebe) we follow the fifty year old Teresa who's heading to Kenia for a sex trip. Once she's in the exotic country, she got overwhelmed by local beach boys who are falling for her. In her own naivety, Teresa thinks those boys are longing for some white flesh. It takes two hours of film to make her realize that those Kenyan boys are just after her money. Seidl succeeds in putting a blameworthy personage in the picture which gets the viewer's compassion. You forget her acts, you just realize that she's looking for love, just like any of us…
At the beginning from Paradies: Liebe we saw how Teresa brought her beloved cat to her friend Anna Maria. This woman is the central character of the second part: Paradies: Glaube. The film starts with images from an aged lady who is castigating herself. When her back is dripping of blood, she mumbles the words "Ich liebe dich, Jesus". Anna Maria does extreme things to spread her faith. She goes from door to door to convert the infidels. Her husband who is paralysed calls her an Austrian whore who misuses her faith to commit sadomasochistic acts. He might be a fanatic as well, but isn't he right if he condemns his wife because she's crawling for two hours on the floor of her apartment because she wants to punish herself for the sins of others? It's an image you'll never forget and once again it reminds us of Haneke's La Pianiste.
And what about Melanie, the teenage daughter who Teresa left behind when she went to Kenya? The thirteen aged girl is sent to a camp at where people have to slim. With Melanie things are going bad as well as the youngster falls in love with her aged doctor. The man knows very well that he's crossing the moral line, but he cann't stop his lust and love.
So yes indeed, it are problems everyone has to conquer in his life. The victims are people we know very well, but in a way commercial filmmakers are avoiding them. Seidl shows them and as to be expected, he shocks the viewer. Seidl shows us life as it is, even if it's dirty….
This box contains six hours of excellent cinema which reminds us of the genius of Rainer Werner Fassbinder. Something not to be missed!
Didier BECU
23/11/2013
---
Naast Michael Haneke mag je gerust stellen dat Ulrich Seidl vandaag de absoluut te volgen Oostenrijkse cineast is. Ook het Filmfestival van Cannes heeft dat begrepen waardoor de gewezen documentairemaker in 2007 hoge ogen gooide met Import/Export. In deze gelauwerde prent hekelt Seidl de vreselijke mensenhandel en ook in zijn Paradies-trilogie toont de filmmaker ons de mensheid van zijn niet al te fraaie kant.
Paradies bestaat uit drie aparte films die ergens wel een link met elkaar hebben. Niet alleen is er het perverse kantje, maar ook de protagonisten zijn met elkaar verbonden. Eerder bracht Lumière deze drie films afzonderlijk uit, maar omdat er in de zak van de kerstman best iets alternatiefs (en vooral excellent) mag zitten bracht het Belgische distributiehuis in samenwerking met het Amsterdamse Eye deze box uit waarin de drie prenten mooi verzameld zitten.
Het is niet alleen zijn nationaliteit die Seidl met Haneke gemeen heeft. Ook Seidls films voelen net als die van de maker van Cache en Amour als een regelrechte mokerslag aan. Het zijn simpele verhalen die op het einde regelrecht in je gezicht exploderen. Ergens hoop je als kijker dat de personages over voldoende fatsoen beschikken, toch weet je ook dat de mens meestal niet kan weerstaan aan perverse gevoelens, met natuurlijk verreikende gevolgen. Nu ja, ze worden als perverse lusten gecategoriseerd, maar eigenlijk streven de personages niet meer dan wat portie geluk na.
Seidl werkte in iedere film met een apart thema: liefde, geloof en hoop. Het zijn universele gegevens, toch lijken ze voor de protagonisten zo goed als onbereikbaar. In het eerste deel (Paradies: Liebe) volgen we de vijftigjarige Teresa die op seksvakantie naar Kenia trekt. Eens aangekomen in het exotische oord wordt zij overstelpt door een horde lokale beach boys die haar het hof willen maken. Zij denkt naïef dat deze jonge kerels uit nieuwsgierigheid op zoek zijn naar wat oud blank vlees. Het duurt evenwel twee uur vooraleer de ongelukkige vrouw beseft dat de knappe jongens alleen op haar geld uit zijn. Het einde laat je dan ook met een brok in de keel na. Hoe verwerpelijk Seidls personage ook is (een welgestelde oude dame die in Kenia wil bemind worden door mooie, arme kerels) krijg je toch medelijden met haar.
Aan het begin van Paradies: Liebe kon je in een scène zien waarin Teresa haar geliefde kat in bewaring gaf aan haar kennis Anna Maria. Het is deze vrouw die het onderwerp vormt van het tweede luik: Paradies: Glaube. De film begint met een verbijsterende scène waarin de oudere vrouw zichzelf kastijdt. Wanneer haar rug volledig met bloed is besmeurd, prevelt zij de woorden "Ich liebe dich, Jesus". Anna Maria gaat zeer ver in haar geloof. Het is een beld die je nooit vergeet als je de oude vrouw twee uur lang op haar knieën in haar huis rondjes ziet maken, gewoon omdat zij willen boeten voor de zonden van anderen. Zij probeert ongelovigen te bekeren door een huis-aan-huisbezoek, doch heeft niemand interesse in de woorden van deze predikante. Haar verlamde (Islamitische) man noemt haar een sloerie die haar geloof misbruikt omdat ze een masochistische lusten heeft. Tja, zo intens als (daar zijn we weer) Haneke's La Pianiste.
En hoe zou het met Melanie, de alsmaar telefonerende tienerdochter die Teresa achterliet toen ze naar Kenia vertrok, toch zijn? Deze dertienjarige wordt wegens overgewicht naar een afslankkamp gestuurd en daarover gaat het laatste deel Paradies: Hoffnung dus. Ook met haar loopt het behoorlijk mis, want na enkele dagen wordt het jonge meisje stapelverliefd op een oude dokter. De arts weet dat hij over de scheef gaat, toch heeft hij moeite om zowel zijn liefde als zijn lusten te onderdrukken.
Inderdaad, het zijn problemen waarmee ieder mens wordt geconfronteerd. Het soort zonderlingen die we stuk voor stuk kennen, toch schuwt de commerciële cinema ze allen. Seidl doet dat niet en zoals te verwachten valt, slaagt hij er met de regelmaat van de klok in om de kijker te choqueren. En toch, Seidl doet niet meer dan het leven tonen zoals het is en helaas heeft dat beeld heel wat vieze kantjes.
De box telt net geen zes uur imposante cinema die je in één ruk uitkijkt en bij momenten heerlijk aan het genie van Rainer Werner Fassbinder herinnert. Absoluut in huis halen dus!
Didier BECU
23/11/2013
---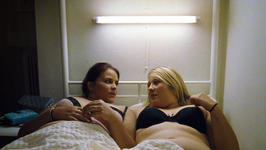 ---