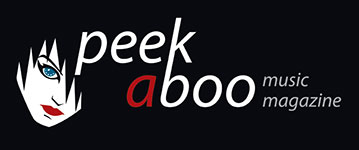 like this vinyl review
---
VARIOUS ARTISTS
The (Almost) Insanely Happy EP
Music
•
Vinyl
Cold Wave
•
Minimal
•
New wave
[87/100]

EE Tapes
18/09/2011, Didier PIETERS
---
"The (Almost) Insanely Happy EP" is number 4 on the list of impressive EE Tapes 7"s. Other goodies: "The Insanely Happy EP" (sold out), "THE EE EP" (The Misz, sold out) and the sublime Nostalgie éternelle EP which is actually still available. Intelligent people know what to do, RIGHT NOW!
I, for one, was very enthusiastic when I saw the bands on this new EP: Human Dance and Subject, both Belgian eighties bands, both Alain Neffe projects. Why the enthusiasm? Because of their breathtaking earlier contributions to "The Insanely Happy EP"!
"The (Almost) Insanely Happy EP" is limited to 250 copies. The first 85 copies are hand-numbered and come with 2 extra photographs from a series of 9 "could have been covers". The artwork is, as usual, elegant and intriguing.
Expect six songs, 3 Human Dance tracks and 3 Subject tracks. The first highlight and my personal favourite: the instrumental "Magikal Mystery Sour" from Human Dance, referring to the world's most overrated band ever? The B-side continues with high quality tracks, rhythmical and always with an insane touch …
Elegant, breathtaking, sophisticated … Words not to be used lightly, but fitting the occasion once more! Out on September 1st.
On to number five! Let's hope for another exclusive grab in the 80's vaults of Alain Neffe & Co.
Godspeed, EE Tapes!
Didier PIETERS
18/09/2011
---
The (Almost) Insanely Happy EP [EV04]
Gelukzalig gek, geschift gelukkig. "Whatever" ...
't Is MAAR een EP-tje ... Of toch niet..
Deze opvolger van "The Insanely Happy EP" (sold out), is nummer 4 in het steeds imposanter wordend lijstje van EE Tapes 7"s.
Buiten de twee voornoemde singles was er ook al "THE EE EP" van THE MISZ (sold out) en de nog subliemere Nostalgie éternelle EP. Die is blijkbaar nog altijd verkrijgbaar: een verstandig mens weet wat hem NU te doen staat!
Ik was alvast bijzonder verheugd met deze nieuwe EP en vooral ook met de keuze van de groepen: Subject en Human Dance, Beide Belgisch, beide actief in de gezegende jaren 80, beide Alain Neffe projecten! En laat het nu net ook die 2 groepen zijn, die er met kop en schouders bovenuit staken op de vorige "Insanely Happy EP".
Zoals steeds is de oplage beperkt tot 250 exemplaren en zoals steeds zijn de eerste 85 EP's met de hand genummerd en krijg je er 2 foto's bij. Vermoedelijk ook hier alternatieve hoesideeën die het uiteindelijk (net) niet gehaald hebben. Het artwork is overigens, naar goede gewoonte, intrigerend en stijlvol!
In totaal krijgen we 6 songs voorgeschoteld, 3 van Human Dance en 3 van Subject. Een eerste hoogtepunt: het instrumentale "Magikal Hystery Sour" van Human Dance, een kleine verwijzing naar de meest overschatte groep aller tijden? Op de B-kant wordt het hoge niveau moeiteloos aangehouden, ritmisch, en altijd met een geschifte touch!
Geniaal, subliem, onaards … woorden die ik niet lichtzinnig wil gebruiken, maar die hier echt wel op hun plaats zijn! Opnieuw! En uit op 1 september! Wat een manier om het nieuwe schooljaar (en voor mij een welverdiende vakantie) te beginnen …
Op naar nummer 5! Hopelijk terug een exclusieve graai in de schatkisten van Alain Neffe en Co, rijkelijk gevuld met juweeltjes en curiosa uit de jaren tachtig.
Didier PIETERS
18/09/2011
---