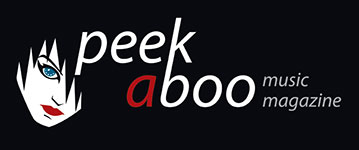 like this movie review
---
VICTOR GARCIA
The Damned
Movie
Horror
[50/100]

Dutch FilmWorks
06/01/2015, Didier BECU
---
It is not hip to say, but the golden advice you get in The Damned is that it would be better to listen to the advice of the police. In any case David (Peter Facinelli), Lauren (Sophia Myles), daughter Jill (Nathalia Ramos), Ramon (Sebastian Martinez ) and Gina (Caroline Guerra) better should have done that. Jill works as a volunteer in Columbia for the welfare of poor children, but her father thinks that it would be better if she comes with him to the United States to be the witness at the wedding with his new love Lauren. After much bickering Jill admits, but it turns out that her passport is at the house of her colleague Gina and that means a 8 hours drive.The weather looks anything but promising and halfway the trip they are stopped by the police and urged to stay on the main road as the mudslides could be dangerous. As every minute counts, they don't bother about those wise words. And yes, a few moments later their jeep gets of the road. Lauren is injured, and so they are forced to seek solace in a secluded property. The residence appears to be an earlier hotel (Gallow Hills, which is also the title of the movie in the US). The old Colombian who still lives in the building gives them the advice (yes, there is a lot of advice given in this film ) to leave immediately, because if they do not do that than they are all doomed to die. The five think the elderly man simply invents an excuse to chase them away, but they do not know that there is a child trapped in the basement of the building. Well, it is the body of a child, because inside her lives the soul of a murderous witch.
The Damned is a routine horror movie by Victor Garcia, who became famous (well, just a little bit) by directing Mirrors 2 and the ninth (yes!) Hellraiser. It is unfortunate that he is the director of this film, because even though the story is anything but exciting, he has a cast that can act and that is not a logical fact in horror. The problem of The Damned is that Garcia never succeeds to fear the viewer and that is all in all the aim of this kind of movies, not? Anyway, a lot worse has been made in this genre in recent years. But it is true that we actually expected more of a horror picture that is set in the Bogota woods, but sometimes it is wrong to desire much.
The Damned is released on Dutch Filmworks, both on DVD and Blu-ray.
Didier BECU
06/01/2015
---
Het klinkt allesbehalve hip, maar de gouden raad die je uit The Damned kan puren is dat je toch maar beter naar het advies van de politie luistert. In ieder geval hadden David (Peter Facinelli), Lauren (Sophia Myles), dochter Jill (Nathalia Ramos), Ramon (Sebastian Martínez) en Gina (Caroline Guerra) dat beter gedaan. Jill werkt als vrijwilligster in Columbia voor het welzijn van arme kinderen, maar haar vader vindt dat het toch maar beter is indien zij met hem naar de Verenigde Staten gaat om er getuige te zijn bij het huwelijk met zijn nieuwbakken lief Lauren. Na veel kibbelen geeft Jill toe, doch blijkt haar paspoort bij haar collega Gina te liggen en dat betekent zoveel als een autorit van 8 uur. Het weer ziet er allesbehalve denderend uit en tijdens de reis worden ze door de politie tegengehouden. Ze worden aangemaand om op de hoofdweg te blijven omdat de modderstromen te gevaarlijk zouden zijn. Omdat iedere minuut telt, slaan ze de raad in de wind. En jawel, enkele ogenblikken later gaat hun jeep halsoverkop. Lauren is gewond waardoor ze worden gedwongen om hulp in een afgelegen woning te zoeken. De woonst blijkt een vroeger hotel te zijn (Gallow Hills, wat trouwens de titel van de film in de VS is). De oude Columbiaan die in het gasthuis is blijven wonen, geeft hun het advies (ja, er wordt veel raad gegeven in deze film) om onmiddellijk te vertrekken, doen zij dat niet dan zijn ze gedoemd om te sterven. De vijf denken dat de bejaarde man gewoon een smoes verzint om hen weg te sturen, wel weten ze niet dat er in de kelder van het gebouw een kind opgesloten zit. Nu ja, het lichaam van een kind, want binnenin haar schuilt de geest van een moorddadige heks.
The Damned is een routinehorrorfilm van Victor Garcia die bekend raakte (nou ja, een heel klein beetje dan) door het draaien van Mirrors 2 en de negende (jawel!) Hellraiser. Het is jammer dat hij de regisseur is, want ook al is het verhaal allesbehalve opwindend, toch beschikt hij over een cast die kan acteren en dat is niet meteen een logisch feit in de horrorwereld. Het probleem van The Damned is dat Garcia er nooit in slaagt om de kijker de stuipen op het lijf te jagen en dat is toch al bij al de bedoeling van dit soort films. Maar goed, er is de laatste jaren al heel wat slechter in dit genre gemaakt. We hadden inderdaad meer verwacht van een griezelprent die zich in de bossen van Bogota afspeelt, maar soms mag een mens niet te veel wensen.
The Damned is uitgebracht op Dutch FilmWorks en dit zowel op dvd als Blu-ray.
Didier BECU
06/01/2015
---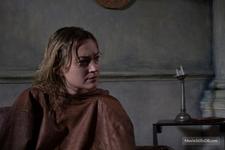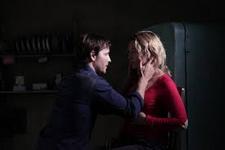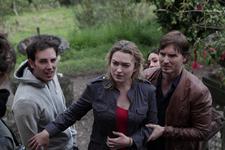 ---