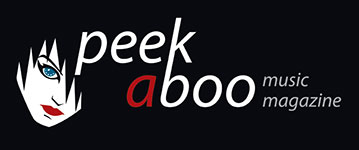 like this movie classics review
---
VITTORIO DE SICA
UMBERTO D.
Movie
•
Movie classics
Drama
Nouveaux Films
27/08/2015, Didier BECU
---
Martin Scorsese is perhaps one of the greatest connoisseurs of classic Italian cinema, and if it depends on him, then Umberto D. is the ultimate masterpiece of Vittorio De Sica, and even better than his most famous work (Bicycle Thieves). It's a bold statement, but it is a fact that both films can be compared with each other, especially if it comes to social criticism. De Sica is regarded as one of the figureheads of the Italian neorealism. It's a nice title, but in his own country it was more a curse than a blessing. The best example was Umberto D. that did well at the Oscars and in Cannes, but in his homeland Italy the film was expelled.
In Bicycle Thieves, we saw how a family got in poverty after a bike of a man was stolen. In Umberto D, we see the same distressing situation. Umberto Domenico Ferrari was a well respected man during his career. He is now retired and can barely survive with the money he gets from the government. When he can no longer pay the rent for his apartment, the landlady puts him on the street without mercy. The old man tries everything to escape poverty. Unfortunately, it is clear that begging will be the only option for survival. His only companion in his misery is his loyal dog Flike.
The film shows a very tough picture of postwar Italy. The style of De Sica is hard, especially in the final scene, in which the old man wants to throw himself in front of a train, along with his dog. It is so touching, that is one of the most moving scenes in film history. However, the film is more than a social indictment. De Sica was also a genius in creating images, each scene of Umberto D. is indeed monumental and immortal.
The bonus material consists of a documentary about the scriptwriter Cesare Zavattini, made by the RAI. Zavattini was De Sica's screenwriter and one of the most important people in Italian neorealism. Through archival footage and interviews with the hyper nervous Roberto Benigni, Bernardo Bertolucci and Carlo Lizzani, we get a picture of the life of this Italian legend.
Even when you already have seen the film countless times, Umberto D. remains an indestructible classic. Italian neorealism at its best, and if you do not believe our words, you should at least listen to the advice of Martin Scorsese, right?
The film is available on DVD through the British Nouveaux Films label, with English subtitles.
Didier BECU
27/08/2015
---
Wellicht is Martin Scorsese één van de grootste kenners van de klassieke Italiaanse cinema, en als het van hem afhangt dan is Umberto D. uit 1952 het ultieme meesterwerk van grootmeester Vittorio De Sica en zelfs beter dan zijn meest bekende werk (Ladri Di Biciclette). Het is een gewaagde uitspraak, maar het is een feit dat beide films met elkaar te zijn vergelijken, zeker wat de maatschappijkritiek betreft. De Sica wordt aangezien als één van de boegbeelden van het Italiaanse neorealisme. Het is een mooie titel, maar in eigen land bleek dat meer een vloek dan een zegen te zijn. Het mooiste voorbeeld was Umberto D., die het zowel op de Oscars als in Cannes goed deed, maar in thuisland Italië gewoonweg werd verbannen omdat De Sica net iets te veel de Italiaanse regering in een slecht daglicht stelde.
In Ladri Di Biciclette zagen we hoe een gezin de armoede werd ingejaagd doordat een man zijn fiets, en voor hem het transportmiddel om zijn werk te kunnen doen, werd gestolen. In Umberto D. zien we dezelfde schrijnende situatie. Umberto Domenico Ferrari was tijdens zijn carrière een gerespecteerde man. Ondertussen is hij gepensioneerd en kan nog amper rondkomen. Nadat hij de huur voor zijn appartementje niet meer kan betalen, wordt hij door de huisbazin meedogenloos op straat gezet. De oude man probeert van alles om aan de armoede te ontsnappen, helaas wordt het iedere dag duidelijker dat bedelen voor hem de enige optie is om te overleven. Zijn enige kompaan in de ellende is zijn hondje Flike.
De film toont een bikkelhard beeld van het naoorlogse Italië. De stijl van De Sica windt er geen doekjes om, zo is de eindscène waarin de oude man zich samen met zijn hondje voor een trein wil werpen, één van de meest ontroerende uit de filmgeschiedenis. De film is echter meer dan een sociale aanklacht. De Sica was ook een genie in het maken van beelden, iedere scène uit Umberto D. is dan ook monumentaal en onsterfelijk.
De film is beschikbaar op dvd via het Britse Nouveaux Films-label. De transfer is niet gerestaureerd, en ondanks het feit dat het om een verzorgde productie gaat, zie je geregeld wat streepjes. Wie weet komt er ooit wel een betere versie op Blu-ray. Men behield de originele Italiaanse monoband, waarop ook wat geruis is te horen. Er zijn Engelse ondertitels.
Het bonusmateriaal bestaat uit een documentaire over de scenarioschrijver Cesare Zavattini, gemaakt door de RAI. Zavattini was niet alleen de vaste scenarioschrijver van De Sica, maar ook één van de belangrijkste personen uit het Italiaanse neorealisme. Door middel van archiefbeelden en interviews met de hyperzenuwachtige Roberto Benigni, Bernardo Bertolucci en Carlo Lizzani, wordt het leven van de Italiaan geschetst. Een mooi document waarvan iedere cinefiel zal watertanden!
Ook al heb je hem reeds ontelbare keren gezien, is Umberto D. een onverwoestbare klassieker die je blijft herbekijken. Italiaans neorealisme op zijn best, en als je onze woorden niet gelooft, moet je op zijn minst toch naar de raad van Martin Scorsese luisteren, toch?
Didier BECU
27/08/2015
---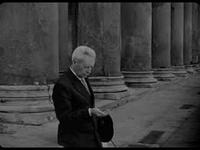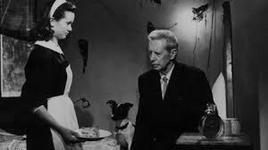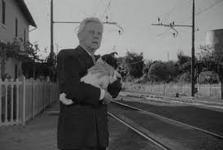 ---