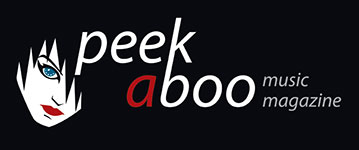 like this movie review
---
WALLY PFISTER
Transcendence
Movie
Science Fiction
[35/100]

Belga Films
16/12/2014, Didier BECU
---
Maybe it has something to do with the many pirate movies, but in all honesty we have seen enough of with Johnny Depp. Not once in the last 20 years has he played a normal guy and you really have to be a very loyal fan to appreciate his fairytale image still. Transcendence is again such film! You might be happy because his character is shot after thirty minutes, unfortunately Dr. Will Caster (Depp) rises in a computer program. Together with his wife Evelyn (Rebecca Hall), he has tried his whole life to transform the human consciousness in a computer. Unfortunately for him, he is shot and has exactly four weeks left to live. Caster decides to charge his consciousness into the program. And yes, after his death, the first green sentences appear on the computer screen. Caster's spirit lives on through the computer! Evelyn is overjoyed, but the afterlife version of Caster does not seem to have such good intentions with our world!
Typical Depp-fodder. An implausible scenario with the most moronic curves imaginable, with a high dose of sickening corniness. The acting is bad too. The star cast acts in a soporific way, plus it's all too clichéd. Cillian Murphy looks silly as an FBI agent and we saw Morgan Freeman enough as an old professor. The biggest disappointment is the directing. Normally you would expect a lot of the film debut of Wally Pfister (the director of photography of Christopher Nolan). But not here! Pfister is certainly not Nolan, you see that he looks up to him, but his work is nothing more than a photocopy of a broken copier. Hopefully we will be more satisfied with Into The Woods Mr Depp !
Transcendence is out on Belga Films, both on DVD and Blu-ray.
Didier BECU
16/12/2014
---
Het zal wellicht iets met die vele piratenfilms hebben te maken, maar eerlijkheidshalve ligt Johnny Depp bij ons al geruime tijd in de onderste lade. De laatste 20 jaar heeft hij geen enkele keer een normale vent gespeeld en je moet echt wel een zeer trouwe fan zijn om ondertussen zijn sprookjesimago niet beu te zijn. In Transcendence is het weer van dat! Je zou je misschien wel gelukkig kunnen prijzen omdat hij na dertig minuten omver wordt geknald, helaas herrijst Dr. Will Caster (Depp dus) in een computerprogramma. Samen met echtgenote Evelyn (Rebecca Hall) heeft hij zijn hele leven geprobeerd om het menselijke bewustzijn in één of ander computerprogramma te transformeren. Helaas voor hem wordt hij neergeschoten en hij heeft nog welgeteld vier weken te leven. Caster besluit om zelf voor proefdier te spelen en laadt daarom zijn bewustzijn in het programma op. En jawel, na zijn dood verschijnen de eerste groene zinnetjes op een computerscherm. Casters geest leeft voort via de computer! Eventjes is vrouwlief Evelyn dolgelukkig, maar de Caster uit het hiernamaals blijkt niet zo'n goede bedoelingen met onze wereld te hebben!
Typisch voer voor een Depp-vehikel dus. Een ongeloofwaardig scenario met de meest debiele bochten dat bovendien gebukt gaat onder een hoge dosis ziekmakende meligheid. Met de vertolkingen is het al even erg gesteld. De cast bestaat wel uit een hele resem sterren, maar alles wordt slaapwekkend gespeeld en het is vooral veel te clichématig. Cillian Murphy ziet er als FBI-agent ronduit lullig uit en we hebben het ondertussen ook wel gehad met Morgan Freeman, die nog maar eens een oude geleerde man speelt. De grootste ontgoocheling is de regie. Normaliter zou je veel mogen verwachten van het filmdebuut van Wally Pfister (de director of photography van Christopher Nolan). Mooi neen dus! Pfister is zeker geen Nolan, je ziet dat hij naar hem opkijkt, maar zijn werk is niet meer dan een fotokopie die afkomstig is van een defect kopieerapparaat. Hopelijk zijn we binnenkort meer tevreden over Into The Woods mijnheer Depp!
Transcendence is uit op Belga Films, zowel op dvd als Blu-ray.
Didier BECU
16/12/2014
---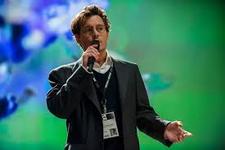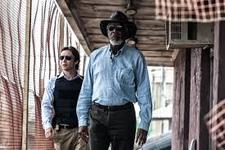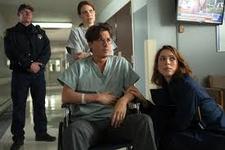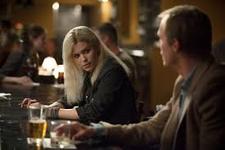 ---