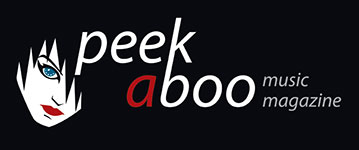 like this cinema review
---
WES BALL
The Maze Runner
Movie
•
Cinema
20th Century Fox
15/10/2014, Didier BECU
---
I guess we say something new but since teenage kids and PR-guys have discovered IMDb, the website is these days just a complete database. Because no, you better not start watching those quotes. Take for example The Maze Runner. According to the many comments this should be one of this year's best films! Well, we never expected it to be the new Peter Greenaway or Michael Haneke, but we were quite keen on some adventure, especially because The Maze Runner is compared to The Hunger Games.
If this are your expectations then you will be quite dissapointed. From the very first moments it's crystal clear that debuting director Wes Ball just got the command from 20th Century Fox to come up with something that equals the adventures from Katniss Everdeen. One thing is sure though: Ball have listened to his bosses! At the end of The Maze Runner all gates are open for a sequel and after its overwhelming opening weekend green light is already given for a second chapter.
The films are based upon the youth novels by James Dashner. Once again we're faced with an apocalyptic vision in where the rulers are shamelessly using child soldiers for obtaining their goals. In Ender's Games with Harrison Ford or in The Hunger Game, we noticed (even if it was in an entertaining way) some thoughts about the moral issue, but that's not the case in The Maze Runner. The youngsters are locked in a gigantic field. The border is a gigantic steel wall, with behind it a huge labyrinth. The teenagers already have accepted their faith, but newcomers Dylan O'Brien (Thomas) and Kaya Scodelario (Teresa) take their chance.
Lots of things have been said about the famous end that no one expected. Mind you, we won't tell you anything, but even if it's a surprise, it leaves you cold. The characters are flat, the acting mediocre apart from Will Poulter (yeah, the guy with the weird eyebrows from We're The Millers), the colors ugly and the monsters can be showed to five year old kids. Maybe The Maze Runner was after all for kids only? We guess so, but as a movie it fails completely! Kids and IMDb?
Didier BECU
15/10/2014
---
Sinds gillende tienermeisjes en handige reclamejongens IMDb hebben ontdekt is de site niet meer dan een allesomvattende database geworden. Want neen, naar de quoteringen hoef je al lang niet meer te kijken. Zo zou bijv. The Maze Runner één van de films van het jaar moeten zijn. Neen hoor, wij wisten ook wel dat we niet een Peter Greenaway of een Michael Haneke zouden te zien krijgen, maar de avonturier in ons had best zin in zo'n film. Vooral omdat The Maze Runner wordt vergeleken met The Hunger Games.
Als dat je verwachtingen zijn dan zal de ontgoocheling enorm zijn, vanaf het eerste moment is het namelijk zonneklaar dat debuterend regisseur Wes Ball van 20th Century Fox gewoon de opdracht kreeg om iets in elkaar te knutselen wat op de lotgevallen van Katniss Everdeen lijkt, meer niet. Ball heeft in iedereen geval goed naar zijn bazen geluisterd. Op het einde van de film worden alle poorten naar een sequel geopend en na het overdonderende openingsweekend in de VS is het licht daarvoor op groen gezet.
De films zijn gebaseerd op de jeugdboeken van James Dashner. Wederom gaat het om een apocalyptisch wereldbeeld waarin de machtshebbers schaamteloos kindsoldaten inzetten om hun eigen belangen te verdedigen. In Ender's Games met Harrison Ford of in The Hunger Game, werd (weliswaar op entertainende wijze) nog wel eens over de morele kwestie gepraat, maar die is in The Maze Runner volledig zoek. De jongeren zitten opgesloten in een gigantisch veld dat wordt afgeschermd door een gigantische muur. Daarachter schuilt een stalen labyrint waarin niemand de weg kent. De tieners hebben zich al lang bij hun lot neergelegd, maar daar brengen nieuwkomers Dylan O'Brien (Thomas) en Kaya Scodelario (Teresa) verandering in.
Er is al heel wat inkt gevloeid over het einde dat niemand zag aankomen. Wij gaan daar uiteraard niets over verklappen, maar we kunnen wel stellen dat je het slot wel niet had verwacht, maar dat het je ook ijskoud laat. De karakters zijn oppervlakkig, de acteerprestaties op Will Poulter na (de kerel met de bizarre wenkbrauwen uit We're The Millers) vrij ondermaats, de kleuren afgrijselijk en de monsters kunnen zonder enig probleem de programmering van Ketnet halen. Misschien was The Maze Runner dan toch voor kinderen bedoeld, niet? We veronderstellen van wel, als film is het desalniettemin teleurstellend.
Didier BECU
15/10/2014
---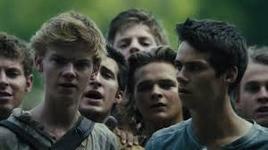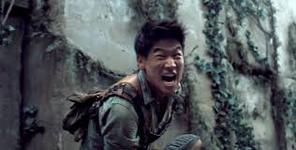 ---