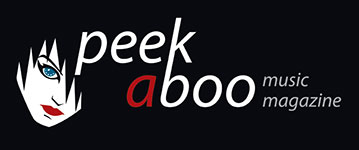 like this concert review
---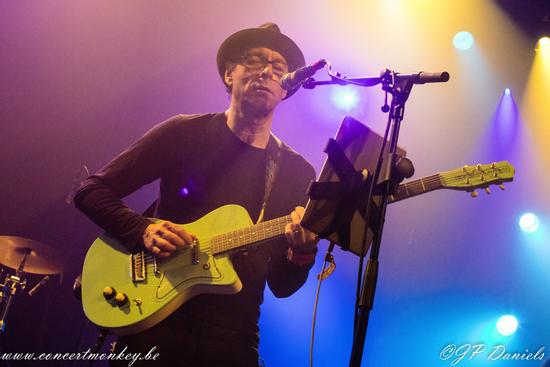 WIRE
Brussels, Botanique (01/12/2015)
Concert
03/12/2015, Didier BECU
---
39 years ago, Colin Newman, Graham Lewis, Bruce Gilbert and Robert Gotobed ​​founded Wire. Although they only released one true punk album (Pink Flag), until today the British musicians are considered as a pure punk band. Musically that's perhaps not quite correct, but when it comes to attitude, then Newman and his entourage are more punk than a football field full of mohawks!

Because the record industry is completely down and perhaps because no man buys a new record by Wire anymore, they decided to release their latest (simply called Wire) in a pure DIY way and release it themselves, resulting in the fact that the band plays a record on stage which no one knows.

No concessions were made that Tuesday at the Botanique, and the lonely punk who shouted for 12XU, had to live with the fact that Wire is not a jukebox. Punks are no jukeboxes, they do things their own way, even if they have to disappoint fans who want their heroes to keep on playing the same tracks overe and over.

The 62-year-old Colin Newman who looks a bit like Elvis Costello nowadays, doesn't seems to look that young, but immediately after the opener Blogging (also the first track of the new album), he made it clear that Wire chooses a tight sound, ruled by the icy bass of Graham Lewis, who looks a bit like a longshoreman in a goth outfit. The tracks were perfectly orchestrated by one of the world's best drummers: Robert Gotobed ​​(even though he is simply called Robert Grey since his return to Wire). The distortion and noisy guitars came from Matthew Simms, who already shares the stage with the London punk band for five years.

The well-known hits (well, in a way) were scarce. From A Bell Is A Cup, Boiling Boy and Silk Skin Paws were played, and Brazil of Pink Flag and Used To of Chairs Missing during the encores. Wire produced a lot of noise, and also one magical moment when Graham sent a kiss to the sky when starting Blessed State, dedicated to the recently deceased Annik Honoré. Just as Annik, Colin Newman changed the musical face of Brussels in the 80s.
The concert of Wire in Brussels is surely not their best one, therefore the set list was too weak, but better punk is unthinkable.
Peek-A-Boo thanks Concert Monkey for the pictures.
Didier BECU
03/12/2015
---
Het is net 39 jaar geleden dat Colin Newman, Graham Lewis, Bruce Gilbert en Robert Gotobed de band Wire oprichtten. Alhoewel ze eigenlijk maar één echte punkplaat uitbrachten (Pink Flag), worden de Britten tot op vandaag als een punkband pur sang beschouwd. Dat is muzikaal misschien wel niet helemaal juist, maar als het op attitude aankomt, dan stralen Newman en zijn gevolg meer punk uit dan een voetbalveld vol hanenkammen!
Omdat de platenindustrie volledig op zijn gat ligt en wellicht geen mens nog een plaat van Wire koopt, besloten ze om hun laatste wapenfeit (dat simpelweg Wire heet) op pure DIY-wijze zelf uit te brengen. Zoiets resulteert natuurlijk in het feit dat de band in een volle zaal een plaat op de scène brengt die nog geen kat heeft gehoord. Van toegevingen was er dinsdagavond in de Botanique geen sprake, en de enkeling die om 12XU riep, zal ondertussen ook moeten leven met het feit dat Wire geen jukebox is. Punks zijn geen jukeboxen, die doen lekker hun zin, ook al ontgoochelen ze daarmee fans die willen dat hun helden steeds maar dezelfde nummertjes blijven spelen.
De 62-jarige Colin Newman die tegenwoordig meer op Elvis Costello lijkt dan op zichzelf, ziet er misschien niet meer piepjong uit, maar meteen na de opener Blogging (waarmee ook de nieuwe plaat begint), maakte hij meteen duidelijk dat Wire voor een strak geluid zou kiezen dat zou worden geregeerd door de ijskoude bass van Graham Lewis, die er een beetje uitzag als een havenarbeider in goth-outfit. De nummers waren perfect georkestreerd door één van 's werelds beste drummers: Robert Gotobed (ook al is hij sinds hij weer bij Wire is gewoon Robert Grey). Het jonge gitaargeweld komt van Matthew Simms die al een vijftal jaar met de Londense punkband op het podium staat en voor de nodige distortion zorgt.
De bekende hits (nou ja) waren schaars. Uit A Bell Is A Cup werden Boiling Boy en Silk Skin Paws gespeeld en tijdens de encores werden Brazil uit Pink Flag en Used To uit Chairs Missing gebracht. Wire bracht vooral veel noise, en ook één kippenvelmoment toen Graham tijdens Blessed State een kus naar de hemel wierp voor de onlangs overleden Annik Honoré. Net zoals Annik zorgde ook Colin Newman ervoor dat Brussel in de jaren 80 wat anders klonk.
Het concert van Wire is zeker niet het beste wat ze ooit gaven, daar was de setlist net iets te zwak voor, maar een beter punkgeluid is wellicht ondenkbaar.
Peek-A-Boo bedankt Concert Monkey voor de foto's.
Didier BECU
03/12/2015
---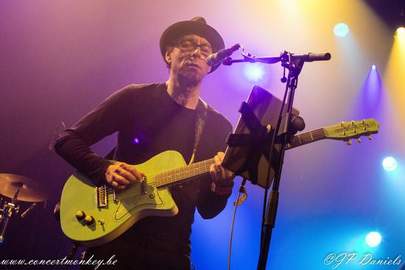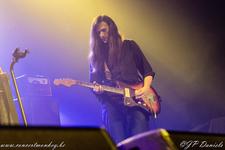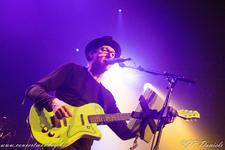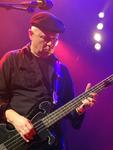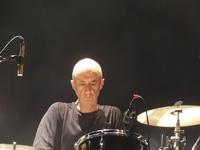 ---