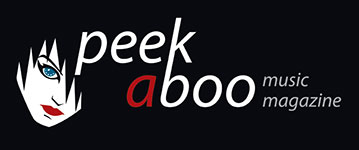 like this movie classics review
---
YIMOU ZHANG
Ju Dou
Movie
•
Movie classics
Drama
•
World Cinema
[82/100]

Homescreen
11/03/2014, Didier BECU
---
Today Chinese cinema doesn't have its grandeur from the 90's. Back then, lots of film fans thought that China was the future for cinema. One of the responsible directors from that boom was Zhang Yimou who was part of the so-called Fifth Generation. Along with colleagues Tian Zhuangzhuang and Chen Kaige, Yimou was impressing the foreign film press. That was necessary as his highly acclaimed gems like Raise The Red Lantern and The Red Cornfield were banned by the Chinese authorities. Ju Dou from 1990 is another example as such, the movie was even nominated for an Oscar for best non-English picture. Later on Yimou directed gigantic epics like Hero, House Of The Flying Daggers and Curse Of The Golden Flower. Impressive material, but never as good as his early works.
Ju Dou is a very hard drama that is set in China during the 20's. Yang Jinshan (Wei Li) is the owner of a small factory at where textile got painted. The old man dreams about having a son, but it never happens. For this reason he has murdered his two previous women, but he hopes things will change when he marries the young and beautiful Ju Dou (Gong Li). But it's all too late as old Yang is impotent. Poor Ju got regularly beaten and so she seeks shelters in the protective arms from Yangs nephew Tian-qing (Baotian Li). She later gets a child from him. Everyone thinks that Yang is the father from the child.

Homescreen has now released this arthouse-classic in their World Cinema Selection-series. This masterpiece of course demands for a restored Blu-ray-version, but in the meantime we can rediscover the beauty of this gem on this cheap DVD. Yimou is a master in colours. He manages to turn Chinese drama into a magnificent colourplay that looks like the majestic epics from Douglas Sirk in the 50's.

Ju Dou is out on DVD on Homescreen.
Didier BECU
11/03/2014
---
De laatste jaren heeft de Chinese cinema wel wat van zijn pluimen verloren, desalniettemin dachten in de jaren 90 heel wat filmfanaten dat China garant stond voor de toekomst van de cinema. Een van de verantwoordelijken van deze boom was Zhang Yimou, de gangmaker van de zogenaamde Vijfde Generatie. Samen met collega's Tian Zhuangzhuang en Chen Kaige imponeerde Yimou de buitenlandse filmpers. Dat was ook nodig, in eigen land waren diens bejubelde prenten Raise The Red Lantern en Het Rode Korenveld gewoonweg door de Chinese ordehandhavers verbannen. Ook Ju Dou uit 1990 is er zo eentje en kreeg zelfs een Oscarnominatie voor beste niet-Engelstalige film. Later draaide Yimou gigantische vechtepossen als Hero, House Of The Flying Daggers en Curse Of The Golden Flower. Allemaal wel imponerend, maar helemaal niet te vergelijken met zijn eerste (veel betere) werken.


Ju Dou is een bikkelharde dramadat zich in het China van de jaren 20 afspeelt. Yang Jinshan (Wei Li) is eigenaar van een fabriekje dat stoffen verft. De oude man droomt luidop van een erfgenaam, maar dat wil niet lukken. Zijn twee vorige vrouwen heeft om die reden zelfs een kopje kleiner gemaakt. De oude Chinees hoopt op beter en koopt daarom de knappe Ju Dou (Gong Li). Ook dat lukt niet, want Yang blijkt al lang impotent te zijn. De jonge Ju Dou moet het met een flinke pak rammel bekopen en ten einde raad vlucht zij in de armen van Yangs neef Tian-qing (Baotian Li) van wie zij een kind krijgt. Iedereen denkt dat Yang de vader van het kind is.


Homescreen heeft deze arthouseklassieker opnieuw uitgebracht in hun leuke World Cinema Selection-reeks. Dit meesterwerk schreeuwt misschien wel om een gerestaureerde Blu-rayversie, maar ondertussen kunnen we nog eens genieten van dit prachtig werkje via deze goedkope (en uiterst verzorgde) versie. Yimou is een meester in kleuren en tovert de Chinese dramatiek tot een prachtig kleurenspel om dat vaak op een Aziatische variant van de majestueuze Douglas Sirk-films uit de jaren 50 lijkt. Ondertussen is Yimous talent wat uitgeblust, deze uitgave is dus misschien een ideaal moment om ons aan zijn hoogdagen te herinneren.


Ju Dou is nu uitgebracht op dvd via Homescreen.
Didier BECU
11/03/2014
---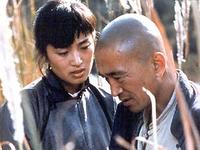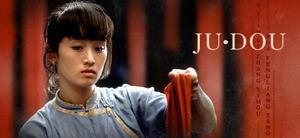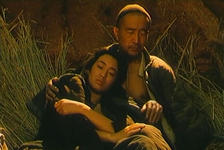 ---