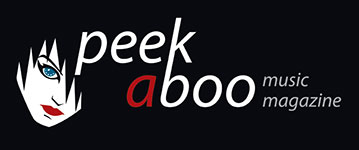 like this concert review
---
YOUFF, RUMOURS, ONMENS
Gent, 019 (14/05/2015)
Concert
10/12/2016, Benny CALUWE
---
A few weeks ago, I reviewed Witruimte, the sophomore album of Onmens, on these pages. It was a nice surprise. Witruimte turned out to be a loud and idiosyncratic album. It scored well in several magazines and in some reviews, Onmens was praised for its live reputation. Time to experience at first hand what the band is capable of on stage. So, I visited the 019 venue, a shack in the harbour of Ghent, where the Ghent based booking office Live Fast Die Young organised a show on the occasion of the release of the EP Infant by Rumours.
When we arrived, the unknown band Youff was already on stage. At first I couldn't see anything. I heard screams over an enormous wall of sound. When we got to the first row, I was surprised to see a band, existing of 2 members only: a drummer and a bass player, who created the most incredible sounds, armed with numerous effect pedals. The drummer whacked his drums as a madman and shouted as a lunatic in the microphone. No music I would listen to at home, but quite impressive a a live concert. I especially remember the imposing drum outbursts.
Subsequently, Rumours presented its debut tape and EP Infant. The band (2 girls + 2 boys) calls its sound shaman hop, and it sounds hypnotic indeed: a dark mix of trip hop and IDM with plenty of samples. We'll definitely hear more of this talented band in the future! The young band easily made the crowd move and the singer impressed with a voice that reminded me of Björk. Great gig!
Despite some technical problems and a malfunctioning monitor, Onmens succeeded in confirming its excellent live reputation. From the first tones of the opening track Innerbitch, the crowd reacted enthusiastically on the stomping beats, the weird electronics and the shrieking guitars. Frontman Sigfried Burroughs' lunatic dance moves were followed. The singer, who is also the drummer of Kapitan Korsakov and The K, is a real animal on stage. Highlights of this energetic show were Unit 11 and Take A life from the album Witruimte and Motherly Bruised from the debut Misdracht. During the latter, Kasper pulled out the most unbelievable sounds from his guitar with a slide and the effect pedals. Such a fantastic show! What an adrenaline rush! Lately, I read in an interview that Sigfried is in pain the day after a performance. Seems plausible when you see him rage on the stage.
Benny CALUWE
10/12/2016
---
Een tijdje terug nam ik Witruimte van Onmens onder de loep op deze pagina's. Wat een aangename verrassing. Witruimte bleek een snoeiharde eigenzinnige plaat te zijn. Het album werd in meerdere magazines goed ontvangen, in sommige reviews werd steevast verwezen naar de uitstekende live-reputatie van Onmens. Hoog tijd dus om aan de lijve te ondervinden waartoe deze noiseband live in staat is. Ondergetekende trok naar 019, een loods aan de Gentse dokken, waar ter gelegenheid van de release van het ep-debuut Infant van Rumours, het Gentse boekingskantoor Live Fast Die Young een show op poten had gezet met 3 Gentse bands.
Toen we aankwamen was het mij totaal onbekende Youff al gestart. Aanvankelijk zag ik niets, hoorde ik enkel wat geschreeuw boven een enorme wall of sound. Toen we opschoven naar de eerste rij, bleek tot mijn verrassing de band slechts uit 2 leden te bestaan. Een drummer en een bassist die gewapend met een batterij effectenpedalen de meest ongelofelijke geluiden voortbrachten. De drummer mepte als een wildeman op zijn drumstel en schreeuwde als een gek in de microfoon: niet meteen muziek dat ik thuis zou beluisteren, maar live klonk het behoorlijk indrukwekkend. Vooral de imposante drumsalvo's bleven mij bij.
Vervolgens stelde het mij evenmin bekende Rumours zijn debuut-ep voor. De band (2 meisjes + 2 jongens) omschrijft zijn stijl als shaman hop. De sound is inderdaad hypnotisch en bezwerend, een donkere mix van triphop en IDM met tal van samples. Van deze talentvolle band zullen we nog horen in de toekomst! De jonge band kreeg met gemak het publiek aan het dansen en de zangeres maakt indruk met haar dramatisch stemgeluid dat aan Björk herinnert. Zeer geslaagd!
Ondanks technische problemen en een monitor die het liet afweten, slaagde Onmens erin om zijn uitstekende live-reputatie te bevestigen. Vanaf de eerste tonen van de openingstrack Innerbitch reageerde het publiek enthousiast op de beukende beats, de weirde elektronica en de gierende gitaren. Frontman Siegfried Burroughs' prettig gestoorde danspasjes kregen al gauw navolging. De zanger, nou ja zanger, die ook drummer is bij Kapitan Korsakov en The K, is een heus podiumbeest. Hoogtepunten van het energieke concert waren Unit 11 en Take A Life uit het album Witruimte en Motherly Bruised uit het debuut Misdracht. Tijdens Motherly Bruised haalt Kasper middels een slide en de nodige effecten een fantastische sound uit zijn gitaar. Heerlijk optreden! Wat een adrenalinerush! Laatst las ik in een interview dat Siegfried daags na een optreden fysiek pijn lijdt. Klinkt heel aannemelijk als je hem zo te keer ziet gaan.
Benny CALUWE
10/12/2016
---