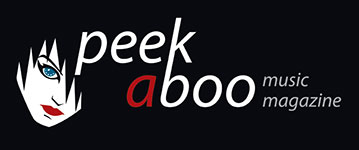 like this cult movies review
---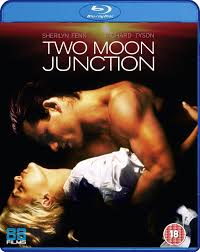 ZALMAN KING
Two Moon Junction
Movie
•
Cult movies
Romantic
[60/100]

88 Films
07/06/2014, Didier BECU
---
Some people will wonder why Two Moon Junction has been reissued on Blu-ray. The reason for this is of course Sherilyn Fenn who stole as Audrey Horne the heart (and other things) from many Twin Peaks-fans. Her filmography is a long, but however a kind of crappy list as all by all Wild At Heart by Lunch is her sole great role. Strange as not only she's a beauty, she's an excellent actress either.


Two Moon Junction is indeed as they say a very bad movie and is only made to give maker Zalman King some opportunities to film nude shoots from Fenn (not that we complainabout that!). This romantic softerotic actionflick (we kid you not!) is his directing debut and immediately King invented the hot weather. He noticed that it wasn't necessary to make expensive special effects as people come to the theatre if you simply show some naked breasts either. King's whole career was a collection of softerotic flicks and even became producer of 9 ½ Weeks that would make Kim Basinger one of the superbabes from the 80's.


The story is quite idiotic. A rich lady who falls in love with a poor muscled working boy, that's all. You can make a masterpiece with such a script, just think of All That Heavens Allows by Douglas Sirk, but King is already satisfied if his movie looks like an episode from Dallas for adults. The rich lady is April DeLongpre (Sherilyn Fenn) who soon will marry her Harvard-student Chad Dowling (Martin Hewitt). But then carnival comes to town and poor April falls head over heels in love with the handsome Perry (Richard Tyson). After some erotic scenes that last too long, April's granny Belle (Louise Fletcher, yeah the bitch from One Flew Over The Cukoo's Nest) comes in action and asks local sheriff Earl Hawkins (Burl Ives) to put Perry outside the town's borders. Oh and you can guess the rest!


And yes, in a way everything has been said about this movie. Don't ask me why (even if I know it's Fenn) but I watched this movie without feeling annoyed and with knowing that this is crap! But good, what is crap and what is art? The public thought that too and seven years later a sequel named Return To Moon Junction was made, but without Sherilyn Fenn. This movie is even perfect for spotting stars. If you're watching well, you'll see Kristy McNichol (the child star from White Dog), Hervé Villechaize (the dwarf from Fantasy Island), blueslegend Screamin' Jay Hawkins and a very young Milla Jovovich who plays her very first role, but agreed there are other things to watch in here!


This cultmovie (in a way it is) is now reissued on a perfect transfer on British cultlabel 88 Films. A must have if you're a Fenn-devotee and if not, well …..
Didier BECU
07/06/2014
---

Wellicht zullen heel wat mensen zich afvragen waarom men Two Moon Junction op Blu-ray heeft heruitgebracht. De reden is natuurlijk gedeeltelijk melancholie, maar ook hoofdrolspeelster Sherilyn Fenn die met haar rol als Audrey Horne heel wat harten van Twin Peaks-fans tilt deed slaan. Het lijstje van films en series waarin deze schone dame mocht opdraven is desalniettemin ellenlang, maar toch bedroevend als je Wild At Heart niet meerekent. Vreemd eigenlijk, want Fenn is niet alleen razend knap, ook een meer dan degelijke actrice.
Two Moon Junction is eigenlijk een rotslechte film en niet meer dan een onnozel voorwendsel om de hoofdrolspeelster geregeld uit de kleren te laten gaan, want daar draaide het voor regisseur Zalman King uiteindelijk om. Deze romantische erotische actiefilm (tja) was zijn regiedebuut en daarmee had King meteen het warm water uitgevonden. Het was immers niet nodig om een film vol peperdure special effects te duwen, het bioscooppubliek kwam ook massaal naar de zaal om een paar borsten te zien. Zowat de hele carrière van King is een aaneenschakeling van softerotische prenten, hij was zelfs de producer van 9 1/2 Weeks die van Kim Basinger één van de superbabes van de jaren 80 zou maken.
Het verhaal van deze langspeelfilm is ronduit debiel. Een rijke knappe dame die op een eenvoudige arbeider verliefd wordt en daardoor heel haar familie op haar dak krijgt. Zoiets kan best in een meesterwerk ontaarden (denk maar aan All That Heavens Allows van Douglas Sirk), maar King is al lang tevreden als zijn film er als een aflevering uit Dallas uitziet, weliswaar met een grote portie bloot. Het rijke wicht is dus April DeLongpre (Sherilyn Fenn) die op trouwen staat met het Harvard-studentje Chad Dowling (Martin Hewitt). Maar dan komt plots de kermis in het dorp en wordt April halsoverkop verliefd op de knappe Perry (Richard Tyson). Na enkele zwoele scènes die allemaal veel te lang duren komt April's grootmoeder Belle (Louise Fletcher, jawel de bitch uit One Flew Over The Cukoo's Nest) op het toneel die de lokale sherrif Earl Hawkins (Burl Ives) vraagt om Perry buiten de stadsgrenzen te zetten. Wedden dat ze daar niet in lukt?
En jawel, daarmee is eigenlijk alles over deze film gezegd. En toch, vraag mij niet waarom (alhoewel het antwoord wellicht Sherilyn Fenn is) kun je deze film moeiteloos uitkijken, ook al besef je maar al te goed dat het om troep gaat. Maar goed, het moet niet altijd arthouse zijn en dat vond ook het publiek, want zeven jaar later verscheen de sequel Return To Moon Junction (maar dan wel zonder Sherilyn Fenn). Het is trouwens leuk om sterren te spotten. Wie goed oplet ziet bijv. Kristy McNichol (het kindsterretje uit White Dog), Hervé Villechaize (de dwerg uit Fantasy Island), blueslegende Screamin' Jay Hawkins en een piepjonge Milla Jovovich in haar allereerste rolletje. Maar natuurlijk zijn er in Two Moon Junction een heleboel andere dingen om naar te kijken!

Filmliefhebbers die regelmatig een Blu-ray kopen op een Engels label weten dat ze daar moeten zijn als ze loepzuivere releases willen. Deze softerotische film die oorspronkelijk op MGM werd uitgebracht, is in Europa door het Britse cultlabel 88 Films uitgebracht. Dat is een hele opsteker voor de fans, want voorheen was deze film bij ons alleen maar verkrijgbaar via The Movie Channel: een label dat spotgoedkope (maar afschuwelijke) releases aanbiedt. De versie die hier vindt oogt uiterst mooi, en oogt zelfs (op de kledij na) niet een beetje gedateerd. Het geluid is ook best in orde, alhoewel je door de speakers hoofdzakelijk het gekreun van Sherilyn Fenn hoort. Maar hoor je ons daarover klagen?

Liefhebbers die gek zijn van troep uit de eighties, of gewoon mensen die maar niet genoeg kunnen krijgen van het goddelijke lijf van Sherilyn Fenn kunnen drie rondjes van vreugde in de huiskamer draaien, want Two Moon Junction is vanaf nu in een kraaknette versie op Blu-ray beschikbaar. En die anderen? Tja, die zullen deze vreugdekreet wellicht nooit begrijpen.
Didier BECU
07/06/2014
---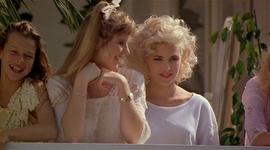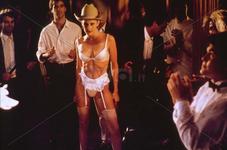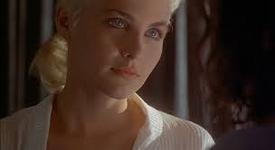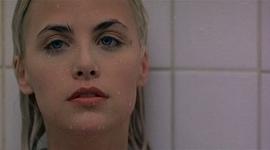 ---