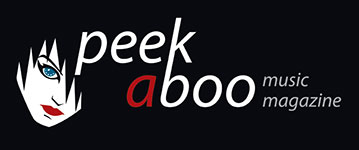 like this movie classics review
---
ZBYNEK BRYNYCH
Transport From Paradise
Movie
•
Movie classics
War Movie
•
World Cinema
[72/100]

Second Run DVD
06/03/2014, Didier BECU
---
Filmfans who regularly read our pages surely do know that Second Run DVD is a British quality label that's been specialised in obscure (most of the times forgotten) gems from Eastern Europe. The newest title in their impressive catalogue is Transport from Paradise (Transport z ráje) from 1962 by director Zbyněk Brynych. In that same year the movie got the prestigious Golden Leopard-Award at the Locarno International Film Festival, but was later totally forgotten....until now.

Transport From Paradise is a picture from the Czech New Wave-movement and one of the most remarkable pieces of Holocaust cinema ever. The whole film is set in Theresienstadt, the ghetto in where 140.000 Jews have faced the worst days of their life. On paper Theresienstadt was a sort of "dream city". The people from the ghetto were very well aware of the fact that one day they would be send to the concentration camp in Birkenau, but the nazis made some sort of promotional films in the ghetto to convince organisations like the Red Cross that they treat their prisoners in a decent way. And so, you see indeed some absurd images from "happy jews' who are wandering in their "beloved ghetto". Absurd images that are in total contrast with the emotional final scene in where nazi's put innocent people on a bandwagon.

The film is based on Diamonds Of The Night, the book by author Arnošt Lustig who experienced the tragedy himself. Just like in Spielberg's magnificent epos Schindler's List, Zbyněk Brynych uses excellent black and white-photography. Stunning images that are surely inspired by French nouvelle vague artists like Godard or Chabrol. Zbyněk Brynych made 30 movies, but during his later career he had to satisfy himself by directing episodes from German crime series like Der Alte, Der Kommisar or Derrick.

Transport From Paradise is now completely restored and just like it's always the case with releases on Second Run DVD, there's a booklet included in where you can read the detailed history from this remarkable movie.
Didier BECU
06/03/2014
---
Filmfans die geregeld onze recensies lezen weten ondertussen al een tijdje dat Second Run DVD een Brits kwaliteitslabel is dat zich specialiseert in het uitbrengen van obscure (vaak prachtige) films die meestal uit het voormalige Oostblok afkomstig zijn. Zo van die kleine meesterwerkjes die vaak zijn vergeten, maar door het geluk van het lot (bijv. omdat bepaalde bekende regisseurs er zo verzot op zijn) nu opnieuw worden opgevist. Kleine producties met een grote cinematografische impact. De nieuwste titel in hun ondertussen reeds omvangrijke catalogus is Transport from Paradise (Transport z ráje) uit 1962 van Zbyněk Brynych. In datzelfde jaar veroverde deze prent wel de befaamde Gouden Luipaard op het Filmfestival van Locarno, desalniettemin raakte dit fijn stukje Tsjechische cinema naderhand in de te vrezen vergeethoek.

Transport From Paradise is een prent uit de Tsjechische nouvelle vague-beweging en zonder twijfel één van de meest bizarre holocaustfilms die ooit is gemaakt. De hele film speelt zich af in Theresienstadt, de beruchte getto waar circa 140.000 Joden de vreselijkste dagen uit het leven hebben meegemaakt. Op papier was Theresienstadt evenwel een droomstad. De gettobewoners zelf waren er zich zeer goed van bewust dat zij op een dag naar het concentratiekamp van Birkenau zouden worden gestuurd, maar de buitenwereld moest geloven dat het Derde Rijk zich om het lot van de gevangenen bekommerde. Daarom werden er op deze terreurplaats allerlei promofilmpjes opgenomen waarin we vrolijke Joden in een aangenaam getto zien. Absurde beelden die in sterk contrast staan met de finale waarin we in een lange (en enorm aangrijpende) scène zien hoe genadeloos nazi's mensen als slachtvee in een wagon stoppen.

Deze film is gebaseerd op het boek Diamonds Of The Night van Arnošt Lustig die zelf deze terreur heeft meegemaakt. Net zoals Spielberg dat deed in zijn geniale epos Schindler's List bouwt ook Zbyněk Brynych de nazi's tot karikaturen om waardoor ze nog vreselijker gaan lijken. Een ander gelijkenis met Schindler's List is de knappe wit-zwartfotografie waaraan je duidelijk kan zien dat de maker is geïnspireerd door Godard en soortgenoten.

Transport From Paradise is zeer aparte cinema van een wat vergeten cineast die desalniettemin zo'n dertig films heeft gemaakt en later alleen maar goed genoeg was om episodes van Duitse krimiseries als Der Alte, Der Kommisar en Derrick te draaien.

Deze film is volledig gerestaureerd en zoals steeds bij Second Run DVD nu ook weer voorzien van een prachtig boekje met daarin alle informatie over deze toch wel opmerkelijke prent.
Didier BECU
06/03/2014
---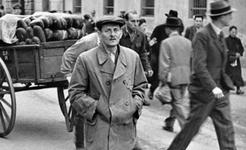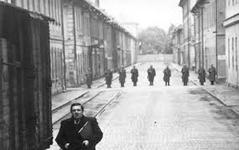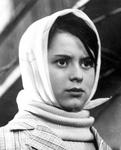 ---