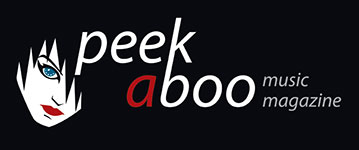 like this interview
---
AHMED SALEH ABOUT EXPERIMENTAL/INDUSTRIAL MUSIC IN AFRICA
People Here Can Get Arrested Because Of Something They Posted On Social Media!
13/08/2019, Stef COLDHEART
---
Italian label Unexplained Sounds Group has already taken us away on different 'cultural' trips to let us discover distant and unknown underground scenes. One of the label's latest compilations entitled "Anthology Of Contemporary Music From Africa Continent" reveals ten artists hailing from the African continent. FRKTL, Abdellah M. Hassak, Ahmed Salleh, Victor Gama, Eryck Abecassis, Healer Oran, Mehdi Halib, In_o, Nur, 1§ÅdØrÅ dµ§+m1+(∑) jµnk, AMET are artists who maybe don't make ring a bell so it's an opportunity to discover what kind of music they're dealing with. It gave me the idea to get in touch with one of the artists featured on the sampler so here's an interview with Ahmed Saleh.
Can you first of all introduce yourself and tell us a bit more about your own music project and artistic purpose?
I'm a composer/sound artist from Alexandria, Egypt. I started my music career as a classical guitarist, but I think my background as a visual artist had a greater impact on my work and on the process I use while composing. I'm almost using the same process I was using for visual art, I think the only thing that changed is the medium. For me, sound is such a great medium to work with and at some point it was more attractive for me than visuals. I found it more interesting and more abstract.
Beside my solo project I have other touring projects such as an electronica/post-rock/experimental trio called Telepoetic, and a project with the singer/poet Abdullah Miniawy. I also composed the music for lots of short movies, contemporary dance and theater.
Unexplained Sounds Group recently released the compilation "Anthology Of Contemporary Music From Africa Continent". What does this compilation mean to you?
It's always nice to get featured on a compilation with other artists. It was great to have the opportunity to know and hear their music. It's also really nice to have my music heard by a new audience.
Experimental-/industrial-/electronic music is not exactly what we in the West are linking with the African continent. Tell us a bit more about the 'scene' in your own country? Other artists? Live performances? Labels and media? Financial issues to make music?
In Egypt there's been an experimental/electronic music scene since quite a long time, but it's very limited. Some producers are working in their home studios and that's it. So there're no chance to perform or whatever, but as I remember in 2005/2006 the Egyptian record label 100COPIES was founded. The label is based in Cairo and is involved with electronic/experimental music.
In 2007 this label set up the 100LIVE electronic music festival, which is used to happen once a year. The scene became progressively huge, a new generation of musicians saw the daylight and played in front of a big audience. The label released multiple artists such as Telepoetic, Maurice Louca, Kareem Lotfy and Bikya. In my point of view, 100COPIES started a movement in Egypt.
Today it became different as this record label has moved towards a different direction. There're lots of electronic musicians belonging to the new generations, which started to organize some low budget events here and there.
Unfortunately there're less events right now. Because of the political situation in the country, everything became harder than before. 2012 was great, but since then everything has been going down. I remember I used to perform a lot in Egypt (Cairo and Alexandria), but now I perform more in Europe, America, Tunisia… because most of the venues in Egypt are closed and it's very, very hard to organize a festival or an event.
I can easily imagine internet is a very important tool for you to get connected with the rest of the 'world' and to reach a wider audience. What do you think about internet generally speaking and more specifically about social media and streaming platforms?
I don't really use social media that much, but of course it did change a lot! For me I just use it for promoting my projects and performances. I remember when I used to go with my band printing some posters and stick them on the walls in the streets or sometimes we made graffiti. It was the only way to promote our gigs, but now it's totally different. It's exactly the same for the record sales.
Generally speaking internet makes it easier to discover new music and to connect with other artists or even to collaborate with them. It's for sure a big change.
The Western world is considered as the 'free world', which also means artists have a great 'artistic freedom' –no limits, no censor! How does it happen for artists in your own country?
This is a huge problem here in Egypt, it's even very dangerous to talk about these issues. I might get arrested if by chance the security read this conversation and noticed that I'm talking about it. 2011 and 2012 definitely were the greatest years ever for all kinds of arts here in Egypt. We all had the freedom to work and produce and perform, no limits at all, no censor. Now it's very disappointing, not only with the art scene, people here can get arrested because of something they posted on social media! It's a nightmare!
I'm not facing problems as I don't have any political content in my work, but I can remember when I used to perform in Egypt with my project Miniawy, we started to get some problems because we dealt with some political content. Also the authority closed lots of venues and lots of magazine's websites that were really supporting the scene.
What are your further plans?
I'm releasing an album on Unexplained Sounds Group, which is planned for Winter 2019/2020. I also have some performances and collaborations planned pretty soon in Switzerland and Denmark.
Stef COLDHEART
13/08/2019
---